McCormick (NYSE:MKC) is a spice company that manufactures and distributes flavor products and other specialty food products to the food industry. McCormick is expanding its activity internationally based on a strategy of acquiring other companies around the world, mostly market leaders like Ducros of France, the largest spice company in Europe.
Even with the company's international presence, the US market still represents 60% of total revenues, while Europe is 20% and the other 20% comprises the rest of the world. McCormick is expanding to emerging markets with a major focus on Latin America, India and China. Its main reason is their market dimension and its culture around spicy food.
This could be a major change for the company's long term strategy, because in the next 10 to 20 years these emerging markets will have a better buying power, which will increase margins and completely change revenues in terms of geographic origin.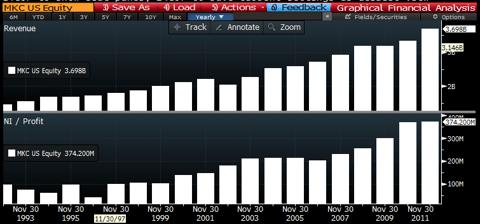 From the perspective of a pension fund manager, it's easy to love McCormick.
Its main activity is sound, being in the food segment; margins are very attractive for a mature market segment; revenues have been growing for the last 20 years; and its profitability is stable, even in times of crisis (pre-tax margin of 10.12%).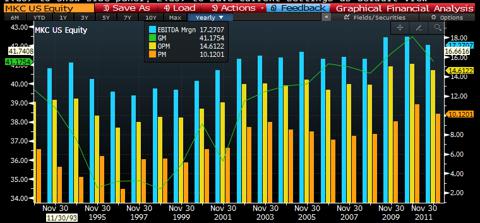 When analyzing McCormick's balance sheet, we observe a 60% debt ratio, which is understandable due to the acquisitions made along the last 10 years. In terms of capital structure it's very balanced with long term assets representing 70% of total assets, while its current ratio of 1.2 shows the company has short term liquidity.
The stock has been in an upward trend since 2009 and is currently at its all time highs. With a PE of 21 the company still looks attractive has a long term investment, but it would be wise to wait for a major correction to buy the company.
Taking into consideration the company is trading five times its book value (book value per share of $12.22) and the dividend yield is 2%, investing right now is assuming the company will keep on growing at the same rhythm indefinitely.
In short, McCormick is a well managed company in a stable market that keeps growing based on acquisitions of major players in other countries. It's a nice company to have in a long term portfolio, but there will be better times to buy it.
MKC US EQUITY

Total Debt *

2.469

Total Assets *

4.088

Debt Ratio *

60%

Better

Worst

Net Income *

379

230

Mkt Cap *

8.314

8.314

PER

21,96

36,13

Margins

EBITDA *

17,27%

Gross *

41,18%

Operating *

14,61%

Last Price **

62,69

52 Week High **

62,69

52 Week Low **

43,62

Volume (average 30 days) **

399.099

P/E

21,84

Book Value Per Share

12,22

Analysts Recommendations

Buys

43,75%

Sells

6,25%

Holds

50,00%

* Source: Bloomberg

** Values at 2012-9-5 18:1 (GMT)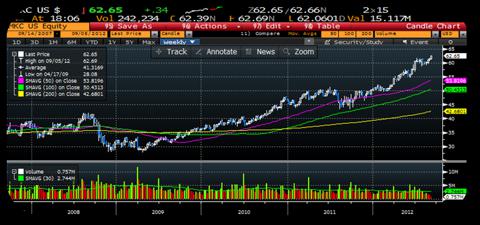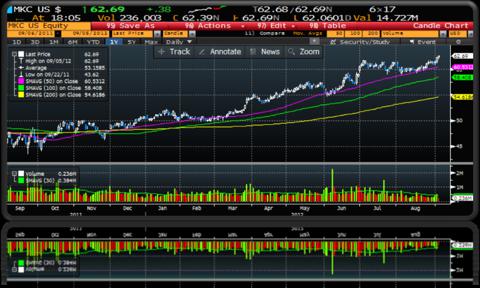 Disclosure: I have no positions in any stocks mentioned, and no plans to initiate any positions within the next 72 hours. I wrote this article myself, and it expresses my own opinions. I am not receiving compensation for it (other than from Seeking Alpha). I have no business relationship with any company whose stock is mentioned in this article.