In the wake of the financial crisis, it has become popular to decry excesses of financial capitalism whilst praising advantages of manufacturing. In countries as diverse as the U.S. (NYSEARCA:SPY), the U.K., France or Australia, the debate is raging as to how to resurrect the past industrial strength. Manufacturing renaissance is an emotive and imprecise term that is usually attached to these discussions.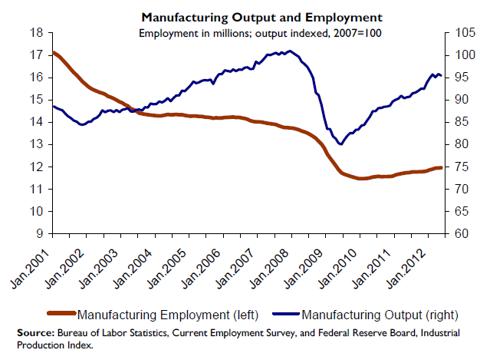 Since 1970, American share of global manufacturing output has declined to 20% from 26%, while China's share has risen to 19% from just 1%. From 1970 to 1990, American manufacturing employment didn't decline, but rather lost share to rapidly growing services jobs. The number of manufacturing jobs fluctuated near 17m between 1965 and 1998, but declined from 20% to 13% of total U.S. employment.

Since 2010, job growth in the U.S. manufacturing sector has exceeded the pace of growth elsewhere in the U.S. economy. In February 2012, U.S. manufacturing payroll employment grew 3.8% on a rolling two-year basis, more rapidly than payroll employment ex-manufacturing, which grew only 2.5%. This is the first time since the 1980s that manufacturing employment has grown faster than non-manufacturing.
As a result, we expect companies to begin building more capacity in the U.S. to supply America. The early evidence of such a shift is mounting and supported by the following 5 factors.
1. Weakening US dollar has reduced the relative cost of U.S. wages and inputs relative to other locations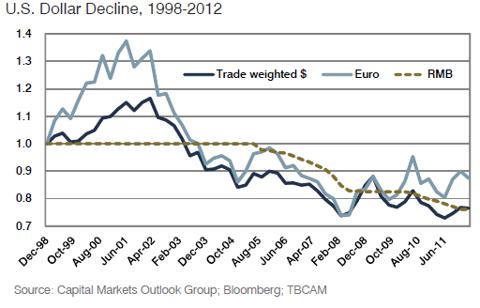 2. Narrowing Wage differentials and falling productivity between U.S. and key manufacturing economies.
Manufacturing output per worker in China (NYSEARCA:FXI) has improved by an average of 10% per year over the past decade (5x the pace of U.S. productivity growth). Although China's productivity growth will remain impressive, at 8.5% annually over the next five years, output per worker will increase at only half the pace of the rise in wages.

3. Declining natural gas prices relative to global price levels have broad implications related to lower manufacturing costs.

Source: Fidelity.com
Advances in hydraulic fracturing technology (fracking) are allowing U.S. exploration companies to tap natural gas and crude oil reserves embedded in previously impenetrable rock trapped thousands of feet underground. The increased supply has led to lower prices for these commodities and massively benefit companies in industries that use these as feedstock or energy input.
4. Global supply chains have become slower and more expensive. While it may appear that Chinese wages are still much lower, labor content ranges from only about 7% for products like video cameras to about 25% for a machined auto parts. When transportation, duties, and other costs are included, not to mention the expected continued appreciation of China's currency, companies may find that any cost savings to be gained from sourcing in China may not be worth the time and myriad risks and headaches associated with operating a supply chain extending halfway around the world.
BCG has given the following example of a hypothetical car assembly plant to illustrate how the math is changing.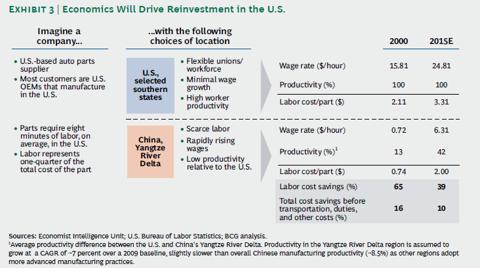 Source: Boston Consulting Group
Thus, the cost savings, if any, are unlikely to be enough to justify outsourcing the part to China, once all the other costs and risks are taken into account. If this trend continues through 2020, say, the equation might even reverse itself completely-with manufacture in the U.S. being cheaper even before those added costs are considered.
5. Various forms of volatility have become more apparent and thus a larger concern. Some of them include fuel prices, financial markets, wages, currency, transportation costs, intellectual property theft and nationalization
Disclosure: I have no positions in any stocks mentioned, and no plans to initiate any positions within the next 72 hours. I wrote this article myself, and it expresses my own opinions. I am not receiving compensation for it (other than from Seeking Alpha). I have no business relationship with any company whose stock is mentioned in this article.