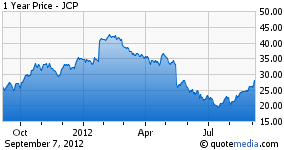 As my repeat readers probably know, I've been very bearish about J.C. Penney (NYSE:JCP) over the past year. I warmed to the stock a bit earlier this summer, when it was trading near $20. However, the price has now risen nearly 50% in less than two months, closing at $27.97 on Thursday. Late last month, I wrote that management was still in denial, and that investors should continue to avoid the stock. However, given the stock's rapid (and unjustified) rise, I re-opened my short position on Thursday just below $28.
The apparent reason for J.C. Penney's rally this week (more than 7% in two days) was a presentation given by newly-minted CFO Ken Hannah at the Goldman Sachs (NYSE:GS) Global Retail Conference. Hannah noted a "positive response" by customers to the company's recent tweaking of its pricing and marketing strategy. According to AP, this is giving investors more confidence that J.C. Penney is making progress in its transformation.
On the other hand, the tone of Hannah's other comments (webcast replay available here) was very restrained. This marks a noticeable change from the first half of the year, when J.C. Penney management was consistently upbeat about all things "transformation"-related. I think this represents a "return to sanity," which should be somewhat comforting to shareholders. That said, Hannah's candor revealed further problems ahead for J.C. Penney that may not have been clear before. There were three main areas where Hannah guided expectations downward on Wednesday.
First, Hannah confirmed that J.C. Penney is planning for the second half sales trend to be similar to the first half trend, when comp sales were down roughly 20%. As Walter Loeb at Forbes writes, this puts the company on pace to lose over $3 billion in sales year-over-year. The problem is that while Wall Street sales estimates have been slowly coming down, the average decline predicted for Q4 is 11.3%, well short of the company's new guidance. As I have noted earlier, there are good reasons to believe that the Q4 holiday season could be tougher for J.C. Penney than the past two quarters. Competitors like Macy's (NYSE:M), Target (NYSE:TGT), Dillard's (NYSE:DDS), and Kohl's (NYSE:KSS) are sure to discount heavily for the holidays, particularly with the economic outlook likely to remain weak. J.C. Penney will not keep up, due to its new strategy, and will lose business accordingly (just as the company's decision not to match competitors' midnight Black Friday openings last year hurt sales). Given the strong possibility of weak sales, it's a smart move from a margin perspective for J.C. Penney to plan inventory down 20% or more. On the other hand, this limits the company's Q4 upside; I don't think the company has any chance at the average analyst target of an 11.3% drop, given its order plans.
Second, Hannah talked about putting a "governor" on the shops roll-out. The initial plan for rolling out the shops, revealed in January, was very clear: "Two to three shops will be installed monthly, each and every month, over a four-year transformation period." However, given the company's awful sales since February, this plan has apparently come into conflict with the company's promise to pay for the transformation from current cash flows. J.C. Penney already deviated from the original plan by rolling out five shops in August and another five in September. On Wednesday, Hannah stated that there would be no further shop roll-outs this year, and that while the company planned to add 30 next year (bringing the total of 40), that would be dependent on cash flow. In other words, if profits and cash flows fall short of targets (as I expect), the shop roll-out will slow down to limit capital expenditures. However, this could cause a vicious cycle where a slower shop roll-out depresses future earnings, which further slows down the shop roll-out, etc.
Third, Hannah appeared to step back from the year-end goal of having a $1 billion cash balance. In my most recent article about J.C. Penney, I suggested that the $1 billion target was probably out of reach. When an analyst asked whether he was still comfortable with the $1 billion figure, Hannah went on a long tangent about how the company has adequate liquidity, and talked about the $1 billion pledge in the past tense. While Hannah never explicitly backed away from the target, it would have been very easy to answer the question with a "yes" if the answer was clear. This reinforces my doubts about J.C. Penney's ability to generate sufficient cash flow to fund its ambitious transformation.
As I mentioned above, I think the average sales estimates for the remainder of this year are too high. Profit targets are correspondingly too high. Even with the impact of recent cost cuts, J.C. Penney will have difficulty beating its adjusted EPS of about 74 cents from last year's Q4. Looking forward to next year, profits will be low once again. I'm assuming that SG&A will decline by roughly $950 million compared to 2011 (ahead of the $900 million target). This will be offset by a roughly $150 million increase in pension costs (due to lower pension funding). A decrease in interest expense will be roughly offset by a decrease in real estate income due to the recent sale of some REIT units. Operating expense plus interest expense will thus decline from 2011's adjusted level of $6 billion to roughly $5.2 billion for 2013. Even if J.C. Penney manages to hit the average analyst target of $14.6 billion in sales (a 4-6% comp increase based on my expectations for this year) at a relatively strong 38% gross margin, this would still only result in pretax profit of $350 million, and EPS just over $1. Given that there is significant sales and margin downside, it's hard to justify the current 25X forward earnings multiple for J.C. Penney.
I am beginning my short with a small position. With management giving Wall Street analysts a tour of a model store later this month, it is possible that the stock will rally on bullish analyst comments. Given the poor results J.C. Penney has seen in its real stores, I would view any further spike as a bigger short opportunity. I would place a fair value of $20 on the shares today, which provides an adequate margin of safety.
Disclosure: I am short JCP. I wrote this article myself, and it expresses my own opinions. I am not receiving compensation for it (other than from Seeking Alpha). I have no business relationship with any company whose stock is mentioned in this article.