Mortgage REIT stocks have been smokin' hot in the recent past. As a result of the Fed program "Operation Twist", this sector has had tempting dividends and attractive share appreciation. Considering the Fed intends to keep rates low well into 2014, investing in the mREIT sector should be a solid investment going forward.
Some mREIT market sweethearts include Annaly Capital Management Inc. (NYSE:NLY), American Capital Agency Corp. (NASDAQ:AGNC), ARMOUR Residential REIT, INC. (NYSE:ARR), Two Harbors Investment Corp. (NYSE:TWO), and Invesco Mortgage Capital Inc. (NYSE:IVR). These stocks have outperformed much of the market this year: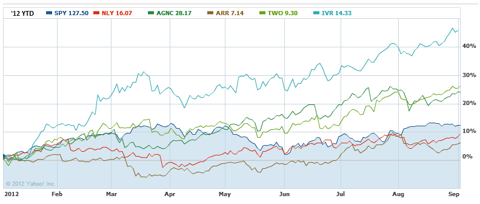 Click to enlarge
As shown in the chart, there has been some disparity within the sector. This is why diversification is critical when building an efficient portfolio. However, some investors may not have the required capital to allocate funds appropriately in this regard. In addition, managing a large portfolio increases maintenance and fees, particularly when hedging numerous positions is desired.
An answer to this dilemma for some investors is the iShares FTSE NAREIT Mortgage REITs Index (NYSEARCA:REM).
| | | | | | |
| --- | --- | --- | --- | --- | --- |
| ETF: | Div Yield: | Last Div. Increase(June) | Share Appreciation YTD: | Avg. Price/Book: | Prem. to Nav |
| REM | 10.57% | 6% | 18% | .92 | +.08% |
REM is well diversified with 10 holdings amounting to 74% of total assets. This ETF has a slightly lower yield than the leading mREITS, however 10.57% is still outstanding. There have been two consecutive dividend increases in June and March of this year, which may signal the dividend is secure. The shares have appreciated 18% in 2012-an impressive performance thus far. The NAV also seems relatively attractive. Here is a chart showing REM's consistency versus the same group of popular mREITS mentioned earlier: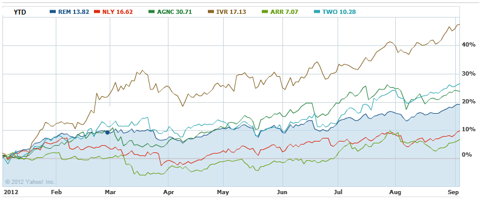 Click to enlarge
REM's holdings include a focus in NLY and AGNC: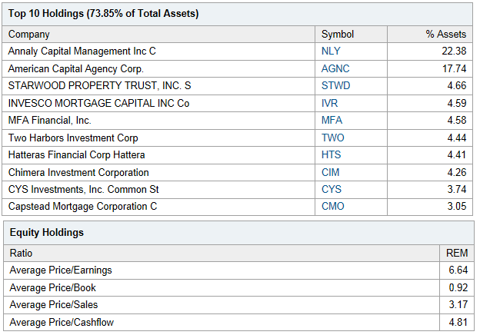 Click to enlarge
As mentioned earlier, the Fed intends to keep rates low for quite some time, which is bullish. However, it's not illegal for a change in this policy to occur. To safeguard against a rate increase, and perhaps to prevent sleepless nights filled with angst, buying a put option to pair going long REM shares seems prudent.
The Trade:
Buy 100 shares of REM for 15.11/share
Buy to open a Jan 18, 2013 14.00 Strike Put Option for .40
| | | |
| --- | --- | --- |
| Gross cost of option: | $40 | Premium of .40 X 100 shares |
| Max gain: | Unlimited | ( anywhere above 15.11/share ) |
| Est. Div. Payout (Sept.+Dec. Dividends)1 | $80 est. | .40 est. X 2 X 100 |
| Net Max loss: | $71 | 15.11-14.00+.40 Premium -.80 Est. Div. X 100 Shares |
1REM has not officially announced the next two dividends yet, but judging from the past, we can assume the ex-dates are the end of September and December- and that both the payouts should be completed by the time the contract expires (Jan 18, '13)
Trade Summary:
Only one of the dividend payouts ($40) is needed to fund the full three months of protection this put option offers. Including the two assumed dividends ($80), the maximum potential loss is 4.7%. If REM were to implode and go to zero while not paying any dividends at all, the maximum potential loss is $151, or 10%. Although unlikely, we must always examine the downside risk. On a brighter note, the upside is unrestricted in this trade. Overall, the risk/reward profile seems advantageous in my opinion.
Summary:
Mortgage REITS are poised to continue their bullish run, especially if the Fed continues "Operation Twist". Getting long a diversified ETF, like REM, is a great way to efficiently gain diverse exposure. In addition, using a simple, low cost put option can help mitigate any significant pullback in this sensitive yet highly profitable sector.
Disclosure: I have no positions in any stocks mentioned, but may initiate a long position in REM over the next 72 hours. I wrote this article myself, and it expresses my own opinions. I am not receiving compensation for it (other than from Seeking Alpha). I have no business relationship with any company whose stock is mentioned in this article.