BT Group (NYSE:BT) has shown an improvement in its fixed line and broadband businesses, and has recently benefited from its cost-saving measures. Despite the revenue decline, the company has been able to grow its earnings over the years. We like BT's high margins, which reflect its operational strength. However, the absence of a mobile network and an increasing consumer trend toward mobile usage can prove to be a disadvantage for the company going forward. The stock is cheap based on valuations and is currently offering a 5% dividend yield, with prospects for a further dividend growth. We believe there is limited upside potential for the stock price; however, from a dividend perspective, it remains a buy.
BT, a communication services company, serves its customers in approximately 160 countries around the world, including the U.K. The group provides fixed line, mobile and broadband services, as well as IT solutions. It is a $27 billion company, with its shares trading near $34 on the NYSE.
The company operates through four segments: BT Global services, Retail, Wholesale, and Openreach. Through its Global Services business, the company provides network IT solutions to its corporate customers in financial and manufacturing sectors, among others. BT Retail sells fixed line and broadband services to its consumers under the brands BT and Plusnet. Its other business, Openreach, provides services through local access networks that comprise connections between telephone exchanges and businesses.
Recently, BT announced its quarterly results, with its revenues dropping by 6%. However, despite the revenue slide and the harsh regional economic climate, the company ended the quarter with earnings growth of 17%, made possible through the company's tighter cost control and efficiency improvement measures. As of the quarter ended June 2012, the company derived almost 39% of its revenues from its Global Services business. Total revenue generated from the business declined by 9%, mainly due to the harsh economic climate in Europe, which was exacerbated by a 51 million pounds sterling impact of adverse currency movements.
Despite the company signing contracts with organizations all around the world -- including Rolls Royce, which covers network infrastructure, and Tesco for cloud-based contact center services -- its total order intake was 1.1 billion pounds sterling, considerably down from the first quarter of the previous year. Moreover, the declining trend has persisted on an annual basis, with the company reporting an order intake of approximately 7.3 billion pounds in the financial year ended 2010, which dropped by over 8% a year later. Despite operating costs dropping by 9% in the quarter, the company's Global Services business reported an EBITDA that decreased by 8%, excluding the unfavorable currency movements. The drop was 14%, including the aforementioned impact.
Unlike the company's Global Services business, its Retail business did well in that it posted operating profits for the quarter. The profits came despite the 3% drop in revenues. However, interesting to note is that the company has been able to slow down the declining trend in its Retail business across the majority of its key metrics. Even though line revenues have been dropping for a few quarters now, the growth in broadband and fiber has managed to offset the drop. Growth in broadband also led to an increase in average revenue per user, which increased to 350 pounds in the quarter, from 330 pounds in Q1 2012 and 314 pounds in Q1 2011. The company is experiencing good growth in the broadband business, adding 85,000 retail customers in the quarter, which represents a 10% rise from the total broadband customers in the first quarter of the previous year. Similar growth was seen in the fiber business, where the company's fiber net additions doubled from Q1 2011 to 150,000 customer additions.
The company's Openreach business, which is responsible for connecting various businesses and homes to their telephone exchanges, generated revenues that were more or less stable as compared to Q1 2011. Even though physical lines increased by almost 70,000 over the last year, they declined slightly in the quarter recently ended. An improvement was seen in the fiber business, where the company added fiber broadband to approximately 2 million homes and businesses in Q1 2012, which helped the business post operating profits of 309 million pounds -- an improvement from the previous year. BT's Openreach business was also the only business besides Wholesale that generated growth in its operating cash flows, as well as operating profits.
The following is a brief summary of its key metrics, which gives a view of the overall deterioration in the company's operations.
Click to enlarge image.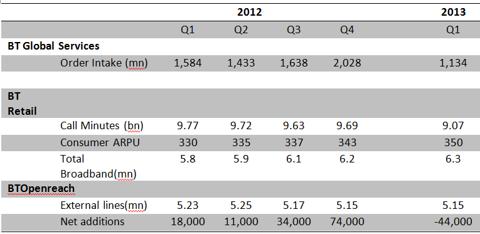 Click to enlarge
Source: 10-Q.
The company has historically posted high gross and operating margins. Its gross margins have remained more or less stable around 80%. These higher margins are even more impressive when looked at in light of the overall declining revenue trend. Operating margins have also consistently improved since FY 2008.
In the financial year ended 2012, the company paid total dividends of 590 million pounds, while generating operating cash flows of 3.6 billion pounds. Currently, the stock offers a dividend yield of 5%. Recently, the company's management has increased its dividend for the year to 8.3 pence per share, showing an increase of 12% from the previous year. BT currently has a modest payout ratio of almost 30%, and now that the management has pledged to raise its payout ratio by 10%-15% per year over the next three years, some more dividend growth can be expected.
The stock is trading at 8 times its earnings, at a discount to the industry multiple of 11 times, as well as its five-year average of 10 times. Moreover, its P/E is also at a discount to Vodafone's (NASDAQ:VOD) P/E of 14 times. Forward P/E of 8.5 times is also lower than Vodafone's 11 times.
Disclosure: I have no positions in any stocks mentioned, and no plans to initiate any positions within the next 72 hours.
Business relationship disclosure: The article has been written by Qineqt's Telecom Analyst. Qineqt is not receiving compensation for it (other than from Seeking Alpha). Qineqt has no business relationship with any company whose stock is mentioned in this article.