Pandora (NYSE:P) shareholders had a rude awaking. After an excellent start to September and one day after the S&P 500 made new four-year highs, Pandora is taking a beating. Currently, Pandora is down nearly 17% to $10.48 on reports that Apple (NASDAQ:AAPL) may initiate a position in the online radio division. Here's a look at how Pandora shares are reacting to the news: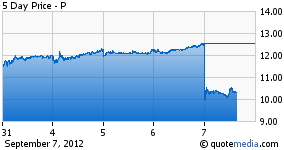 Pandora has had rivals enter the online radio arena, only to lose to the current king. Spotify was its biggest threat, and Pandora has done well to keep it in check, but Apple is a different beast. Being the biggest company in the world, it has a little bit more leverage and a plan that could eventually sock Pandora in shorts, creating quite a large competitive barrier to overcome.
The report, which was originally released by the Wall Street Journal, states that, "Apple is in talks to license music for a custom-radio service similar to the popular one operated by Pandora Media Inc., according to people familiar with the matter, in what would be a bid by the hardware maker to expand its dominance in online music."
Now, this wouldn't be as big of an issue if it were just another software company looking to gain a spot in the market. But with Apple, they can pre-set their iPods, iPads, and iPhones to work with this new form of streaming music, something that may prevent users from downloading Pandora all together.
I am of the opinion, that while I am not a shareholder of Pandora, the selling is overdone, at least in the short term. As a company or shareholder, you never want to hear Apple is contemplating becoming your competitor. But there are other phones and tablets out there that won't have this built into their system and there is room for both Apple and Pandora.
Pandora itself has a solid business plan and rapid growth rate. In the last quarter alone, sales were up 51%, with a growth rate over 132%. For shareholders, the threat is real. Apple is a giant company, with a huge user base in online music via its iTunes service and this is certainly something that would concern me. So while Pandora would likely survive an Apple push, I would think it would compress sales too. I would be leery stepping into Pandora shares and would wait for more information to be released on the topic. I would have a "Hold" rating on the stock as of now.
Note: On September 12, Apple is hosting a Media Event. It is expected the iPhone 5 will be debuted, while an update for a music streaming product could be released as well.
Disclosure: I have no positions in any stocks mentioned, and no plans to initiate any positions within the next 72 hours. I wrote this article myself, and it expresses my own opinions. I am not receiving compensation for it (other than from Seeking Alpha). I have no business relationship with any company whose stock is mentioned in this article.