I will preface this report by stating that I am not bearish on Apple (NASDAQ:AAPL) long-term, and while I consider myself (in Graham's terms) much more of an investor than a speculator, I am willing to make a significant bet that on a short-term basis, Apple's share price will deteriorate. 
Since the market's slight recovery in May and sequential downturn through June, the S&P has given up 15% while Apple has significantly outperformed the market. shedding less than 8%.  During these past months, multiple analysts have upped price targets, most citing 3G iPhone sales, and expectations have become overly optimistic in today's slow-growth environment. 
What follows is a comprehensive analysis of Apple's Fiscal 3Q ending on June 30, 2008 due to be released July 21st.  The three main factors I expect to contribute to a short-term drop in AAPL shares are:
Perceived disappointing numbers in iPod, iPhone, and Mac revenue,
Disappointing gross margin and Net Profit Margin, consistent with decline seen in Q2 (see conference call transcript), and
Apple's emotional impact on its investors.  
Rev Streams
iPod
Where I see the greatest weakness in Apple's current quarter and future is related to their heavy reliance on iPod sales.  In Q3, I expect iPod revenue to represent around 25% of total revenue, a percentage that will become exponentially smaller as iPhone revenue grows and iPod sales decline. 
The iPod is quickly becoming a nonessential product as more and more phones come with mp3 capabilities.  Granted, these competing products pale in comparison to the user friendliness of the iPod, but consumers will continue to look for multi-use devices as apposed to purchasing two separate devices.  While this consumer shift dampens the future of the iPod, it also brightens the future of the iPhone. 
What I expect to see in the future, but most importantly what I believe will already be evident in this quarter, is heavy cannibalization of iPod sales from the iPhone.  I still expect iPod shuffles to sell well because of their extremely low price mark and their clear distinction as a workout device, but shuffle margins are much lower than Apple's other products and the heavier distribution of shuffle sales will weigh on gross margins.  I expect iPod classic sales to slump this quarter and more severely in the future with iPod nano sales decreasing at a slower rate. 
While I realize the iPod touch is a distinctly different product, I foresee a similarly disappoint quarter and future as more user friendly phones are introduced with capabilities similar to the iPhone.  With what I believe will be disappointing unit sales at a lower ASP (due to high shuffle sales) I am expecting $1.72 billion in revenue from iPod sales (10.1 mil units at $170).
iPhone
The iPhone revenue is by far the easiest to predict.  Although it is easy to estimate, some analysts will get it wrong because they simply don't recognize or understand Apple's smoothing revenue recognition strategy and the delayed recognition from sales made from March 6th through the end of the quarter.  In Q2 Apple reported $378 million in iPhone revenue.  I expect $380 million in revenue from the iPhone for Q3 due to the delayed start of recognition.  Although the minimal growth in nominal revenue from the iPhone is expected, some analysts/investors will misunderstand the $380 million as disappointing.
Mac
The greatest strength of Apple lies in Mac sales and market share growth.  While I foresee an extremely strong future for Mac computers, I expect Q3 numbers to slightly disappoint analysts.  As noted by Apple COO Cook in the Q2 call, Q3 is a big K-12 quarter.  This reliance on state and local government spending will hurt Mac sales as states look to cut spending as they deal with increased food and gas prices (remember busing?).  Already over 20% of states have cut K-12 budgets and even more have reduced spending on replacing Mac computers that still perform adequately. 
I also believe that we will finally begin to see economic headwinds affect Mac sales in Q3.  Based on NPD data, Mac currently owns 66% of the over $1,000 computer market.  While consumers will continue to buy computers, Mac computers are treading the line between necessary and discretionary spending and consumers' discretionary cash has been cut significantly with the downturn in the economy. 
Finally, with Apple due to release new lines of redesigned MacBooks, MacBook Pros and more MacBook Airs, I believe more consumers will delay purchases until the fourth quarter of 2008 when back to school spending really heats up.  Based on these factors, I am expecting $3.6 billion in revenue on 2.4 million Macs. 
Based on these numbers and when combining them with general analyst estimates for iTunes, Software, and Peripheral revenue, I am expecting Apple to report $7.51 billion in Revenue, beating their $7.2 billion estimate by 4.3% the lowest percentage amount in over six quarters. 
Margin Compression
Gross margin was by far the biggest surprise from Apple in Q2 earnings.  Although the company beat GM guidance for the quarter by 90 bps by reporting 32.9%, the number was significantly lower than what the street expected. 
Based on the conditions seen during Q2 related to lower commodity and NAND flash memory prices, distribution of higher margin product sales, and Apple's tendency to beat guidance by 300 – 500 bps, most analysts had projected 36% GM and an upside surprise in EPS.  Obviously we didn't see this GM beat and this led to the smallest EPS beat in 6 quarters.  Realize the importance of GM for bottom line earnings, approximately every 1% of additional GM in Q2 would have added 7.3 cents to the bottom line EPS. 
So, the question that is on most analysts' minds now, is whether this was an aberration or if GM pressure will continue into Q3.  I believe that Q3 will show similarly disappointing GM and an even more disappointing Net Profit Margin.  For reasons listed above, especially those related to Apple's continual movement away from the higher margin traditional iPod to the cheap, lower margin, $50 iPod shuffle, iPod unit growth will slowly plot along as GM takes the hit.  Lower than expected unit sales at lower than expected gross margin per unit can only result in a significant hit on GM similar to that seen in Q2. 
Unfortunately for Apple, the problem with margin contraction does not stop there.  With the continual growth of revenue derived from iTunes, a business arm that Apple says they run at break-even, GM are sure to be under further pressure.  Also, additional expenses incurred and recognized immediately related to the launch of the 3G iPhone will show up in Q3 Operating Expenses.  Apple guided for $1.185 billion in Q3 OpEx expenses, but OpEx is a number that Apple consistently underestimates by $30 million and I expect this aggressive trend to be amplified as Apple overspends in preparation for the 3G launch. 
Based on this trend and in light of Apple's $39 million underestimate in 07's Q3 iPhone launch, I'm modeling in 1.235 in OpEx. I don't expect to see any major differences in tax rates which have stayed constant around 31-32% or in Other Income and Expenses which Apple has guided at $115 million. 
Based on these estimates, the following is a pro forma income statement of Apple's Q3 with GM variation shown in GM which I believe will be somewhere between 33-34.5%.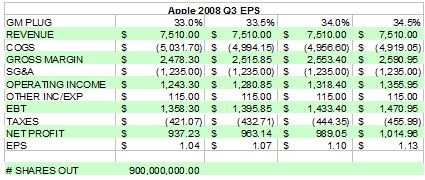 You can see the importance of GM in the chart above.  Based on these estimates, I estimate Apple will report GM of 33.7% and EPS of 1.08. 
Emotions
Every investment book that I have ever read tells investors over and over again not to invest based on emotions but rather on pure valuation.  I, on the other hand, encourage anyone I talk to to invest based on emotions; it gives me the opportunity to make more money.  In fact, I love it when investors make decisions based on emotions; it is why I bought Apple over a year ago after investors had emotionally sold off and it is why I doubled my stake in February when investors beat down the stock on "bad earnings" and Steve Job's lacking keynote.  I have rarely come across a stock that trades with such volatile characteristics on relatively stable, be it impressive, growth. 
Based on Apple investors' characteristics, the current market sentiment, and my EPS projections I expect a significant selloff of AAPL on the 21st.  Although Apple has continued to beat estimates, they have done it at a declining rate going from a 55.4% beat in Q4, to 23.9%, to 23.4% last quarter.  The two most recent quarters I believe have signified a new trend in slightly more aggressive guidance from Apple, guidance that will be a bit more difficult to destroy in this tough economy.  Rest assured, Apple will beat their $1.00 in EPS and they just might beat my 1.08 EPS but the stock will get beaten down based on the specifics of their earnings, the non-rational emotional high that a lot of Apple investors are on with the 3G iPhone, and guidance that, while a bit more aggressive than in the past, is still considerably lower than the street. 
Don't buy Apple, it will get cheap...remember, when investing its not about lowering your standards for stocks, it's about increasing your patience. 
Disclosure:  Author is short AAPL and long NOK, TWM