Doug Short has this great chart of the timing of the Fed's QE and Operation Twist programs that includes the S&P 500, 10-year Treasury yields and the Fed Funds Rate.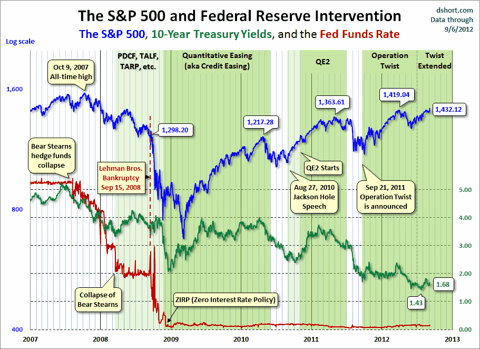 Quite clearly we can see the positive impact this has had on the S&P 500 and the lowering of the 10-year Treasury yields.
In a very similar fashion, the price of gasoline (NYSEARCA:UGA) has gone up just like the S&P 500 index.
Here is a chart of average gasoline prices in the U.S. over the last 5 years: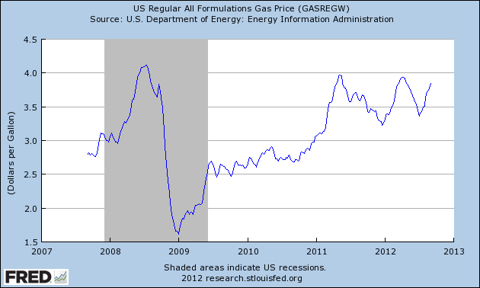 When I index the price of gasoline to the S&P 500, the chart looks like this: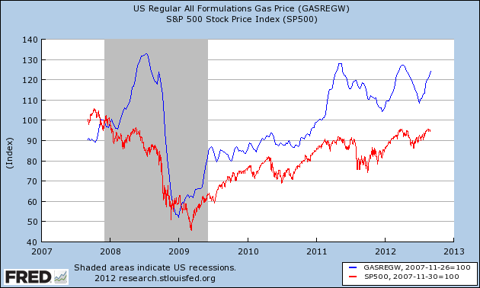 So not only has QE helped bring the S&P 500 higher, it also may have contributed to the high price of gasoline as well.
A play was written two centuries ago called "Faust" by a famous German poet named Goethe. In his play, there is a scene where the Emperor, who sold his soul to the Devil, Mephistopheles, is lacking money and asks the Devil to create it. The Devil accepts this task and a prototype note is created and multiplied a thousand times by magicians overnight. The Chancellor then gives the Emperor the note that has turned an ill into a good.
It is of this idea of quantitative easing the Fed and other world central banks are trying to do: Turn an economic ill into a good.
In the play, there are always undesirable, unintended consequences for each of the requests that are made to the Devil.
I'd like to explore two consequences of our easy money policy that may well be doing us more harm than good: Gasoline prices and wage growth.
Let's start with gasoline. In 2011, gasoline averaged $3.53 a gallon, a record high yearly average. The average American household was estimated to have spent $4,155 on gasoline, which would be 8.4% of an average household income in 2011, the highest percentage since 1981.
So far this year, the price of gasoline has spent 20 weeks being higher than last year and 16 weeks being lower.
See this chart below of the change in the gas price from a year ago: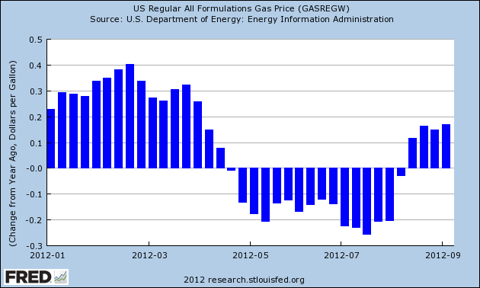 I calculate the average price of gasoline this year to have been $3.63 a gallon, about 10 cents or 2.8% higher than last year.
Average weekly earnings in the private sector are up about 2% from last year.
This price increase has caused U.S. drivers to cut back on their gasoline consumption. According to Mastercard, (NYSE:MA) year to date, gasoline demand is 4.2% below that of 2011.
Here is a chart of year-over-year product supplied of finished motor gasoline from 2007: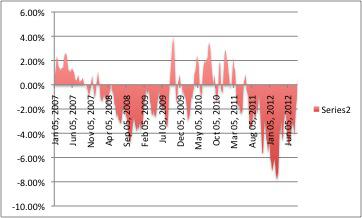 Consuming less gasoline is good for the pocket book, but perhaps not as good for productivity or quality of life. Quality of life, for example, not driving to visit Grandma and Grandpa because the price of gas is just too much, or not making the run to the ice cream store because it would be $3 in gas alone. Productivity like deciding to walk to the store to get milk versus driving is going to take a lot longer most likely.
While demand was down year over year close to 8% in March of 2012, it has since rebounded and is back close to the same levels of demand as last year, which means average American households are back to spending over 8% of their incomes on gas.
Fed Chairman Ben Bernanke, in the Jackson Hole speech he gave last month, said a lot about deflation. First, he said of the policies of the Fed .."served to check the deterioration in the real economy and the emergence of deflationary pressures."
He also said with regards to the effects of the Fed policies, mainly of the QE programs that in the aggregate consisted of buying $1.7 Trillion worth of Treasury and agency bonds: "Overall, however, a balanced reading of the evidence supports the conclusion that central bank securities purchases have provided meaningful support to the economic recovery while mitigating deflationary risks."
But there is a deflationary risk and it's not being mitigated or mitigated enough to prevent it from continuing to drop. That deflationary risk in average hourly earnings.
Since 2008, average annual wages have declined from being over 3% to now under 2% in total private sector jobs ( blue line). For production and non supervisory jobs in the private sector (red line), annual wage rate increases have been declining more aggressively, growing only about 1.3% year over year as of August.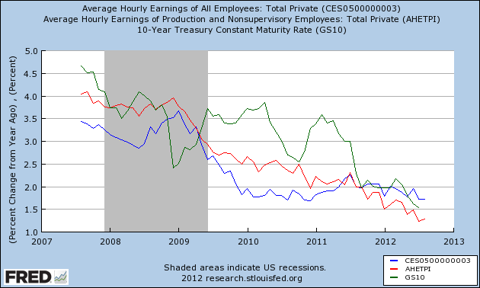 What is interesting is that the decline in the 10-year Treasury yield (green line) has been more or less in line with the decline in year-over-year wage growth.
While we only added 96,000 jobs last month, the year-over-year change in total payrolls is about 1.3% (blue bar). The U.S. population (red bar) grew 0.7% year over year.
See this 5-year chart of year-over-year percent change in total jobs and population of the U.S.: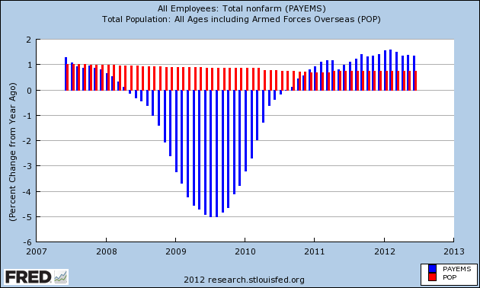 The Fed's policies have stopped the decline in the percent of the U.S. population being employed, but it has not provided any growth to it either.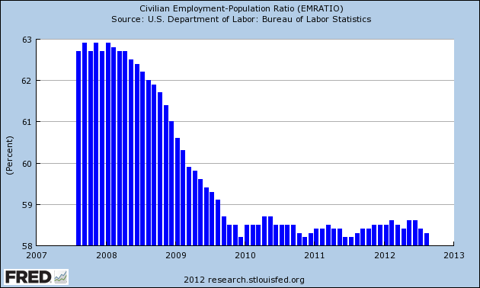 With after-tax corporate profits as a % of GDP the highest they've been in at least the last 60 years, there is probably a good deal of room for price reductions to occur. It could also be argued that there is a good deal of room for higher wages to be paid as well. Invisible hand or the Fed's hand?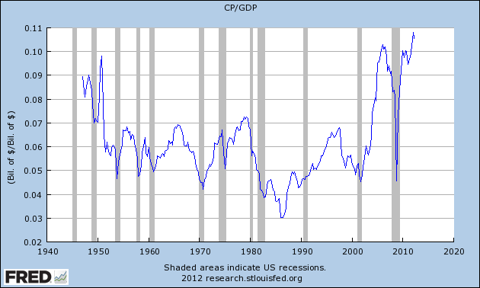 In conclusion, I just paid $3.96 a gallon of gas here in upstate New York, to fill my gas tank. So this idea of doing more QE, when rates are already so low and the price of gas is so high, I am far more fearful that more easing would do more harm than good to the U.S. economy.
It pains me to know a good deal of folks who have 1 hour commutes to drive to either school or work and to see the gas price as high as it is.
I have a bias that the Fed will not announce another round of QE from its meetings on September 12 and 13 but instead issue more rhetoric that it stands ready to do so if the economy begins to deteriorate further.
The major market indexes may well be disappointed in the lack of more QE and sell off on that news.
In the event that the Fed decides to do more QE, I am bullish on the price of gasoline.
Disclosure: I am long SH. I wrote this article myself, and it expresses my own opinions. I am not receiving compensation for it (other than from Seeking Alpha). I have no business relationship with any company whose stock is mentioned in this article.