Semafo (OTCPK:SEMFF) is a Quebec-based miner with mines in Burkina Faso, Niger, and Guinea, West Africa. The company's primary asset, the Mana Mine, is located Burkina Faso.
As the 1-year chart below illustrates, the stock has been extremely volatile and not particularly kind to long-term investors as it is to traders.
As the chart shows, the stock experienced a deep correction in early July due to a resource estimate report that did not meet market expectations, which were inflated after the former CEO boosted market expectations of the Wona-Kona Super Pit. The estimate returned total reserves and resources of 7.3M ounces (not including the inferred resource), up 1.3 million ounces from the prior estimate, at a grade of 1.80 grams per tonne.
The stock broke a key resistance level of the $4 level today (Friday) and is one of the best performing gold producers from a price action perspective. Technically speaking, both the MACD and RSI indicate a strong upside trend has been forming in the past 4-5 weeks and the next resistance range is between $5.40-$5.60, leaving a healthy potential upside for those willing to take the risk.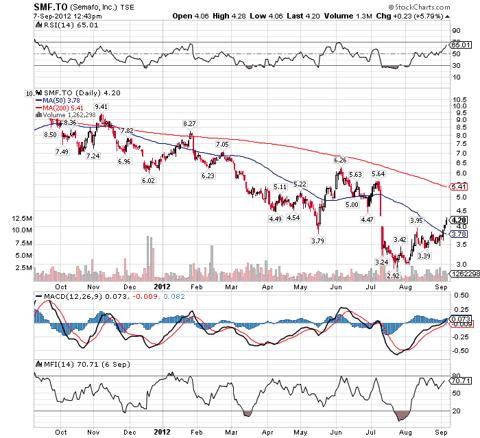 Fundamentally, the company is an excellent operator with notably good senior management. The company has no debt and carries roughly 15 percent of its market capitalization in cash.
The stock, however, comes with risks. As the chart illustrates, the stock has not been kind to buy-and-hold investors and is still in a bear trend. Technically, the recent positive trend in the stock could end-up being another bear rally as in the past. As the MFI shows, the volume or money flow did not break into higher highs as the stock did. In addition, the recent resource estimate resulted in a 7.3M ounces of gold at a grade of 1.8 grams per tonne, which is a slight deterioration from the prior grade estimate of 2010.
The company also operates in West Africa, a region of the world notorious for political instability as we have seen recently with Mali (Mali borders Burkina Faso); therefore, the risk (and therefore valuation discount) is higher in relation to a North American miner. In fact, Burkina Faso is currently facing some challenges with floods and might see the mining sector as a means to raise additional funds as it recently did by introducing a 20 percent tax on mine license sales.
Thus, an investment in Semafo offers a great opportunity for upside potential, but due to some of the risks inherent in the company this is not a buy-and-hold investment, but a trading vehicle.
Disclosure: I am long OTCPK:SEMFF. I wrote this article myself, and it expresses my own opinions. I am not receiving compensation for it (other than from Seeking Alpha). I have no business relationship with any company whose stock is mentioned in this article.
Additional disclosure: I am Long Semafo on the TSX