I had discussed the reasons for not rushing into another round of quantitative easing in one of my recent articles. I am still of the opinion that policymakers should avoid further QE in the foreseeable future.
However, considering the mindset of policymakers, the unemployment numbers might not provide enough breathing space for the Fed to delay another round of quantitative easing.
The headline unemployment rate has declined from 8.3% to 8.1%, and might seem positive. At the same time, the U6 rate (which measures the unemployed, those who have left the work force and those who are employed part time but would like to be employed full time) has also declined from 15% to 14.7%.
(click images to enlarge)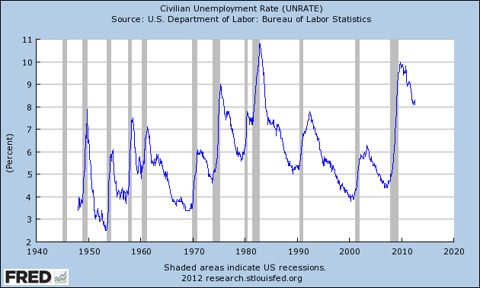 Click to enlarge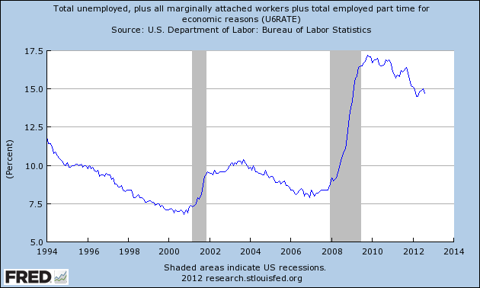 Click to enlarge
I am of the opinion that U6 provides a more realistic picture when it comes to analyzing the job market scenario. From that perspective, the jobs report should have been considered positive.
However, I still consider the overall jobs report as pretty disappointing.
The primary reason for a negative view on the jobs report is the civilian labor participation rate. The participation rate has declined from 63.7% in July 2012 to 63.5% in August 2012.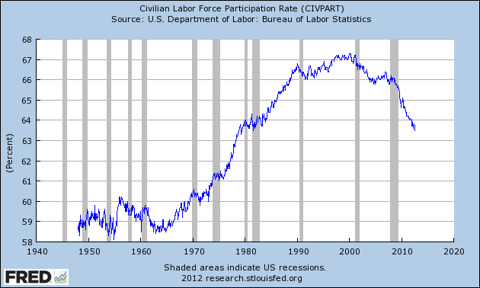 Click to enlarge
Therefore, had the participation rate remained higher, the unemployment rate would have been essentially unchanged.
Clearly, there is no reason to feel positive about the jobs report, or to consider the drop in the headline unemployment rate as an encouraging factor for the economy.
The disappointment related to unemployment numbers is reflected in the equity markets, with major indices struggling to remain in the positive zone.
At the same time, gold has surged by over 2%, indicating that market participants are looking forward to further easing by the policymakers. (emphasis mine)
I am of the opinion that it is a good time to go long on the precious metal, which has witnessed a prolonged phase of consolidation.
Coming back to the jobs report, another disappointment in the report was related to the average mean duration of unemployment. The mean unemployment duration has inched higher to 39.2 weeks from its last reading of 38.8 weeks.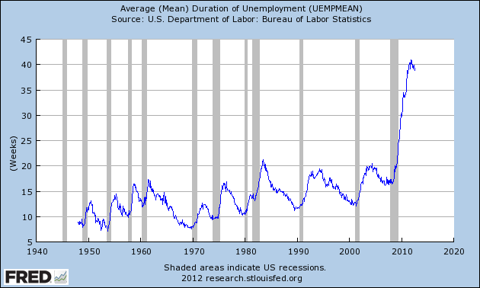 Click to enlarge
This is a critical factor when it comes to overall consumer confidence and consumption. Higher unemployment duration puts pressure on government finances and also dents consumption, as consumers are more cautious in an environment where getting a job looks increasingly difficult.
The civilian employment to population ratio also deserves a mention, as it declined marginally from 58.4% to 58.3%. However, the ratio has declined from 58.6% in May 2012 to 58.3% currently.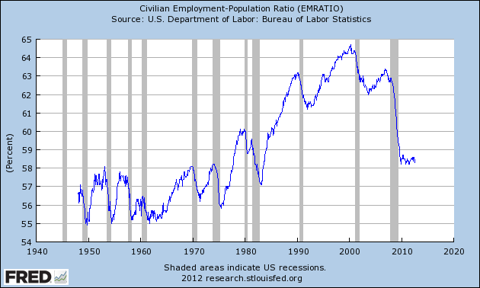 Click to enlarge
I see this as an increasing pressure on the working population to earn for the non-working population. Clearly, this is not positive for the economy or consumption.
Another concern in the jobs report is a decline in the manufacturing employment. According to the BLS release:
Manufacturing employment edged down in August (-15,000). A decline in motor vehicles and parts (-8,000) partially offset a gain in July. Auto manufacturers laid off fewer workers for factory retooling than usual in July, and fewer workers than usual were recalled in August.
In a scenario where the annual budget deficits are consistently above USD1 trillion, a drop in manufacturing employment is alarming. The United States needs a manufacturing renaissance, and policymakers have failed to focus on this in order to create new jobs.
Overall, there is very little to cheer about in the jobs report. The numbers just take us closer to another round of quantitative easing. I can say with some conviction that QE won't help in creating jobs. However, with the mindset of policymakers, QE is very much on the cards.
It is difficult to talk about the trend for equity markets in the very near-term. However, I am of the opinion that considering fresh exposure at these levels in the S&P would be a greater risk scenario than a reward scenario. In line with this, I would wait for some correction on the indices before buying equities.
Trading in these markets is certainly not a great idea. Volatility can lead to significant capital erosion. Instead, investors can consider investing in the S&P 500 index. I would consider the SPDR S&P 500 (NYSEARCA:SPY) ETF for investing in the index.
I am also bullish on gold for long-term and also for the medium-term. Investors can consider investing in gold through the SPDR Gold Shares (NYSEARCA:GLD) ETF.
Disclosure: I have no positions in any stocks mentioned, and no plans to initiate any positions within the next 72 hours. I wrote this article myself, and it expresses my own opinions. I am not receiving compensation for it (other than from Seeking Alpha). I have no business relationship with any company whose stock is mentioned in this article.