In recent years, despite all the political chatter centered on the banking industry, banks have been under significant pressure to be profitable. Over 400 banks have failed since 2008. There are articles every day about how banks, despite the actions of the Fed, are lending less and holding more in reserves. However, are banks getting closer to being able to lend again?
Banks are a business, a unique kind of business, but a business nonetheless out to make a profit like any other. A typical bank, in healthy years, should earn an ROA of 1.10% to 1.50%. That translates into an ROE, because of leverage, of anywhere between 8-18%, similar to most other businesses. An average bank's ROA in 2009 was -0.26%, a loss. The ROA of a typical bank throughout the last decade is shown below.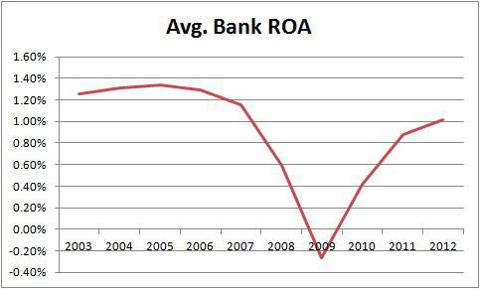 A bank makes its money by investing deposits into either securities or loans, both of which earn a return. Typically, loans earn more than securities and both earn more than what banks pay out to depositors. Although loans earn more, they come with a credit loss rate that a securities portfolio generally does not have. A loan portfolio may earn 7% in interest but have a net return of 5% because it incurs a credit loss on the portfolio of 2%.
In 2009 in the depths of the crisis, a typical bank had a loan loss rate of 1.73% on its loan portfolio that earned approximately 5.25% in interest. At that time, this loss rate was very large and ate into the profitability of the bank. This is what drove the negative ROAs as mentioned above. See below for a graph of the average loss rate over the years. Also notice the very low loss rates in the bubble years.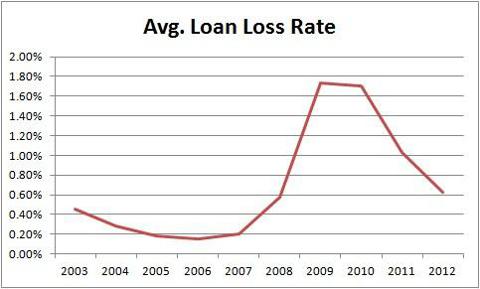 So what is a bank to do when it is incurring such high loss rates in its loan portfolio? Invest in fewer loans.
And that is exactly what is happening now. Everyone has read articles nowadays about how hard it is to get credit unless you are the best of the best credit risk. Banks just can't afford to take a risk; their profitability numbers are at a point where they can't absorb losses well. This has driven a significant decline in the loan-to-deposit ratio per the chart below. Banks have invested their money into their securities portfolio instead of the loan portfolio aside from only the most stellar of credits.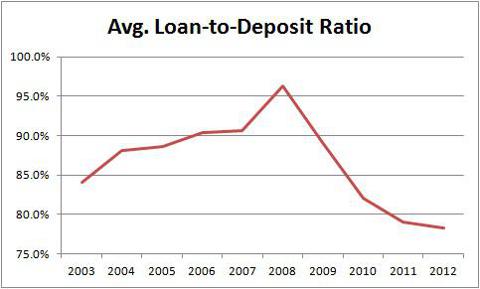 The phenomenon of banks not wanting to invest in their loan portfolio does not bode well for economic growth and that is why the economy has remained sluggish. Despite massive efforts by the Fed, if banks do not want to lend the money, then the money will not get to the market. The national accounts that have been most sluggish in this recession have been those related to loans: the real estate industry and the durable goods production industry, particularly automobiles. Credit is important for buyers in these industries because purchase prices are so high. As banks begin to lend into these industries, the economy will improve. However, banks will only do this if their own financial health is not adversely affected from already poor levels.
There is light at the end of this long tunnel. Although the recession has been frustratingly sluggish, banks are finally reaching a level of financial health near pre-crisis levels. Banks are finally earning healthier ROAs driven by lower loss rates. Per the graph above, an average bank is earning an ROA above 1.00% now, something not achieved since 2007. When ROAs and loss rates are back to more normal levels, banks are in a better position to take and absorb more risks.
Further, the loans-to-deposit ratio looks to be bottoming out, further indicating that banks may be poised to start making more loans, so long as deposits do not flee. Banks making more loans is exactly what the Fed had in mind when it pursued its loose monetary policy and it is exactly what is needed to drive US economic growth particularly in those industries mentioned above that are dependent upon lending to facilitate buying.
Only time will tell, but banks are getting healthier. In fact, they are finally at a point where they are healthy enough to maybe start taking and absorbing more risk. That means they are in a better position to do more lending.
So if you think that banks are poised for improvement and greater profitability, consider these stock ideas:
JPMorgan Chase (NYSE:JPM): Trading at a P/B of 0.76 with an ROA of 0.88%, JPM was one of the few financial institutions to not post a loss during the entire financial crisis. Their recent London Whale episode drove the stock price to below $40. However, they have one of the best management teams in the industry and are likely to be a strong performer.
Bank of America (NYSE:BAC): Trading at a P/B of 0.39 with an ROA of 0.26%, this stock has a little more work to do compared to some other banks but also could offer an impressive upside. Loss rates in recent years have been consistently above peer and BAC consequently has pared down its loan portfolio to a level that is about 15% less than a typical bank. As it works through its credit issues, builds out its ability to manage risk better, and repositions its balance sheet to earn money, this stock should see a rebound.
Bank of New York Mellon (NYSE:BK): Trading at a P/B of 0.78 with an ROA of 0.72%, BK has one of the lowest loan loss rates out of any bank. However, the bank does not have a sizeable loan portfolio for which to take advantage, contributing to a low ROA. In fact, relative to the bank's assets, the loan portfolio is about 1/6 that of a typical bank. BK earns a large amount of non-interest trust-related income and, if it increased the size of its loan portfolio to previous levels, its ROA would improve.
SunTrust Banks, Inc. (NYSE:STI): Trading at a P/B of 0.67 with an ROA of 0.60%, STI like BAC has experienced higher than normal loss rates in its loan portfolio. It is maintaining a loan portfolio that is about 19% bigger than other banks too. If it could work through its credit issues, an improving ROA should result.
Note: Bank averages were determined based on UBPR reports as of midyear for a peer group of insured commercial banks having assets greater than $3 billion.
Disclosure: I am long JPM. I wrote this article myself, and it expresses my own opinions. I am not receiving compensation for it (other than from Seeking Alpha). I have no business relationship with any company whose stock is mentioned in this article.