Several years ago, no one wanted to touch Apple stock (NASDAQ:AAPL). Even though the company didn't have much going for it, it was essentially trading for cash. Finding a stock that trades for cash is rare. Finding a stock trading for cash that has been at the forefront of the computer revolution is almost less likely than winning the lottery.
Remember when the Apple board gave Steve Jobs an option to buy 10% of the company, and he exercised the option a few dollars above the strike price? I mean, when Steve Jobs sells, that has to be a signal for everyone else to sell as well, right? Wrong.
It turned out that anyone who bought Apple stock in the low teens and held onto it has made a fortune. Such returns are seen by investors only once in a lifetime. To give you an idea of what I am talking about, Apple stock has rewarded investors to the tune of almost 10,000%! For anyone who doesn't know what that means, it means it's almost a 100 bagger (100 times appreciation from the bottom).
(click images to enlarge)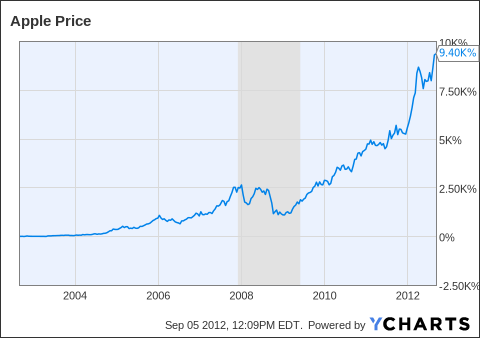 However, the question looking forward is, what do investors do from here? More specifically, what should investors who have held on to this great stock in their portfolio for several years do? Should they sell or hang on?
One thing I don't like about Apple is its Price/Sales ratio. I feel very uncomfortable owing a stock at 4-5 times sales. Yes I know it's not an indicator many follow, but they should. From my experience, when a company's margins get squeezed, stocks with high price to sales ratios get hit the most.
Also, companies that trade at a rich Price/Sales ratio tend to become dogs when they mature. Although Microsoft (NASDAQ:MSFT) might not be a great comparison (it had a much higher multiple 10 years ago than Apple has today), it too is a great mature company that has made zilch for investors the past decade. The same applies to many other mature heavyweights with rich Price/Sales ratios, such as Intel (NASDAQ:INTC) and Cisco (NASDAQ:CSCO).
The chart below gives some evidence of this. The chart shows the Price/Sales ratio of Intel, Microsoft, Cisco and Apple over a 10 year period. Please note that the first three stocks started off with a very high Price/Sales ratio and have returned almost nothing for investors the past decade.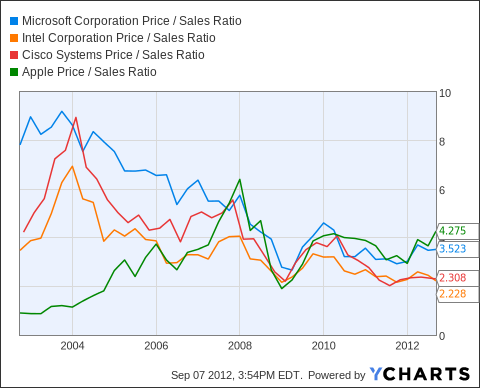 MSFT Price / Sales Ratio data by YCharts
However, take a look at Apple in the above chart. One of the reasons it was able to produce such high returns for investors (besides the fact that it revolutionized computing), is because it started with a much lower Price/Sales ratio than everyone else.
The counter argument might be that Apple does not have a PE of 80 and a Price/Sales ratio of 9-10 today that many companies had 10 years ago. This is true, but that's simply because investors today don't reward any company with the valuations they did 10 years ago. So a Price/Sales ratio of 4 today might be the equivalent of a Price/Sales ratio of 8 over a decade ago.
Apple's fat margins won't last forever, either. The technology gap between Apple iOS and Android iOS is miniscule, if any, and Microsoft's iOS is also catching up. I don't know what the incentive is anymore to pay 2-3 times more for an iPhone than a middle of the road Android phone.
Additionally, the new Amazon Kindle is an example of margin pressure. Amazon is barely making a profit and selling the tablet almost at cost. The Google Nexus will also put competitive pressures on Apple, not to mention every other company on the planet who has gotten into the tablet market.
According to IT market research firm IDC, smart-phones running the Android-iOS accounted for 68% of the market, significantly widening the lead over Apple's iOS. The Android-iOS makes up 85% of the total smart-phone and tablet market. As if that isn't enough, Microsoft and Nokia are also breathing down Apple's neck, both from a hardware and software perspective. So far, Nokia and Microsoft have received rave reviews on the new Nokia Lumia 920 that will be rolled out shortly.
Another thing to consider when it comes to Apple is the global economy. Apple is the largest company in the world by market cap. As such, it is also a proxy for the world economy. Anyone looking at the recent PMI data might get a little nervous about the world economy. The numbers are not good. China has problems, and I won't even mention Europe. Unemployment in the U.S. and Europe is rampant, and many market observers think that the only thing the markets have going for them is Ben Bernanke and QE3. Mario Draghi is sort of an unexpected surprise.
In other words, there are a lot of potholes out there, and investors need to keep a sharp eye out for unfolding developments that may surprise to the downside. If the world economy does hit a soft spot, more than likely Apple's margins and sales will be affected due to its global nature. Don't get me wrong. Apple is a great company, and so is Microsoft, but great companies don't always reward investors.
This does not mean that Apple is an expensive stock. If you look at other metrics, like P/E for example, Apple is priced just right. However, when a company has very high margins, coupled with a rich Price/Sales ratio, there are too many things that can go wrong that might erode those margins. Fierce competition and a global economic downturn are just a few.
Excluding all else and based on the Price/Sales ratio alone (I will leave out fierce competition, the miniscule technology gap and global growth issues), my hunch is that Apple is a candidate to become a future dog stock. I wouldn't call it a short candidate, but I would not hesitate if I see the stock breach key technical levels to the downside.
So if I had AAPL in my portfolio, I would simply sell it, take the money, and run. It's not every day you get a chance to cash in a winning lottery ticket.
Disclosure: I have no positions in any stocks mentioned, and no plans to initiate any positions within the next 72 hours. I wrote this article myself, and it expresses my own opinions. I am not receiving compensation for it (other than from Seeking Alpha). I have no business relationship with any company whose stock is mentioned in this article.