Canaccord Adams is out with a huge call on Research in Motion (RIMM) after they conducted their mid-quarter channel checks with leading global handset carriers and partners, including AT&T (NYSE:T), Vodafone (NASDAQ:VOD) and Verizon (NYSE:VZ). They did this to ascertain the fact and fiction of some recent comments made on Wall Street.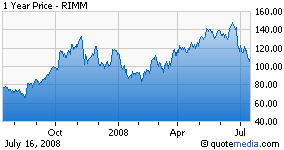 Canaccord believes that RIMM's device shipments and activations are about 20-30% ahead of plan for June and July up to the 14th for all carriers. At AT&T, June came in at 20% above May, and July is tracking, based on data up to Monday, to be flat to up 5% (yes, the iPhone carrier). Blackberry sales have seen no adverse impact from the recent iPhone 3G launch.
They are raising their Q2 revenue and EPS from US$2.62 billion/US$0.89 to US$2.67 billion/US$0.92. This is based on new Q2 shipments and net sub adds of 6.25 million and 2.7 million, respectively (previously 6.1 million and 2.6 million). The firm continues to believe that Bold will be launched in limited capacity in August, followed by major global releases in mid-September. They expect Kickstart, Javelin and Thunder in FQ4. Reiterates BUY rating and US$225 target.
RIMM continues to be on Canaccord's Best Ideas list.
Notablecalls: This is a pretty big call that should give the stock a significant boost. Kudos goes to Canaccord's Peter Misek for excellent channel checks.