Everybody loves a good story. They're nice, but we don't tend to like them more than we like data. We prefer numbers...actualization. Nobody can profess to have all the details of the story, and though numbers can be fudged, it's more difficult. The market has hated Banco Macro S.A. (NYSE:BMA) this year, down nearly 50% YTD. The point is not why the market has hated it so much as that it has hated it. But this could be changing.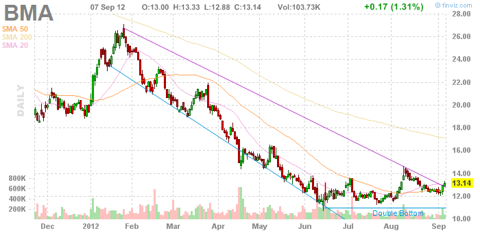 Our proprietary Early Volume Indicator (EVI) has seen a tick up to 0.35, just above the threshold where we generally start to pay attention. The EVI essentially tracks recent volume on up days versus down days and is indicative of the flow that is occurring in a name, taking into account the notion that size, in the markets, does matter. For reference, a rating of 1.00 or above would be significantly indicative of large, potentially institutional, buying in a name. Whether or not this continues is anyone's guess, but here is why it is significant in BMA's case. Their valuation is extremely attractive.
Dividend Yield 16% (This is obviously very large.)
PE 2.70 (The general market is trading around 14.)
PEG 0.20 (We consider anything below 1 to be indicative of possible good value.)
P/C 0.50 (It is trading at half of its cash value.)
ROE 27.7%
Sales growth the past 5y 32.4%
Sales growth Q/Q 57.8%
EPS growth the past 5y 31%
EPS Q/Q 31%
Debt/Equity 0.13
Let some of these figures sink in for a moment. This stock has been pounded since the early part of the year despite these growth figures and a fat dividend, and the EVI indicates that this could be coming to an end. It is very difficult to ascertain where the value boundary is in stocks, as price can easily violate theoretical floors, but trading at a value of half of cash with growth rates such as these might be somewhere close.
Now, the fact is, it's trading here for a reason, and there are always risks associated with investments. The most obvious one here is that the company is Argentinean and is subject to the whims of a tyrannical government that hasn't minded nationalizing companies as of late. This is a serious risk and needs to be borne in mind when sizing a position in BMA despite all of the attractive stats it has produced. Further, EPS estimates for this upcoming year are flat and it is in the financial sector, which, regardless of BMA having little European exposure, will be hit in the event that financial calamity heats up again, which it will simply because all the structural flaws still exist despite all the central banks of the world uniting to provide liquidity and support.
Regardless, BMA is trading at attractive valuations and volume and price action could be indicative of the market taking notice.
Disclosure: I am long BMA. I wrote this article myself, and it expresses my own opinions. I am not receiving compensation for it (other than from Seeking Alpha). I have no business relationship with any company whose stock is mentioned in this article.