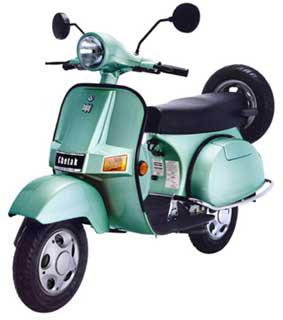 About five years ago we were in Italy on a family vacation, having rented a beautiful villa. Among those joining us was my niece, who at the time was about 29 years old.
Long story short, she met a guy while looking for Tuscan and Umbrian collectibles that my wife favored. I think "Claudio" favored collecting Americans, because it took no time for rendezvous plans to be completed.
As if I really had any right, I insisted on accompanying her to the village square to meet Claudio, who as it would turn out, arrived in his turquoise capri pants and astride his turquoise Vespa. As it would happen, he was no match for an American Beauty. His sweet talking and mellifluously romantic utterings fooled no one.
And so this past Thursday, Mario Draghi, the Ben Bernanke of the European Union, finally laid out his plan for rescuing the Union. It took a month to go from the statement that the European Central Bank would do whatever was necessary to the day that some details were provided, but then again, the month was August.
As it would turn out, the markets loved those sweet utterings, which itself was probably testament to the fact that the market hadn't believed that there would be a Draghi deliverable.
But now comes the reality and everyone has to fall in line, including those stubborn electorates that don't particularly like the idea of bailing out their ne'er-do-well Mediterranean brethren.
Have you ever set out on a well planned roadtrip with a bunch of kids in tow? Sometimes things don't quite work out as planned. Today's market is predicated on perfection, and not having to stop and go to the bathroom every 17 miles.
Despite the buzzwords of the day -- "conditionality" and "sterilization" -- that should have given cause for concern, that was anything but the case on Thursday. As always, the specter of a 250 point increase in the Dow Jones turns people's opinions around in a hurry. Suddenly, there was talk about the need to hurriedly get on board, whereas just the day before, the water cooler talk was about how we were poised to rudely discover that the recent weeks of rally were toothless.
What especially interested me was how recently beaten down stocks that I hold, such as Rio Tinto (NYSE:RIO), Cliffs Natural Resources (NYSE:CLF) and BHP Billiton (NYSE:BHP), outperformed a surging market. What made it interesting was that those previous declines were all blamed on Chinese economic woes, yet they responded to European solutions that had nothing to do with infrastructure. Of course, that also was the likely explanation for why shares of Coach (NYSE:COH) rocketed, as every well dressed Vespa rider will now feel more economically secure and will surely adorn themselves with more Coach accessories.
What was even more fascinating on Friday after the disappointing employment statistics were released were the surges in shares of Caterpillar (NYSE:CAT), United Technology (NYSE:UTX), Cliffs Natural and some others. Of course, those rises were tied to economic strength and growth in China.
I don't want to appear as if I'm complaining. I like it when shares go up, but I especially like it when rationality and consistency rules, whether to send a market down or up. I especially dislike the need of Talking Heads to conjure up reasons for observable events when they contradict previously and smugly asserted opinions.
Despite the disappointing numbers, the market shrugged them off today and acted as if the Federal Reserve's third iteration of Quantitative Easing was assured. That was also enough to turn a 2% drop in silver prices into a 3% gain, as nothing says precious metals more than cheapening money.
At some point even contrarians -- and everybody calls themselves a contrarian -- wonder whether it's time to join the herd. Wondering what the herd was thinking, I took a quick look at October 2012 call premiums for a number of stocks, and they seemed unusually low. Unless I interpret that incorrectly, that seems to indicate less optimism in the near future than one might think.
The problem is that I don't know if that's the smart money talking or the herd. Either way, there should be cause for concern. The smart money seems to have spasmodic convulsions daily. Surely it wasn't the small investor that forced shares of Cliffs Natural Resources down seven points in about five days and then up seven points in about two days. They're not smart enough to have had such wonderful and fortuitous timing and insight.
Neither is there any particular benefit to selecting in the money options this week. That trend has been making itself more apparent the past few weeks, and I imagine that's a statement of bearishness, as well, perhaps as much as it is a reflection of dwindling volatility.
Each week, thinking of the coming week's possible selections brings what seem to be unique challenges based upon the macroeconomic picture, which, at least in the case of China, seems to be changing daily, almost as if there was a "London Chinese Economic Outlook" daily fixing.
As always, the week's radar screen consists of Traditional, Momentum and Double Dip Dividend categories (See Details). Despite a recent consensus that the time has come to move away from dividend stocks, as one reflection of a consensus that growth is where it's at, most recently I've been happily focusing on dividends and this week isn't much different. The shift comes at the expense of Momentum shares, in one final expression of contrarianism.
It seems as if I've been suggesting the purchase of United Healthcare (NYSE:UNH) for the past few weeks and haven't yet gone through with the buys. It seems that way because it's been that way. Maybe this week will be different, as shares go ex-dividend on Wednesday.
I suppose that uncertainty regarding the upcoming election can effect health insurer stocks, but those hypotheses have been played out in every direction imaginable over the past few years. The health insurers will figure out a way to thrive and grow regardless of what direction society takes us all.
As the financial sector has come alive of late, one of my favorites seems to have been left behind. I haven't owned shares of American Express (NYSE:AXP) in about four months, but now I like the relatively narrow trading range and the option premiums that it offers for what appears to be relatively low company specific risk.
Another stock that I haven't owned for a while is NYSE Euronext (NYSE:NYX). It's been out of the limelight for a while now, its momentum days long gone and its visions of being part of world domination in suspension. It is now trading in a narrow range and goes ex-dividend this week.
Another frequent mention goes to Microsoft (NASDAQ:MSFT). Most recently, the past two purchases have resulted in share assignments that same week. I never mind that kind of situation, as long as I can get something out of the transaction that is at least respectable to the S&P 500 for the same period, but with somewhat less risk. Microsoft is frequently good for that, and on the heels of some technology weakness -- as demonstrated by Intel (NASDAQ:INTC), whose shares went down as much on Friday (3.5%), as they went up the day before -- I expect that contrary to the herd, its next move is nowhere.
Nowhere is a place that covered call writers frequently like to visit. At least no net movement.
And then there's Home Depot (NYSE:HD). Its trajectory upward from the beginning of the year has slowed down, finally being overtaken by Apple (NASDAQ:AAPL). However, if shares can stay in their incredibly narrow channel of the past month, I could find myself being very happy owning shares of a boring company.
To round out the list of traditional stocks going ex-dividend this week is Motorola Solutons (NYSE:MSI). Another example of a narrow trading range of late
Had AIG (NYSE:AIG) not turned around later the day in Friday's trading, I would have considered it as one of next week's momentum plays. I've been waiting about three weeks for it to start approaching $33, but it has been stubbornly resisting. Instead, not wishing to venture far through the alphabet, Alcoa (NYSE:AA) comes to mind. I've mentioned it several times in the past few months and it, too, as gone unrequited. I only like shares when they are hovering right above a strike price, as it is at the moment. Unfortunately, to have gotten there, it jumped 3% in Friday's trading. Unless China significantly ramps up its use of aluminum in packaging "to go" orders or leftovers, the next move is likely to be down, so the risk-reward may not warrant a purchase this week either, but sometimes things look very different once the market begins trading again. I may as well apply that same thought to AIG, in that case.
Traditional Stocks: American Express, Home Depot, Microsoft, Motorola Solutions, NYSE Euronext, United Healthcare
Momentum Stocks: AA, AIG
Double Dip Dividend: Motorola Solutions (ex-div 9/12), NYSE Euronext (ex-div 9/12), United Healthcare (ex-div 9/12)
Remember, these are just guidelines for the coming week. Adjust accordingly with market movement, and you'll have the makings of a healthy income stream for the week with reduced risk.
Disclosure: I am long CAT, NTC, COH, and may initiate positions in AA, AIG, AXP, HD, MSI, MSFT, NYX and UNH. I wrote this article myself, and it expresses my own opinions. I am not receiving compensation for it (other than from Seeking Alpha). I have no business relationship with any company whose stock is mentioned in this article.