On Thursday, Amazon.com, Inc. (NASDAQ:AMZN) announced an array of new tablets and readers coming out this Fall. It was obvious that the company wanted to avoid the uncertainty that caused such widespread criticism of the Nokia Corporation (NYSE:NOK) event on Wednesday. Every tablet flashed the price and expected release date on the slide immediately after each one was presented. Both the Amazon and Nokia conferences appeared to be a combined effort to upstage Apple Inc. (NASDAQ:AAPL) and its presentation on September 12. Many analysts are speculating that the two companies have indeed formed a partnership. The rumor is that Nokia will provide the new location services on the new Kindles:
Our source confirms that the next Kindle Fire will have location services, though it's not yet clear whether that means it will include a proper GPS receiver or just use Wi-Fi location. It's also unclear whether or not Nokia Maps would be available at launch, what we've seen so far of the new tablet doesn't include Nokia Maps. One way or the other, we should find out on September 6th.
However neither company mentioned that in their presentations, and Amazon neglected to mention any type of location applications on the new devices. One of the biggest announcements was the introduction of the new 8.9 inch Kindle Fire HD 4G LTE Wireless "iPad killer" for only $499. That price is for the 16GB, but there is a 32GB version available for $599.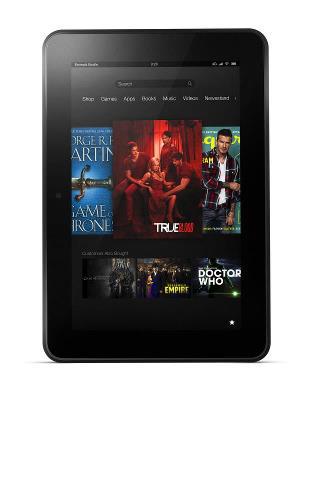 And to add insult to injury, the company has teamed up with AT&T Inc. (NYSE:T) to offer a 4G data package of 250 MB per month for a flat fee of only $49 for 12 months. That works out to about $4 a month. Amazon claims that buying this (16 GB) version of the Kindle Fire will not only land you the best tablet made at any price, but it will save you $400 in the first year. This is due to the cheaper price initially, and the almost non-existent data charges. The new tablet has dual speakers with Dolby sound and a new anti-glare screen. It also has dual antennas for faster downloads and streaming. Expect these tablets out in November just in time for holiday shopping. And for only $299 you can own one of these 16 GB tablets in the "WiFi only" version. The WiFi on this Kindle is 41% faster than an iPad3 according to the company.
Amazon has added a lot of new features including X-Ray for Movies. When you are watching a movie, just tap an actor on the screen, and a detailed description of their other movies pops up with their name and other interesting information. Another thing that's new is Immersion Reading which synchronizes text and audio using Whispersync. This adds to the reading experience for people who are at all levels of reading ability. Here are a few more perks according to Amazon:
1920x1200 HD display with polarizing filter and anti-glare technology for rich color and deep contrast from any viewing angle
Exclusive Dolby audio and dual stereo speakers for crisp, booming sound without distortion
High performance 1.5Ghz dual-core processor with Imagination PowerVR 3D graphics core for fast and fluid performance
Dual-band, dual-antenna Wi-Fi for 40% faster downloads and streaming (compared to iPad 3)
Over 22 million movies, TV shows, songs, magazines, books, audiobooks, and popular apps and games such as Facebook, Netflix, Twitter, HBO GO, Pandora, and Angry Birds Space
Integrated support for Facebook, Twitter, Gmail, Hotmail, Yahoo! and more, as well as Exchange calendar, contacts, and email
Free Skype video calls with front-facing HD camera
Free unlimited cloud storage for all your Amazon content
Includes special offers and sponsored screensavers.
Learn more
Kindle FreeTime - a personalized tablet experience just for kids. Set daily screen limits, and give access to appropriate content for each child. Free on every Kindle Fire HD. Coming next month
Prime Instant Video - unlimited, instant streaming of thousands of popular movies and TV shows
Kindle Owners' Lending Library - Kindle owners can choose from more than 180,000 books to borrow for free with no due dates, including over 100 current and former New York Times best sellers and all 7 Harry Potter books.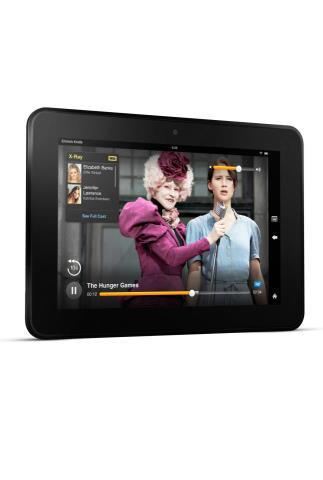 Of course, there is still the smaller 7" Kindle Fire HD, and Kindle Fire. And the company will release the new Paperwhite Kindle with a higher resolution, 8 weeks of battery life, and brightness control in a couple of weeks. The basic Kindles are still available and the prices start at only $69 for an e-reader. According to the presentation, in less than a year, Kindle Fire already makes up 22% of all tablet sales in the United States. Imagine what that number will be next year.
Unlike Nokia stock which dropped dramatically when the Lumia 920 presentation began, Amazon stock has continued upward (see the chart above). It is up almost $100 a share since the beginning of the year. And it shows no signs of stopping. After the presentation, shares hit new all time highs, jumping $13 in two days to close over $259. Any product that can take 22% of the market the way the Kindle Fire did this past year, will thrive with this larger screen, and all of the new features.
So will all of this media hype trample on Apple's parade next week? Will it offer brand new products that will be considered the Best of the Best? Or will it just be iPhone 5 with a few updates and a smaller connector/charger port? What will happen to Apple stock? With the 200-day moving average around $550, there is a lot of room to fall. So be prepared for those "Buy the Rumor, Sell the News" shareholders to sell the morning of the 12th. Especially if what Apple has to show does not impress investors the way that these new Amazon tablets did.
There has been a lot of chatter on the web that Amazon did not even mention the competition in the presentation, except for Apple. Barnes & Noble Inc (NYSE:BKS) with its Nook is a direct competitor, but most of the examples and comparisons were to the Apple iPad3:
As for other OEMs, Bezos wouldn't even mention them by name. Even devices that ostensibly compete with Amazon as readers' tablets like Nook and Kobo didn't warrant a mention, even if the Fire's new family-friendly features like multiple account support seem directly competitive with the Nook. Nor did Bezos bother to say what version of Android the Fire's new software was based on, or even the new Fire was running Android at all - you could have walked away from the presentation thinking Amazon had developed a custom operating system all its own.
There are a lot of rumors that there is a new iPad mini coming to compete with the lower priced Kindles. So now, Amazon is taking on Apple directly. None of the other competitors seem to matter any more. And this company is not alone. Microsoft Corporation (NASDAQ:MSFT) came out with the new Surface tablet that directly targeted the iPad by offering more features such as Windows 8 software, a detachable keyboard, and a USB port for printing. And Nokia and others are making smartphones using Microsoft's Windows Phone 8, which directly targets the iPhone. Apple has a huge target on its back and Amazon is taking aim. Right now, given the choice between the two stocks, I would pick Amazon in a heartbeat. However, if Apple has some new exiting iProduct to show off on Wednesday, its shareholders will breathe a sigh of relief. But that is a big "If".
Disclosure: I am long NOK. I wrote this article myself, and it expresses my own opinions. I am not receiving compensation for it (other than from Seeking Alpha). I have no business relationship with any company whose stock is mentioned in this article.