We have lots of negative comments on Wells Fargo (NYSE:WFC) this morning:
- UBS is downgrading their rating to Neutral from Buy following yesterday's run up.
- Citigroup notes that in a very volatile week, WFC shares are the best performer in their universe thus far, up 18% vs. a 6% move for the bank index. It's hard to argue underlying results in 2Q were that much better than the market was expecting, so the large stock move seems to reflect the 10% increase in dividend and short covering.
WFC significantly added to its securities portfolio again in 2Q, and clearly is moving to a more liability sensitive position. With increased credit costs, management seems to be increasing its carry trade to help fund its credit costs and maintain earnings. Citi ran their ALCO model and found that if short term rates were to rise by 100 bp immediately, all other things equal, it would be a 5% EPS headwind for WFC. Looked at another way, the increase in the securities portfolio since year-end has added $0.03-0.04/share to the 2Q run rate.
- Deutsche Bank notes Wells Fargo's 2Q08 results were better than expected, including beating consensus by 3 cents despite $1.3 billion in credit reserve builds (net). Yet, DB has lowered their '08 and '09 estimates by 5% each due to likely higher credit costs through 2009. They also nudged their price target to $30 reflecting the lower estimates They believe the stock price reflects risks and rewards opportunities and maintain a Hold.
- FBR reiterates their Underperform rating on Wells Fargo, following its 2Q08 results, and reduces 12-month price target to $20 (from $23), equal to 2.0x 2Q08 tangible book.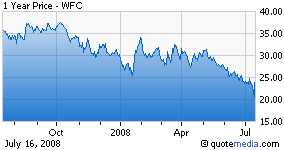 WFC reported a better-than-expected 2Q08, but the firm's outlook for the company is not materially changed, as they expect continued elevated credit costs and a smaller contribution from mortgage and trading activities in future periods. WFC is highly profitable and has strong capital ratios but FBR is concerned that the company added leverage to its balance sheet (WFC added $9.6 billion of AFS securities and $13.6 billion of ST borrowings in 2Q08) and raised its dividend 10% in an environment where the more prudent step would be to conserve capital. While its regulatory capital levels grew, its tangible common equity ratio declined to 5.7% from 5.9% in 1Q08 and 6.6% in 2Q07. Capital levels remain healthy but the firm would be more comfortable without growth in leverage or dividends.
WFC's allowance equals 1.88% of loans, which FBR considers under-reserved, as they expect annualized NCOs will exceed this level next quarter. Continued additions to its loan loss allowance will weigh on earnings.
- KBW notes that although WFC earnings came in above their expectations and the credit provision was appropriate for the environment, they are reducing their earnings expectations for the company because they believe that there are a number of unsustainable elements in the company's pre-provision earnings, which KBW discusses in this note, and that provision levels will remain elevated through 2009. They are reducing their 2008 EPS estimate to $1.75 (from $1.90) and 2009 EPS estimate to $1.80 (from $2.40). As a result of estimate reductions, they are reducing their one-year DCF based price target to $20 (from $22) and maintaining an Underperform rating on shares of WFC based on valuation.
KBW says they are cautious on Wells largely because of their view of the economy slipping into a significant recession in the second half of the year, which they believe will impose considerably higher credit costs on WFC due to its geographic concentration (roughly 30% exposure to California).
Notablecalls: It's quite obvious WFC management wanted to give the shorts a run for their money and successfully so, as the stock staged its biggest upside move in history, ending up over 30%.
Is this sustaintable in any way? Nope, I don't think so. Very little has changed fundamentally.
I suspect WFC will retrace most of the gains as short covering (clobbering) subsides. I see it trading in the $23-$24 range in a week.