Fundamental Outperformance
For about the last three years, the popular Small Cap Indexes as defined by the Russell 2000 Index (NYSEARCA:IWM) and S&P SmallCap 600 Index (NYSEARCA:IJR) have been lagging their big brother S&P 500 (NYSEARCA:SPY) by about 10%. With the year- end fourth quarter on the horizon and hopefully a Santa Claus rally, the small caps could seasonally be in favor again. Here are three under-the-radar small-cap ETFs that are eking out some outperformance to their small-cap benchmarks for about the last three years. They all offer some different and unique strategies and are not just based on the usual market cap weighted or growth/value style methodologies.
WisdomTree Trust SmallCap Earnings Fund (NYSEARCA:EES)
This fund tracks the aptly-named, fundamentally weighted WisdomTree SmallCap Earnings Index. Trading of the fund commenced on 2/23/2007, and it has gathered about $138 million in assets. This WisdomTree Indexes' secret sauce description (from the factsheet) starts with the bottom 25% in market cap from the WisdomTree Earnings Index. The Index constituents must have positive earnings over the last four fiscal quarters and are earnings weighted. This earnings weighting seeks to reflect "the proportionate share of aggregate earnings each component has generated." This weighting process is a metric computed by Standard & Poor's for "Core Earnings."
"Core Earnings is a standardized calculation of earnings developed by Standard & Poor's designed to include expenses, incomes and activities that reflect the actual profitability of an enterprise's ongoing operations."
The fund has about 960 holdings and carries an expense ratio of 0.38%. Top three sector weights are Financials about 20.4%, Information Technology around 18.6%, and Industrials at 16.9%.
First Trust Small Cap Core AlphaDEX Fund (NASDAQ:FYX)
This fund by First Trust is from their "AlphaDEX" quantitatively based Index ETFs. This fund began trading on 5/8/2007 and has about $154 million in assets. The Index the fund tracks is the Defined Small Cap Core Index. This enhanced Index created by S&P starts off with the S&P SmallCap 600 and uses the AlphaDEX selection process. This process includes ranked selections that are based on some core fundamental growth and fundamental value metrics such as stock price appreciation, sales growth, price to sales, book value, ROA and cash flow. Selections are then scored based on S&P growth and value factors, with the bottom scoring 25% eliminated. Selections are then weighted by quintile, by rankings and then individual selections equal weighted within their quintile. All this tweaking boils down to a fund that has 449 holdings and carries an expense ratio of 0.70%. Top three sectors are Consumer Discretionary at 20.29%, Information Technology at 19.4%, and Industrials at 15.8%.
RevenueShares Small Cap ETF (NYSEARCA:RWJ)
This fund by ETF sponsor RevenueShares emphasizes, as its name implies, holdings with fundamental revenue metrics. The fund began trading on 2/22/2008. This ETF uses the same stock components as the S&P 600 SmallCap Index and weights selections by revenue. Instead of the typical market cap weighted methods, this fund selects each security by its top line revenue generated. The number of holdings according to RevenueShares is as expected, around 600 (actually 599). The fund is re-balanced each quarter to reflect the latest financial revenue data. The fund has an expense ratio of 0.54% and assets under management of around $114 million. Top three sector weights are Consumer Discretionary at 23.6%, Industrials at 19.4%, and Information Technology at 16.8%.
Here is a chart (Yahoo Finance) for all three ETF funds versus ETF benchmarks Russell 2000 and the S&P SmallCap 600 from 2/25/2008 to 9/4/2012 (start date that is common for the life of all three funds).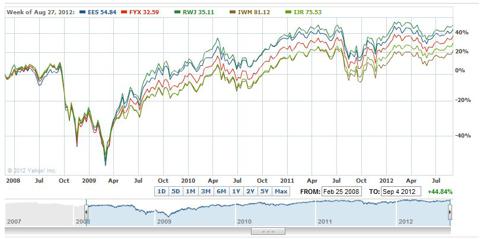 Here's a summary of the trailing total returns versus (Russell 2000) and (S&P SmallCap 600).
(Data from Morningstar)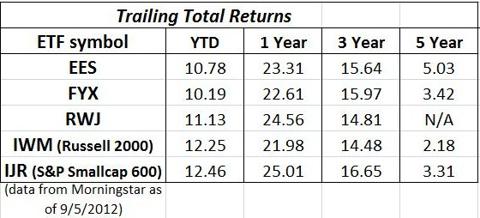 Conclusion
The outperformance of these three funds, though not earth shaking, is still respectable and may be worthy of further consideration when researching small-cap ETFs. They offer something a bit different, with their unique approaches, emphasizing selections with bright fundamentals and may catch on further, especially when small caps gain favor again.
In years to come, if outperformance continues versus traditional market cap and style approaches, we can probably expect more products with similar fundamental weighting methodologies to hit the ETF landscape.
Disclosure: I have no positions in any stocks mentioned, and no plans to initiate any positions within the next 72 hours. I wrote this article myself, and it expresses my own opinions. I am not receiving compensation for it (other than from Seeking Alpha). I have no business relationship with any company whose stock is mentioned in this article.