It was hardly eighteen months ago that Nokia Corporation (NYSE:NOK) was the world's leading seller of mobile phones. If anyone should be aware of the dangers of falling behind, it should be Nokia. That's why I was completely awestruck when the company announced its decision to wait until long after the iPhone 5's debut to start selling its make or break new Lumia smartphone handsets.
It's got two advantages over all other smartphones that will probably expire by the time it's available to consumers. One is its Windows 8 OS and the other is a great camera. Samsung (OTC:SSNLF) has already produced a Windows 8 phone, and the iPhone 5 rumors include tales of a camera that competes with Nokia's new offering. Its best move would have been to release it early and steal some of the iPhone 5's thunder. That's why its announcement left this already battered stock beaten down another 15% at the end of trading on September 5, 2012.
Click to enlarge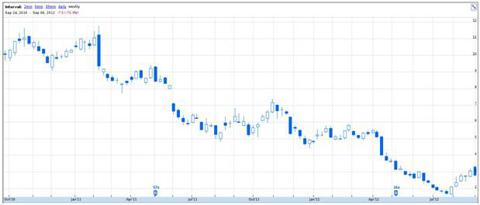 Personally, I wouldn't touch Nokia with a stylus pen, but there are some reasons to suspect that the Finnish company is not quite finished.
I can't think of any company that was so promising, getting clobbered so thoroughly after making a handful of tragic mistakes as Nokia. Earlier this year, Nokia refused to adopt Google's (NASDAQ:GOOG) Android, despite all indications that that was exactly what it should do. Let's examine how well that worked out for the company. Nokia are now partnered with Microsoft (NASDAQ:MSFT) to deliver the world's first Windows 8 Smartphone, only it's not. The company that surpassed it as number one seller of smartphones worldwide, Samsung has already unveiled a Windows 8 phone just a week before Nokia was set to show off its phone.
Nokia has been clawing its way back from the abyss since July, all its hopes pinned to the amazing new Lumia smartphone with its impressive new camera. The camera sports fancy new PureView technology that allows it to record stabilized video from, for example, a bicycle. Unfortunately, too many Internet savvy customers will equate the Lumia's camera with unabashed deception. Nokia failed to edit out a brief moment where the professional looking camera in a rolling minivan is clearly reflected in a window, not a guy riding a bicycle holding his exciting new Lumia.
This blunder might have been overlooked, had Nokia immediately put the phones on sale after unveiling them. Assuming the image stabilization technology really works, the advert would quickly be forgotten. Unfortunately, the September 5 press conference left consumers not knowing when, or where exactly the phones would go on sale. If Apple (NASDAQ:AAPL) releases its new iPhone with a camera upgrade, as everybody expects, then Nokia will find it even more difficult to convince customers to make the "Switch to Lumia."
Even with all its blunders bringing exciting new products to market, there are some reasons to gamble on Nokia. First of all, its Lumia won't infringe on any patents. Also, it really does make excellent products, even if it is horrible at marketing them. Nokia could've been today's Apple. It has developed a touchscreen faced phone with a single button years before the release of the iPhone, but never brought it to market. Nokia outspends Apple in R&D and has a treasure trove of patents essential to mobile Internet operations. Even though the company may be lousy at turning all that investment into profit driving products, it is still pretty good at licensing its patents.
Nokia is currently trading at or below book value. It may not be making a fortune selling smartphones, but it does have some steady streams of revenue that make this stock attractive to anyone that employs a contrarian strategy. The new 4G LTE networks operate on essential patents held by Nokia, and the company in turn receives a hefty licensing fee from 4G LTE operators. Nokia receives roughly $615 million each year licensing its patents. Should Nokia decide to sell, its patents are worth somewhere between $3-6 billion, depending on whom you ask.
Another steady revenue stream for Nokia relates to its ever popular dumbphones. Nokia still sells about a million cell phones a day, as a great deal of consumers worldwide still love their dumbphones. Although the company has virtually no market share in smartphones, it will, most likely, continue to sell warehouses full of $30 cell phones for years to come in emerging markets. Nokia's Asha line of dumbphones features some web browsing capability and the ability to play games online. They are still incredibly popular in rural areas of countries like India where there are plenty of customers, and little reason to own a smartphone that relies so heavily on mobile Internet access. Cheap and reliable Nokia dumbphone sales should keep them pinned to the top of cell phone sales charts for years to come. Personally, I avoid sinking ships that consistently make bad marketing decisions, but at below book value, Nokia is a speculative buy for contrarians who like to gamble.
Disclosure: I have no positions in any stocks mentioned, and no plans to initiate any positions within the next 72 hours. I wrote this article myself, and it expresses my own opinions. I am not receiving compensation for it (other than from Seeking Alpha). I have no business relationship with any company whose stock is mentioned in this article.