There has been some good news recently with regards to the development of Eli Lilly and Company's (NYSE:LLY) drug, Solanezumab, which is supposed to treat Alzheimer's patients. The news, however, is not enough to establish anything concrete regarding the drug's long-term viability. More news regarding Solanezumab is expected to be announced in the coming months, which could possibly provide some upside potential to the stock.
Like its competitors, Eli Lilly's sales were dampened by the loss of exclusivity of its drugs worldwide; the company needs to find ways to compensate for the loss accruing from the said loss of exclusivity. Despite the facts mentioned above, we consider the stock a strong contender for a place in investors' income portfolio due to its high dividend yield, and recommend that investors with long positions in the stock hold on to it.
Eli Lilly and Company develops and manufactures pharmaceutical products as well as animal health products. The pharmaceutical business segment contributes more than 90% of the company's total revenues. The company has been involved in acquisitions of businesses and products in the past. In February 2012, to improve the efficiency of its animal health business, the company acquired the outstanding stock of ChemGen Co. In 2011, it acquired the animal health business of Janssen.
The company has a global market for its pharmaceutical business segment. The U.S. market has the highest share of 52%, followed by a 20% share for Europe. The animal segment contributed more than 9% to total revenues, and it experienced an increase of 32% YoY in 2Q2012. Total revenues for 2Q2012 were in line with market estimates, down 10% YoY.
The fall in the pharmaceutical segment's revenue was mainly driven by the patent expiration of the drug Zyprexa in October 2011; the drug contributed nearly $5 billion to revenues, or 19% of total revenues, in FY2011. The appreciation of the dollar, relative to other currencies of the world, was also seen as a reason for declining revenues.
European sales were down by 27% YoY for the second quarter. China and Japan displayed strong revenue growths of 28% and 15% respectively in 2Q2012, as compared to 2Q2011. To further grow in China, the company expanded its collaboration with Novast Laboratories, and it is expected that the latter will provide regional and local manufacturing support for the former's new medicine development.
Click to enlarge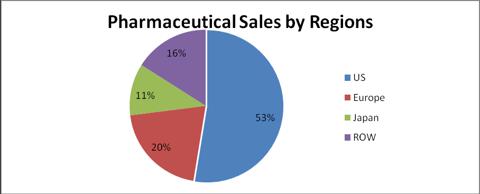 Click to enlarge
Source: lilly.com and Qineqt's estimates
LLY beat earnings estimates for 2Q2012 by 7.8% and reported earnings for the quarter of $0.83. It increased its EPS guidance for the fiscal year 2012 from $3.15-$3.3 to $3.3-$3.4.
The company's R&D and SG&A expenditures have been rising as a percentage of sales, and LLY has plans to improve upon these expenditures to improve profit margins. The company announced its intention to bring R&D expenses in the range of 18%-20% of sales; they were nearly 24% in 2Q2012. SG&A for 2Q2012 was nearly 35% of sales, and the company has targeted bringing it down to within a 28%-30% range.
Sales of Cymbalta, another one of the company's drugs, experienced an increase of 22% YoY, because of its strong demand around the world. Cymbalta contributed 17% to the company's total revenues in 2011. Cymbalta will be losing its exclusivity in December 2013. LLY will be losing the exclusivity for a number of its drugs in the U.S., as shown in the table below.

Click to enlargeSource: Yahoo.brand.edgar-online.com
As the company has already lost the exclusivity of Zyprexa, and is expected to lose the exclusivity for other drugs in 2013 as well, LLY is relying heavily on positive news on its Alzheimer drug 'Solanezumab'. Recently, this drug failed to display positive results on primary endpoints, but the drug showed some positive results on mild Alzheimer's patients. The data on this drug is expected to come out next month, which will help in observing how effective the drug has been in trials. If the results come out positive for the drug, this could lead to a capital gain for LLY shareholders.
The Alzheimer's drug market has a large potential; around 5.4 million people are affected by the disease in the U.S., and this memory illness is ranked sixth with regards to the leading causes of death in the U.S. In recent times, Johnson & Johnson (NYSE:JNJ), Pfizer Inc (NYSE:PFE) and Elan Corp (NYSE:ELN) have all abandoned the development of their Alzheimer's drugs, after they failed their respective trials. There is no treatment for Alzheimer's thus far, and the company's drug has a huge potential market; if LLY is able to capitalize on the development of this drug, the company will benefit significantly.
The stock offers an attractive and above-industry average dividend yield of 4.4%. The company's dividend yield has been increasing in the last five years. LLY's free cash flow yield of 14.18 for FY2011 indicates that the current dividend level is sustainable, and the company's shareholders will keep on enjoying dividends in future as well. The company has a strong balance sheet; its debt-to-equity of 38 and interest coverage of nearly 34 show that there is no significant threat of a dividend cut in future.
Dividend Yield

Click to enlarge
Source: ycharts.com
Going forward, factors that could drive the stock price up include some positive news regarding the drugs that are in the pipeline, and a likely reduction in R&D and SG&A expenditures, as the company has planned, which will help LLY improve its bottom line, and offer possible price appreciation to investors.
The company's stock is trading at $46.5, near its 52-week highs. The stock seems to be correctly valued at its current price. The company's current P/E multiple of 12.5x is less than its competitors' average of 16x; its P/S of 2.2x is also lower than the industry average of 3.52x. These lower multiples are justified by the low growth rate.
Disclosure: I have no positions in any stocks mentioned, and no plans to initiate any positions within the next 72 hours.
Business relationship disclosure: The article has been written by Qineqt's Healthcare Analyst. Qineqt is not receiving compensation for it (other than from Seeking Alpha). Qineqt has no business relationship with any company whose stock is mentioned in this article.