It has been four months since the Argentine government formally completed the expropriation of the country's largest energy company YPF S.A. (NYSE:YPF) from its majority owner Spain's Repsol (OTCQX:REPYY). At the time, there were howls of outrage in media and business circles with many pundits stating post-nationalization YPF is destined for oblivion. Despite these claims, to date the company has been able to expand production, grow revenue and develop a blue print, setting out the future direction of the company. These events are of significant interest because of their potential to boost both YPF's reserves and production, which can only lift the company's share price.
Currently, YPF is trading at a 25% discount to its book value per share and a 71% discount to its pre-nationalization 52-week high of $41.51. This I believe, in conjunction with the market's pessimistic view of YPF, presents as an opportune time to analyze the company's future outlook. I will do this over two articles, with the first installment analyzing the background to the nationalization, the company's current reserves and production as well as its recent financial performance. The second installment will then examine the company's potential to effectively execute the expansion plan, what this means for YPF's valuation, and the risks for investors.
Overview
The Argentine government formally took control of the company in early May 2012 expropriating a controlling interest of 51% of the company's shares from Repsol, along with ejecting the Repsol appointed management team. The primary rationale for this extreme action was the government's belief that Repsol was 'bleeding the company dry' with provable reserves and production falling.
Under Repsol's stewardship, YPF's oil production for the period of 2008 to 2011 declined by 14% to 221 thousand barrels of oil equivalent per day (MBOEPD). While for the same period, natural gas production fell by 28% to 34 million cubic meters per day (Mm3/day). Yet despite this declining production, Repsol continued to maintain the payment of a healthy dividend, with a payout ratio in excess of 100%, while failing to increase capital expenditure to develop the company's oil and gas producing assets. This includes failing to develop a credible plan for developing the massive Vaca Muerta shale oil field, which is estimated to have up to 23 billion barrels of non-conventional oil.
Unsurprisingly, Repsol, as the majority owner with 57% of the company's shares, was the primary recipient of the dividend payments, and any credible attempt at developing the company's assets in the Vaca Muerta may have required the company to curtail dividend payments.
The rundown in production was not only problematic for YPF's shareholders, but also for the Argentine economy because it led to a rapid rise in energy imports affecting the balance of trade. Energy imports in 2011 increased by 100% from the previous year to $9.4 billion, which was almost as much as the country's trade surplus. For a country that is overwhelmingly reliant upon its trade surplus as means of generating capital inflows, any move to becoming a net energy importer is particularly harmful to its balance of payments. This is even more so when it is considered that Argentina cannot tap international credit markets as and when required.
There would appear to be some justification to this argument, with YPF for the last five years of Repsol's stewardship having a dividend payout ratio in excess of 100%. In addition, for the same period, YPF's free cash flow (NYSE:FCF) fell significantly, despite revenue growing by 30%, cost of goods sold (COGS) remaining steady with a ratio to revenue of 69%, and capital expenditure remaining steady at a ratio to revenue of around 21%.
While this is not a particularly good outcome for investors in YPF, it is potentially calamitous for the Argentine economy because the country is dependent upon generating a trade surplus, while ensuring there are sufficient energy supplies to support economic growth. Accordingly, with YPF as the country's largest domestic oil and gas producer, the continuously falling production was placing extreme pressure on the country's ability to maintain its trade surplus while supplying sufficient energy for the economy.
A need for a significant uplift in oil and gas production was created and formed an important part of the rationale for the nationalization, with the government having a stated goal of making Argentina a net energy exporter. Therefore, the future success of not only YPF but the Argentine economy depends a great deal on whether YPF can successfully expand production.
Reserves and increasing production looks hopeful
Currently, YPF has provable reserves of 2.4 billion barrels of oil equivalent along with 400 billion cubic meters of gas. For the first half of 2012, YPF has produced on average 228,000 BOEPD and 33 million cubic meters of gas per day. In comparison to the same period in the previous year or year-on-year (YoY), this represents a 7% increase and 3% decrease respectively. Already this is having a positive impact with the company reporting higher revenue and EBITDA YoY.
Recent financial results
The company recently released its second quarter 2012 financial results, and in comparison to the first quarter 2012, or quarter on quarter (QoQ), revenue increased by 8% to $3.5 billion, while EBITDA fell by 7% to $887.7 million and net income fell 36% to $179.6 million. Decline in EBITDA and net income can be attributed to increased expenses and royalty payments on account of the increased production.
A crucial concern particularly in light of the recently released business plan and planned increase in exploration and production is the company's weak balance sheet. Currently, the company only has cash and cash equivalents of $99 million, which is 49%, lower QoQ, a significant drop which can be attributed to the increased spending already incurred as a result of lifting production over the first half of 2012. In addition, YPF also has considerable debt totaling $2.3 billion, with the majority of this debt being long-term debt that is current or due over the next 12 months.
Ambitious expansion plan
A key motivator for the government expropriation of the company was falling production and a failure of Repsol to invest in exploration and further building provable reserves and lifting production. Since taking control of the company, the Argentine government has installed a new management team led by CEO Miguel Galuccio, who has established an ambitious plan to expand reserves and production. The key goal of the plan is to lift oil and gas production by 32% and upstream production by 37% over the next five years.
In order to achieve this, the program requires an investment of just over $37 billion over that period, with 70% being funded by internal cash flow, 18% through debt and 12% by strategic partnerships, as the chart below illustrates.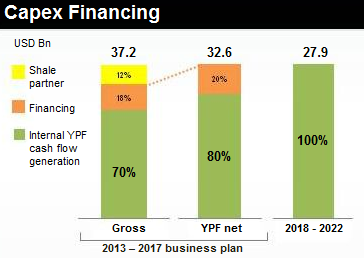 Source: YPF Business plan 2013 - 2017 100 day plan 30 August 2012
This is an ambitious plan, which in conjunction with the significant amount of long-term debt that is falling due will require substantial funding to get off the ground. It will also have a significant impact on the company's cash flows, with significant negative free-cash-flow expected over the five-year period as the chart below illustrates.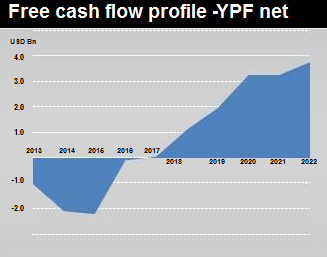 Source: YPF Business plan 2013 - 2017 100 day plan 30 August 2012
With such a low level of cash and cash equivalents available, it raises some questions about whether YPF will be able to fund such a large portion of capital expenditure through its cash flows. In addition to which, there have also been claims that YPF will be unable to grow its cash flow sufficiently enough to fund its expansion plan because the demand for petroleum products and natural gas in Argentina is not high enough. Along with which the cap on domestic oil prices limits the growth of sufficient margins and limits overall profitability.
While it is only early days in the execution of this plan, it appears that YPF is well on the way to securing strategic partnerships. The company has already commenced significant discussions with foreign owned oil majors, including Exxon (NYSE:XOM), Chevron (NYSE:CVX) and CNOOC (NYSE:CEO) to expand operations in the vast Vaca Muerta (Dead Cow) shale oil field. These discussions are looking particularly positive when it is considered that YPF is already operating in partnership with Exxon in the Vaca Muerta having recently made two shale gas discoveries. Furthermore, a partnership with Chevron is looking more and more like a distinct possibility with Ali Moshiri, president of Chevron's Latin American exploration and production unit, stating:
"We are open to strategically partnering with YPF . . . We are looking forward to working with the government."
The results of these discussions have left YPF confident of reaching an agreement and finding a strategic shale partner to expand into the Vaca Muerta. Furthermore, this expansion into the Vaca Muerta offers tremendous long-term development potential with the region's estimated 23 billion barrels of non-conventional oil.
While the price caps on oil and gas prices in Argentina will certainly affect profitability and margins for production that is allocated to domestic markets, there are a wide range of factors that will offset this. These, I believe, allow YPF to generate the required cash flow and be discussed further in part two of this article, when reviewing the macro and market outlook.
Prudently, YPF has also developed a contingency plan based on a restricted funding scenario, where it is unable to garner the required funding and is unable to access the required external financing or reach an agreement with a shale oil partner. In this plan, $24.7 billion would be invested in expanding production by around 15%, with 6% being funded through external finance obtained locally in Argentina and providing YPF with a credible alternate plan for boosting production and revenues.
The verdict so far
The success of either investment plan is contingent upon YPF being able to generate sufficient cash flow to fund the majority of the program while obtaining external finance. It is also contingent upon the outlook for oil and gas prices and whether these will be at sufficient levels to generate a sufficient return-on-investment to generate the required cash flow.
But at this point, the future outlook for YPF is certainly looking more positive than it was immediately after the nationalization. In addition to which, the progress made to date on increasing production as well as obtaining funding and a strategic shale partner certainly reinforces this. All of which should give some comfort to existing investors that the company will be able to boost its value over the long-term.
Part two examines YPF's likelihood of success along with its growth potential and valuation, while accounting for the global outlook for oil and the domestic energy market in Argentina.
Disclosure: I have no positions in any stocks mentioned, and no plans to initiate any positions within the next 72 hours. I wrote this article myself, and it expresses my own opinions. I am not receiving compensation for it (other than from Seeking Alpha). I have no business relationship with any company whose stock is mentioned in this article.