Nokia (NYSE:NOK) shares are headed higher this morning on better-than-expected second quarter results.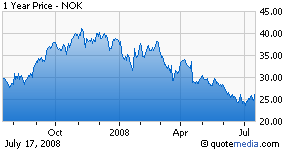 For the quarter, the company posted net sales of $13.151 billion Euros, up 4% both year-over-year and sequentially, and ahead of the Street consensus of 12.8 billion Euros. EPS excluding special items was in line at 36 Euro cents per share.
The company sold 122 million phones in the quarter, up 21% year-over-year and 6% sequentially. Smartphone units totaled 15.3 million; the company estimates the industry shipped 37.1 million smartphones in Q2. Average selling prices fell to 74 Euros from 90 a year ago and 79 in Q1. Nokia said 30% of the year over year decline and 40% of the sequential decline reflected exchange-rate related factors.
A couple of other tidbits: Mobile devices in North America jumped 73.1% sequentially, by far the fastest growing region on that basis, but just 9.8% year-over-year, the slowest by that metric. China device volumes fell 16.2% sequentially. European units were up 5.4% sequentially, but were flat year over year. At Nokia Siemens, overall sales were up 19.6% sequentially and 18.3% year over year, although North American sales were down 17.7% sequentially and 3.7% year over year.
Nokia provided a fairly upbeat outlook for the rest of the year. The company sees industry mobile device volumes in Q3 up sequentially, with Nokia maintaining market share. Nokia now sees mobile device volumes this year growing "10% or more" from to 1.14 billion estimated for 2007; that a bit more optimistic than their previous forecast for growth of "approximately 10%."
Nokia also said that excluding purchase costs, its acquisition of Navteq will be dilutive in 2008, neutral in 2009 and accretive in 2010. On a reported basis, the deal will be dilutive through 2010, and accretive thereafter.
Pablo Perez-Fernandez, an analyst with Global Crown Capital, asserts that the company had "clear positive surprises" on sales, phone volumes and annual guidance, offset only by weak ASPs. "On balance, it's obvious to us the good news outweighs the bad," he wrote this morning.
And in fact, Nokia is up $2.12, or 8.4%, to $27.25.