Now that the dust has settled from its horrific (or was it?) earnings release and subsequent share price drop, let's step back a moment and try to objectively see what Hewlett-Packard Co. (NYSE:HPQ) is worth. Hewlett-Packard is a large, well-diversified company whose revenues come from seven different business segments: Personal Systems Group, Services, the Imaging and Printing Group, Enterprise Servers, Storage and Networking, HP Software, HP Financial Services and Corporate Investments. No customer or nation accounts for more than 10% of Hewlett-Packard's revenues. Hewlett-Packard is the #1 shipper of PCs (Personal Systems Group), in both domestic and foreign markets.
Click to enlarge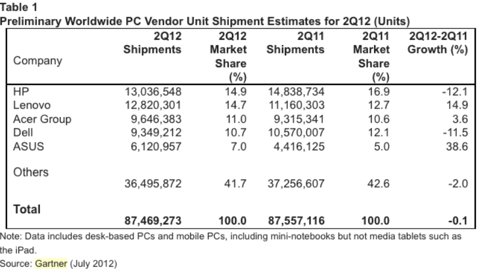 It's also the leader in the Printer market (Imaging and Printing group). Here is a table of each segments' earnings and operating margins for the last three years:
| | | | |
| --- | --- | --- | --- |
| Personal Systems | $1,661 | $2,032 | $2,350 |
| Service | 5,102 | 5,661 | 5,149 |
| Printing | 4,310 | 4,412 | 3,973 |
| Enterprise | 1,657 | 2,825 | 3,026 |
| Software | 731 | 782 | 698 |
| Financial | 206 | 281 | 348 |
| Corp | (300) | (366) | (1,616) |
| Total | $13,367 | $15,627 | $13,928 |
| Operating Margin | 11.5% | 12.2% | 10.7% |
An initial observation is that any company that is a market share leader in two different markets (PC and Printing) does not deserve a PE ratio of less than 6 - like HPQ is sporting right now - unless something is drastically wrong. Yet, earnings guidance for FY 2012 is around $4/share (non-GAAP), and looks to stay around that mark for the next year as well, which makes the forward PE even lower: a measly 4.3. But let's dig a little deeper.
Even though Hewlett-Packard is #1 in the PC market, it has lost share and experienced decreased sales in this division while Apple (NASDAQ:AAPL), Lenovo Group Limited (OTCPK:LNVGY), and others saw shipments increase. Looking at this in context, though, the Personal Systems Group only accounts for only 17% of total earnings from business segments.
There are actually three other business segments that provide higher earnings than the Personal Systems Group. They are the Service segment (37% of HPQ's total earnings last year), the Imaging and Printing segment (28.5% of total earnings), and the Enterprise segment (21.7% of earnings). Therefore, the PC group is in fourth place in order of importance to Hewlett-Packard. So, why has all the hullabaloo about the "death of the PC" killed Hewlett-Packard's stock price if the PC is only fourth place in business importance to Hewlett-Packard?
Furthermore, the PC unit is the lowest margin segment that Hewlett-Packard has, at only 6% operating margin. The Service segment has Operating Margins of 14%; Imaging and Printing, 15%; Enterprise, 14%; Software, 22%; and Financial 10%. It's also important to note that the segments with the highest margins are also the fastest growing for HP. The three-year sales CAGR's for the Enterprise, Software, and Financial segments are 17%, 10%, and 16%, respectively. The three-year CAGR for Personal Systems is only 6%.
So, simply put, why have the struggles of one business segment - a segment, that, out of seven total segments, is next-to-last place in operating margin, and is fifth place in three-year Revenue CAGR - caused so much heartache for Hewlett-Packard and its shareholders? It would be like saying, I'm worried about Apple because its iPod sales are struggling. iPods are way down the list on Apple's sources of cash flow, as is Hewlett-Packard's PC unit may be. This may seem counterintuitive and I may be inadvertently stating the bears' case here, but we have to remember that HP has several other healthy business segments. Hewlett-Packard's naysayers are throwing the baby out with the bathwater.
Because Hewlett-Packard has already provided us with a non-GAAP estimate of around $4/share for FY 2012, shares are trading at a level that implies an earnings yield of over 23%. But just for giggles, let's get really negative: Let's assume that the market is right about its assumptions of a worst-case scenario for Hewlett-Packard.
In fact, why don't we just assume that the Personal Systems segment is hit with a nuclear warhead tomorrow and falls off the face of the planet, leaving only the other six segments standing. So, even though its PC unit provided nearly $40 billion in revenue last year, let's just ignore that (heck, the market's doing it, so why don't we?). Assuming most recent operating margins (and declining revenue numbers), most recent conservative guesstimate on interest expense and D&A, and a very pessimistic corporate tax rate of 40%. Below is what the new, severely "injured" entity would look like:
| | |
| --- | --- |
| Personal Systems Revenue | $0 |
| Service | 34,875 |
| Printing | 25,010 |
| Enterprise | 21,351 |
| Software | 3,796 |
| Financial | 3,596 |
| Corp | 322 |
| Total Revenue | 88,950 |
| | |
| Operating Earnings | |
| Personal Systems | 0 |
| Service | 3,836 |
| Printing | 3,952 |
| Enterprise | 2,327 |
| Software | 683 |
| Financial | 374 |
| Corp | 0 |
| Total Operating Earnings | 11,172 |
| | |
| Interest, D&A, & Taxes | (6,106) |
| | |
| Net Income | 5,066 |
| EPS | $2.53 |
In other words, the new Hewlett-Packard, now with a gaping chest wound in the place where its PC segment used to be, manages to "eke" out an EPS of $2.53 in 2012 from its other businesses. Not only does HP survive, it turns a healthy profit margin of around 5.6%. Hewlett-Packard's historical average PE ratio is 11, so that would mean a stock price of $27.83 without its PC business!
Even if we assigned a pessimistic multiple of 8, that would still mean a stock price of over $20 (a 17% upside from Friday's stock price). But why would we be pessimistic, now that we are free and clear of that pesky PC segment? Without the slow-growing PC segment, the other, faster-growing segments would command a higher multiple, perhaps a respectable 15, which would imply a price of $37.95, again, without the PC business. I estimate the PC business to be somewhere between $5 and $7.50 per share (assuming a 40% tax rate and a 10 to 15 earnings multiple), which would push Hewlett-Packard's value to around $43-$46 a share.
Hewlett-Packard has grown its free cash flow at average rate of 14% over the past decade, and has double-digit sales growth in four out of its seven divisions, at operating margins in double digits as well. This is just not a company that deserves a forward PE of 4.
Think about it for a moment: if you had the opportunity (and the money) to buy an anonymous business generating over $100 billion in revenue per year, over $7 billion in free cash flow per year, and had #1 global market share in two different business segments, with the other segments growing at a double-digit clip, wouldn't you be ecstatic to pay only 4 times cash flow for that business?
Up till now, we haven't even talked about an optimistic case. With all the turmoil surrounding Hewlett-Packard, it's hard to think optimistically, but suppose for a moment that Hewlett-Packard's sales grow at a rate more commensurate with its three-year growth rates. Personal Systems and Printing would be in the low single-digits, while the others would be in the double digits.
Whitman's plan to cut jobs could save over $1 billion over the next couple of years, adding possibly 50 cents to EPS. Windows 8 could stir up cyclical demand for Hewlett-Packard's products, including the Ultrabook, which looks promising. Hewlett-Packard's purchase of Autonomy could prove accretive to the Software segment's earnings. Even 50 cents to an already stable $4 EPS would translate to a $45 stock price, using a 10x multiple.
In the end, who knows, but I think there is a case to be made that the sum of Hewlett-Packard's parts is worth more than its current share price, even without its PC business. Call it buying Hewlett-Packard's Printing, Software, Service, and Enterprise units and getting the PC business thrown in for free. In Ben Graham's book, that's called a Margin of Safety.
What tips the scales for me is the fact that insiders and large investors alike have been buying HPQ lately, and in large quantities. Raymond Lane bought $5 million worth of shares, and Ralph Whitworth picked up an astounding $400 million worth, both at around the $22 price level.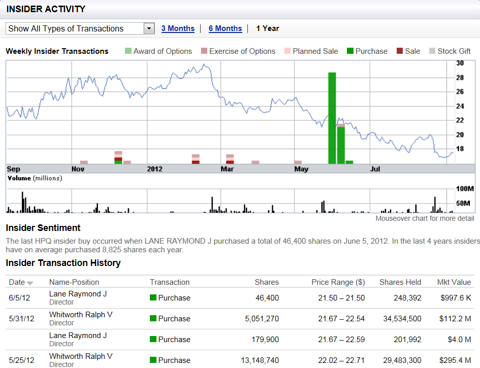 Seth Klarman, legendary value investor, has made some huge bets on Hewlett-Packard lately, accumulating enough shares to own more than 1% of Hewlett-Packard. Klarman is famous for averaging returns of 20% for 30 years at his Baupost Group, which is one of the top 10 largest hedge funds in the country. Klarman demands a margin of safety (room to be wrong on his calculations) on all his investments, so I would assume that he's not banking on the stock being worth $29 (because he started buying near that price point last year); he's probably calculated a value closer to $50; it would have to be near that number to adequately provide a margin of safety.
Klarman is also known for holding very large cash positions, sometimes up to 40% of the portfolio, being ultra conservative with his stock picks. This ultra-conservative value investor obviously has a hunch about this company. For Klarman to make such a large bet on the future of Hewlett-Packard, there has got to be good reason. I feel very comfortable going into business with this guy.
So, in a bearish case, the shares are still worth more than $20. A more realistic value would be closer to $35, and an optimistic valuation could be as high as $45, which implies possible upsides of anywhere from 14% to a whopping 156%. We may have to wait for that, but a 3% dividend yield while we wait is palatable.
Disclosure: I am long HPQ. I wrote this article myself, and it expresses my own opinions. I am not receiving compensation for it (other than from Seeking Alpha). I have no business relationship with any company whose stock is mentioned in this article.