Costs associated with new emission controls and updating of an aging infrastructure pose a long-term threat to the outlook for US electric power companies, according to a new industry analysis from Moody's.
The US investor-owned electric utility sector's rating outlook remains stable, but credit quality could deteriorate if companies don't strengthen their balance sheets to withstand rising business and operating risks, Moody's says in its latest six-month update for the sector.
"The fundamentals underlying the U.S. investor-owned utility sector remain intact," said Moody's Vice President Jim Hempstead, author of the report. "The most important of these is the relative supportiveness of the regulatory environment, and state regulators continue to authorize timely financial relief for prudently incurred costs and investments, a primary driver behind our stable outlook."
Managing these regulatory relationships and financing significantly large capital expenditure plans with a balance of both debt and equity will be crucial for credit ratings over the longer–term horizon, says the report. Pressures are building with rising operating costs, especially for fuel commodities, and a significant need to invest capital into an aging infrastructure.
The report analyses the historical trend of the internally generated funds in relation to capital expenditures, as measured by cash flow from operations before working capital adjustments [CFO pre-w/c] less dividends divided by capital expenditures. This ratio has moved quickly below 100%, and is expected to decline even further over the next few years, a significant credit negative. For illustrative purposes, Moody's segregates the sector into its parent holding companies (HoldCos), vertically integrated electric utilities [OpCos] and transmission and distribution utilities [T&DCos].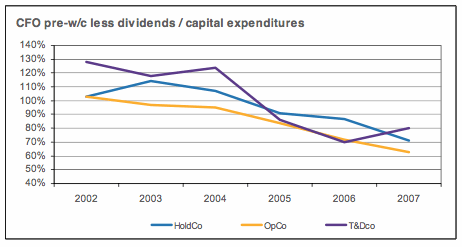 The pace of utilities' requests for rate relief is increasing, raising the possibility of a consumer, legislative or regulatory backlash in the future. In addition, new legislative proposals regarding carbon emissions represent a material long-term credit risk for the sector due to the uncertainty over the framework, implementation and effect on costs to consumers.
The prospect for new environmental emission legislation represents the single biggest emerging issue on the horizon due to the sheer volume of the sector's carbon dioxide emissions.
Moody's remains indifferent as to which carbon dioxide emission reduction method is ultimately adopted, whether it be a straight tax regime or a cap-and-trade system, although, from a credit perspective, Moody's views the cap-and-trade system as being more complex and less transparent than a straight tax.
Much uncertainty exists and it may be many years before any new legislation is actually implemented, so the credit risks are longer-term in Moody's view and are not expected to impact existing ratings or rating outlooks.