The August jobs report was considered bad because it missed analysts expectations. Just by looking at the headlines of the report, you would think this report signaled a change in trend.
ABC News: "August Jobs Report Crushes Hope for More Hiring"
CBS News: "August Report Disappoints"
Real Clear Politics: "The Awful, Awful August Jobs Report"
There have been three components to the post recession recovery. The number of people employed, the average number of hours worked per week and the gain in productivity or output per hour.
Here is a chart showing total number of nonfarm payroll employees since the end of the recession in June of 2009:
Click to enlarge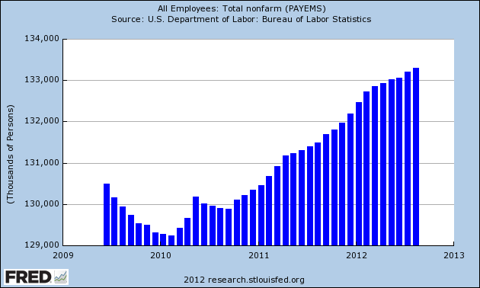 It should be noted that while we added 96k jobs in August of 2012, we added only 85k jobs in August of 2011, so there was an improvement from last year.
Here is a chart of the average number of hours worked per week per employee in the private sector: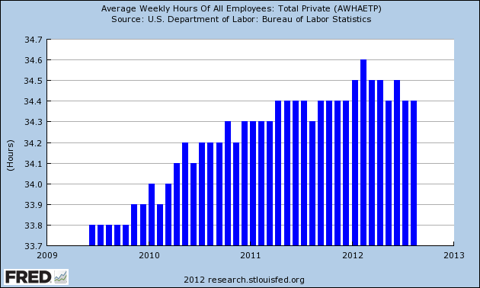 August 2012, the average number of hours worked was 34.4. This is an improvement over August of 2011, when the average work week was 34.3 hours.
To get a more accurate gauge of the recovery in employment, we should account for both the number of employees and the number of hours worked.
Here is a chart showing the total weekly hours worked by multiplying the total number of employees by the average hours worked per week: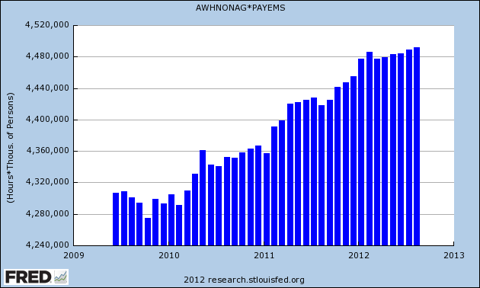 Since mid-2011, the uptrend had held steady and is now at a new post recession high.
Here is a chart showing the year-over-year percent change of the chart above: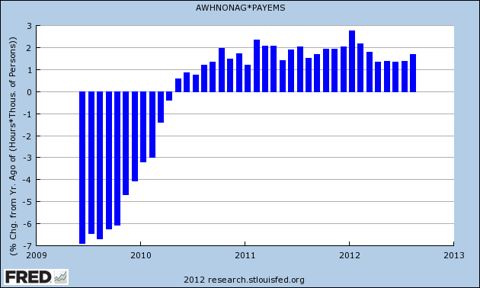 August actually shows a higher rate of growth vs the previous four months, suggesting the jobs recovery is actually picking up steam!
I'm failing to see how this jobs report was "awful, awful, awful" and "hope crushing." The internals of the jobs picture may be weakening, like pay and where the jobs are actually being created, but the overall employment situation in the U.S. is holding steady.
The Fed has to be looking at this just as I am and saying that until this chart begins to deteriorate, there should be no reason to take action to try to stimulate the economy any more than it is already growing.
What is even more telling to the state of the recovery is if we add productivity gains which have increased the output per hour. Add that factor to the jobs recovery and the chart looks like this: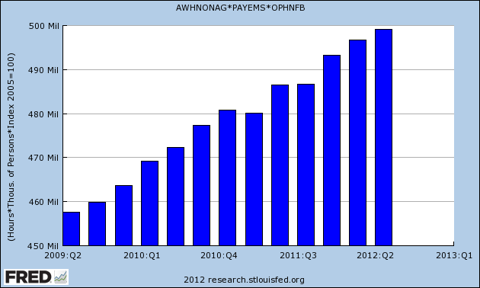 The year-over-year gain in total output of the U.S. work force based on how many people are employed, their productivity and how many hours are being worked, the chart looks like this: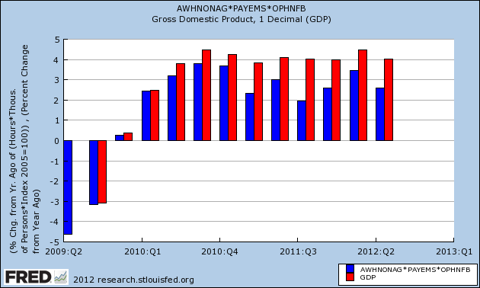 I put GDP in this chart, the red bars, to show the correlation of this data set to GDP.
There is no doubt, we want to see gains in productivity, gains in jobs and gains in average weekly hours being worked. A "change in trend" would and should warrant Fed action to help mitigate the decline, but it cannot prevent from occurring it I believe.
I see no change in trend as of August, thus I see next to zero chance of any Fed action from their September 12th and 13th meetings.
Given the recent rise in the stock markets on anticipation of more Fed stimulus, my bias is that the markets will be disappointed when the Fed does not take action, but instead suggests, just as I laid out above, that the recovery is still ongoing and although slower than it would like it to be, and it suggests it will stand ready to take action on any change in trend.
Investors might want to consider hedging against such a disappointment by owning ProShares Short S&P 500 ETF (NYSEARCA:SH) shares or simply holding cash and awaiting a better buying opportunity of your favorite stocks.
In the event that there is an announcement of a new round of quantitative easing at next week's meeting, which in my opinion would suggest something is deeply wrong with the financial system, owning some physical gold and silver or by buying shares of Central Fund of Canada Limited (NYSEMKT:CEF) should prove as a prudent way to hedge against the financial mismanagement of Governments and Central Banks around the world.
Disclosure: I am long SH, CEF. I wrote this article myself, and it expresses my own opinions. I am not receiving compensation for it (other than from Seeking Alpha). I have no business relationship with any company whose stock is mentioned in this article.