Amazon's (NASDAQ:AMZN) CEO Jeff Bezos is a close student of Steve Jobs, and it shows. Bezos knocked it out of the park on Thursday in a dressed up hangar at Santa Monica Airport, and one thing has already been made abundantly clear: Amazon's agile development cycle presents a real problem for rivals Google (NASDAQ:GOOG), Barnes & Noble (NYSE:BKS), Apple (NASDAQ:AAPL) and Microsoft. (NASDAQ:MSFT)
Amazon's new Kindle HD releases (a 7-inch version for $199, a larger 8.9-inch version for $299, and a 4G LTE-enabled version for $499) have just matched or exceeded all three companies in every technological area that matters while undercutting them on price, and did it within only 2 months of Google's Nexus 7 release. (By way of comparison, the Nexus 7 is rumored to get 3G capability by October.)
The Anti-Apple Model
Amazon operates on the Anti-Apple model: The company doesn't rely on revenue generated by yearly upgrades hardware itself; what Amazon's CEO scornfully refers to as "the razor/razor-blades" business model. The hardware is just a terminal that exists for one purpose: to consume the stuff Amazon sells.
"We don't need you on the upgrade treadmill," Bezos told the audience.
It's as if HBO manufactured cutting edge televisions and gave them away at-or-below cost to subscribers, while Netflix streamed content for the sole purpose of selling its customers a new "game-changing" T.V. every year.
Amazon is demonstrating just how different of a company it is from anything we've seen in tech. The development cycle is usually self-limiting: companies that cut corners in order to bring products rapidly to market tend to cut corners, which, in turn, threatens the good will that the brand has built up with customers. Margins compress. Companies become obsessed with incremental, quantitative improvements and miss paradigm shifts. This is exactly what happened to Japanese handset manufacturers when Apple released the iPhone.
What makes Amazon's model dangerous is this: Amazon can flood the market at or below cost indefinitely without threatening its core business. That shrinks the margins for Amazon's rivals to near-invisibility and makes it very difficult to compete with the Seattle-based e-tailer.
Versus the iPad
For example: the 8.9-inch Kindle Fire HD features a front-facing HD camera, Dolby Digital plus (for the first time in a tablet), 32 GB of storage space, Email, Skype, Facebook, 4G LTE capability for $499 + $49.99 ($39.99 with rebate) a year for 250MB/mo of data. (iPad owners pay $180 per year for just the data.)
Will consumers be eager to pay a 43% higher TCA for a measly 1.1 inches of diagonal display? I sincerely doubt it. Willing, perhaps (there is the fruit logo on the back) but eager? The iPad 3 was released 6 months ago. That's not old even by mobile technology standards, but it's not as if you're going to be the first kid on your block to own one.
Aim, Miss, Hit!
iPads have the slimmest profit margins of all of Apple's products, which at first blush would seem to limit Apple's room to maneuver. For Google, the stakes aren't as high. Google's revenues revolve around advertising. The Nexus 7 will neither make nor break the search giant, and of Amazon's competitors it is the one company that could go toe-to-toe in generating loss-leaders.
Fig 1: Apple's Profits by product
(click to enlarge images)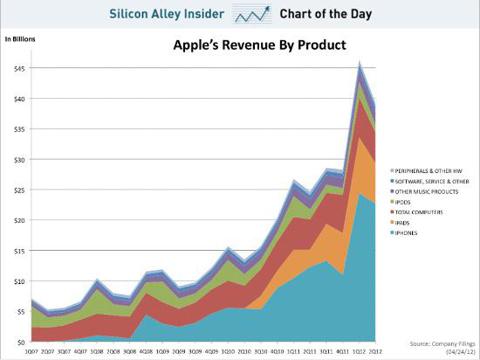 Click to enlarge
Simply put, Apple cannot afford to race Amazon to the bottom on the revenue the company makes on the merits of iPad sales alone. This is where Apple's incredibly deep war chest comes into play. Apple doesn't have to make a profit on its tablet.

Click to enlarge
According to the company's most recent 10-Q filing, Microsoft's liquidity took about a $3 ¼ billion hit between June of 2011 and March of 2012.

Click to enlarge
Apple, on the other hand, improved its liquid position:

Click to enlarge
Vs. Barnes & Noble: Undercut And Conquer
At $119 (very close to the psychologically important $99 price-point) PaperWhite is a brass-knuckled punch in the face for Barnes & Noble's $139 Nook GlowLight reader. The battery lasts for 8 weeks straight, no recharging - with the reading light on.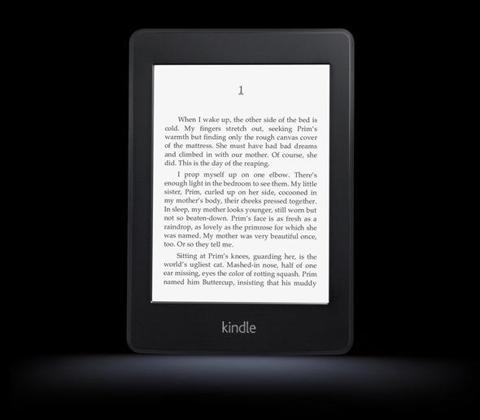 Click to enlarge
Just to twist the knife, Bezos announce also announced $69 ad-supported Kindle. Though it isn't Kindle PaperWhite, the $69 price tag effectively crowds out the rest of the low-end market.
Barnes & Noble can't afford to play this game. As of August 31st,, the ailing retailer had only $20.2 million in cash equivalents. Nook sales came in just shy of $192 million for the past quarter. By comparison, Amazon has $2 billion in cash and cash-equivalents, a 100x advantage.

Click to enlarge
While $192 million isn't nothing, it's not enough to buy a seat at the table anymore. The tablet wars have devolved into a market-flooding melee. For Barnes & Noble, at least, the barriers to entry are now prohibitively high.
Te Deum
Amazon's release on Thursday was widely regarded as taking aim at Apple and Google. While that does appear to be where Bezos was aiming, the companies he actually hit were based not in Mountain View and Cupertino, but in Redmond and Manhattan.
Microsoft received a flesh wound, but at this time is reported to be in stable condition.
Barnes & Noble's Nook was mortally wounded, and was reported dead at the scene. Funeral services will be on November 23rd, 2012. (Black Friday.) The company has requested that investors send flowers. Bottom Line: short.
Disclosure: I have no positions in any stocks mentioned, and no plans to initiate any positions within the next 72 hours. I wrote this article myself, and it expresses my own opinions. I am not receiving compensation for it (other than from Seeking Alpha). I have no business relationship with any company whose stock is mentioned in this article.