I have an ongoing interest in the mortgage REIT stocks and the lend long/borrow short business models of these high yield companies in the current interest rate market. My contention is that although these companies are currently earning decent spreads on their mortgage portfolios, the spreads will continue to narrow -- possibly to a point where no sane level of leverage will support a double-digit dividend yield.
Step 1: Mortgage REIT Rate Trends
Here are the second quarter portfolio yields and cost of funds for Annaly Capital Management (NYSE:NLY), American Capital Agency (NASDAQ:AGNC) and CYS Investments (NYSE:CYS). These three mortgage REITs primarily hold fixed rate agency mortgage-backed securities
| | 12-Q2 Yield | Cost | 11-Q2 Yield | Cost |
| --- | --- | --- | --- | --- |
| NLY | 3.17% | 1.58% | 3.73% | 1.69% |
| AGNC | 2.81% | 1.08% | 3.35% | 0.89% |
| CYS | 2.62% | 0.91% | 3.37% | 1.14% |
Over the last year, the average portfolio yield has declined by 0.62%. The average cost of money for the three mREITs dropped by 0.04%. The 58 basis point decline in the spread calculates out to a 25% shrinkage of the 2.24% average spread at the end of June 2011.
Step 2: The MBS Marketplace
Current yields for the agency MBS market place can be gleaned from several sources. Here is some data on the current state of the mortgage securities market using index and ETF published information:
The Barclays Capital agency MBS index information published on WSJ.com shows a current yield of 2.29%. The 52-week high for the yield was 3.21%.
The Vanguard Mortgage-Backed Securities Index ETF (NASDAQ:VMBS) portfolio has a current average yield-to-maturity of 2.1% with a duration of 2.8 years. An addition sign of falling MBS rate is the 36% decline in the average monthly dividend paid by VMBS since the first half of 2011.
The largest MBS ETF, the iShares Barclays MBS Bond ETF (NYSEARCA:MBB) reports an average yield-to-maturity of 1.15%, duration of 1.59 years and a 30-day SEC yield of 3.21%.
These indicators show MBS rates at just above 2%. The current batch of 4% coupon agency MBS are selling at yields of about 1.3% with average life expectancies of just under three years.
Outlook for mortgage REIT rates
If the current interest rate environment stays in effect, the portfolio earnings yield for mortgage REIT companies will continue to decline towards 2% or lower. At constant rates in the MBS markets this rate erosion will happen slower than the drops over the last couple of years, but the rate floor for mortgage security earnings is a long way below what these companies are currently generating out of their portfolios.
The mREIT companies are also caught between the choice of selling MBS at a profit to boost quarterly cash flow - then reinvest the proceeds at the very low current rates - or hang on to high yield MBS and watch the price premiums melt away through mortgage prepayments.
A quick mortgage REIT math review: The yield earned is the net interest rate spread times the amount of leverage plus 1 minus expenses. If a mREIT is earning a net 1.5 percent spread and has borrowed to 7 times leverage, the portfolio is producing a 12% return. Subtract expenses and the mREIT has a 10%+ return to pay out to shareholders. If that spread shrinks to 1.0%, the portfolio yield declines to 8% and bye-bye to double-digit dividend yields.
Conclusions
In spite of the ugly math currently affecting their businesses, the mortgage REITs are doing a good job managing their portfolios for yield and income. As I discussed in my recent articles on Annaly Capital and American Capital Agency, both companies used capital gains to cover a portion of the dividend in the 2012 second quarter. In the second quarter, Annaly earned 44 cents of the 55 cent dividend from its portfolio earnings and American Capital Agency had net interest earnings of 94 cents out of the $1.25 dividend paid. Investors who own shares in the mortgage REIT companies should monitor how the dividend cash is being generated.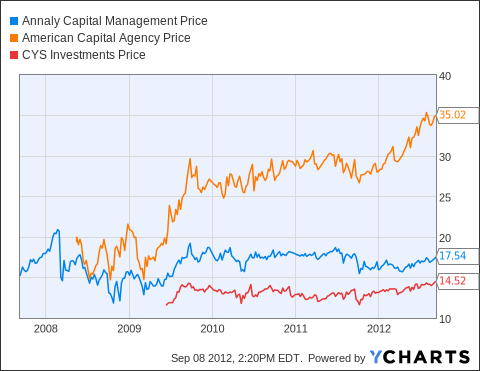 Recommended Readings: Annaly Capital Management Uses Bond Capital Gains To Support Dividend
Interest Income For American Capital Agency Drops By 30% In Second Quarter
Disclosure: I have no positions in any stocks mentioned, and no plans to initiate any positions within the next 72 hours. I wrote this article myself, and it expresses my own opinions. I am not receiving compensation for it (other than from Seeking Alpha). I have no business relationship with any company whose stock is mentioned in this article.