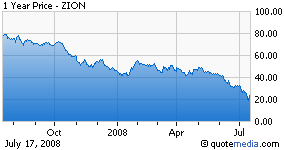 Zions Bancorporation (NASDAQ:ZION) is expected to report Q2 earnings after market close Thursday, July 17, with a conference call scheduled for 5:30 pm ET.
Guidance
Analysts are looking for EPS of 74c on revenue of $628.23M. The consensus range for EPS is 58c to $1.05, while the consensus range for revenue is $578.96M to $658.30M, according to First Call.
Analyst Views
Zions on July 3 announced that it completed a $45.7M offering of preferred stock. Two research firms had very different outlooks on Zions following the stock offering:
Citigroup wrote on July 7 that investors had misinterpreted the results of the company's stock offering. Zions had indicated that it would seek to raise up to $150M through the preferred shares. Citigroup said that when the amount came in well below that level, investors overreacted even though the offering met the criteria outlined by Zions. The firm still thinks Zions can survive the credit crunch without a highly dilutive capital raise, but they did slash their Q2 EPS estimate to 65c from 99c. However, the firm maintained their Buy rating.
Conversely, Robert W. Baird downgraded Zions to Neutral from Buy. The firm believes Zions is experiencing deteriorating credit quality trends, and they forecast that Zions' disproprtionate expsure to the construction market will result in large provisions over the next few quarters. Zions' capital position is below average compared with its peers, the firm added.