Have you ever stood back and pondered why the stock market acts the way it does? A group of researchers at Emory University recently published a study analyzing the reaction of MBA students to positive and negative surprises. In this study, the researchers analyzed cerebral activity through magnetic resonance imaging (MRI). They delivered earnings reports to investors and analyzed the neural activity of the ventral striatum. Neurons became more active in the event of a positive earnings surprise, remained neutral for results that met expectations and declined when results came in below expectations. Negative surprises created approximately twice the relative response of positive surprises, confirming the notion that investors regret losses to twice the extent that they enjoy gains.
The key point is that results are evaluated in a relative manner to the expectations of the investor. Thus an investor taking a long position in a stock expecting earnings per share of 1 dollar would receive a negative surprise if earnings came in at 95 cents (even if the consensus estimate was 95 cents). Thus, if a stock had been doing well, expectations for a positive surprise may result in a negative surprise even if the result is in line with expectations. Recently, shares of Tiffany (NYSE:TIF) and Joy Global (NYSE:JOY) traded nearly 10% higher even after a negative earnings surprise. The poor performance of these stocks preceding the earnings report led investors to expect a far worse report than consensus. Therefore, results that were only somewhat less than consensus led to strong surges in the price of these two stocks.
Thus the expectations of market participants are just as important as future positive and negative surprises. Since gauging the expectations of market participants can be accomplished more accurately than predicting the future state of the economy, I believe one should spend at least as much time gauging other investor's expectations as considering economic data and trying to speculate on the future direction of the economy.
But how is it possible to gauge investor sentiment? I like to focus on what investors do rather than what they say or feel. Imagine that investors are very confident about the future performance of the economy. Would it not be reasonable to assume they should be willing to pay more for cyclical companies whose earnings performance is very dependent on the state and direction of the economy? And if investors believe the future to be grim, would it not be reasonable to expect that they would pay more for less cyclical stocks relative to cyclical ones?
In order to test this hypothesis the prices of Vanguard's consumer staples ETF (NYSEARCA:VDC) was compared to Vanguard's industrials ETF (NYSEARCA:VIS). If investors are very worried about the state of the economy, it is expected that they would pay more for consumer staples stocks relative to industrial stocks. This ratio would indicate the current expectations of investors. When expectations are high and worries are low, bad news will come as a major shock. Conversely, when expectations are low a 'wall of worry' effect may take place. The market may rise simply because news is less bad than was feared. If results are better than expected investors buy and prices rise. When an investor's expectations are low there is a lower barrier to that investor hitting the 'buy' button. When an investor's expectations are high there is a lower barrier to an investor hitting the 'sell' button.
Below is a scatterplot of the 24-month return of the S&P 500 index versus the ratio of VDC/VIS. Over a period of 24-months this ratio is highly correlated with future stock market returns. When investors are pessimistic and pay less for industrials relative to consumer staples, positive surprises are more likely and the market provides investors with above average returns. When investors are optimistic the reverse is true. At the present time, the ratio of VDC/VIS is 1.31, still fairly pessimistic relative to the average ratio of 1.055 since 2004.
click to enlarge images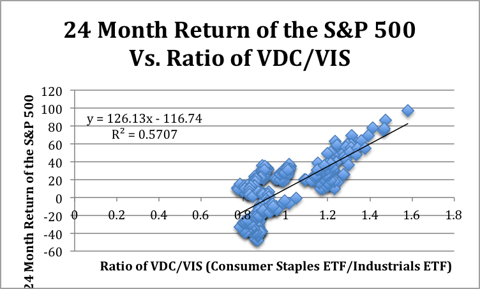 The other intriguing aspect of this ratio is that it has provided very timely buy and sell signals for the overall market. Below is a chart of the VIS/VDC ratio. Negative MACD crossovers have occurred three times in the past two years. The first occurred in late May of 2010 and was too late to have predictive value as the May flash crash occurred with hardly any warning. However, the second and third sell signals occurred in April of 2011 and late April 2012, preceding market declines. Three buy signals have been issued. The first in September 2010 was soon enough to get back into the market if you were scared out during the flash crash. The second buy signal occurred in October 2011 coinciding nicely with the market bottom last year. We have just encountered a third buy signal.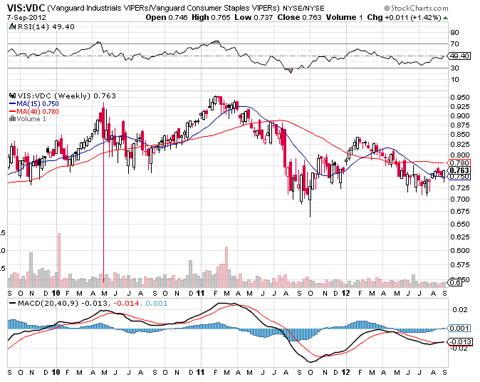 Of course market direction in the short term is very difficult to predict and past performance is no guarantee of future results. However, the apparent bearishness expressed in the ratio of cyclical to consumer staples stocks combined with the recent trend toward stronger performance of cyclical stocks may indicate that the rally is not over yet. Low expectations do not mean that the future cannot surprise to the downside, but all things being equal they mean that a downside surprise is less likely.
Disclosure: I am long TIF. I wrote this article myself, and it expresses my own opinions. I am not receiving compensation for it (other than from Seeking Alpha). I have no business relationship with any company whose stock is mentioned in this article.