The US mortgage insurance industry's troubles are not over and may get worse before they improve, according to Fitch Research. In a special on mortgage insurer delinquencies, Fitch makes the following key observations:
The 2007 vintage insurance in force (NYSE:IIF) displays significantly higher levels of first- year delinquencies than the 2006 and 2005 vintages, each of which displayed successively higher first-year delinquencies than the prior vintage.
The composition of 2007 vintage origination contained a significantly greater proportion of loans with initial loan-to-value (LTV) ratios in the 95%−100% range than prior years' originations. This was largely attributed to the decline in originations of simultaneous-second, or "piggyback", mortgages in 2007. This category of loans from the 2007 vintage has performed poorly and has contributed to increased delinquency levels in the 2007 book.
The second-year delinquency rate of the 2006 vintage was significantly higher than that of the 2005 vintage at the corresponding point in time, and on average exceeded the 2005 vintage third-year delinquency rate.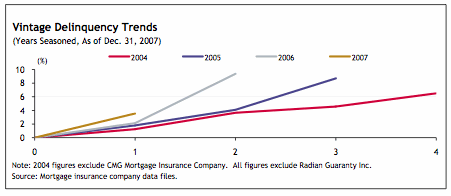 While steps have been taken by the industry to improve the prospects of future business, Ftch says its analysis indicates that "the mortgage insurance industry's troubles are not over and may, in fact, get worse before they improve."
In Fitch's view, 2007 will likely prove to be one of the worst underwriting years in the modern history of the U.S. mortgage industry.
Fitch puts the industry's "risk in force"-to-capital ratio at 13.3%, ranging from 11.7% for PMI (NYSE: PMI) to 20.5% for Triad Guaranty (NASDAQ: TGIC), which has fallen out of compliance with Fannie Mae (FNM) and Freddie Mac (FRE) requirements.
Fitch's findings echo those of CreditSights, which recently called the outlook for the mortgage insurance industry "extremely negative."
Fitch's Special Report, Delinquencies and Losses Are Up, is available for purchase.