VIX ETNS got slaughtered by the European Central Bank's bond buying program.
Mario Draghi took center stage last week and announced a bond buying program that electrified global financial markets as investors took heart that the ECB was finally going to step up in a big way to save the Euro, Spain and Italy.
VIX, the CBOE S&P 500 Volatility Index, also known as the "fear" index, was slammed this week by this "Draghi Put" on Europe and declined 17.7% to a new reading of 14.38. The VIX hit a recent low of 13.45 on August 17th and the current level of the VIX Index now hovers near lows not seen since 2007 before the onset of the recent financial crisis.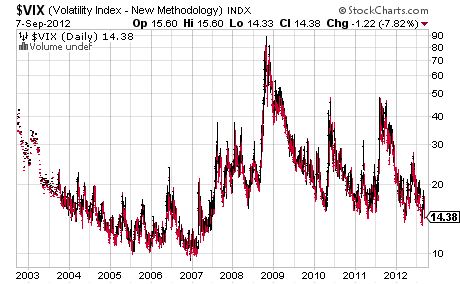 chart courtesy of StockCharts.com
VIX is also now well below its long term average in the mid 20s as investors and traders bet on central bank support for global equities which has led to a decline in fear and lower demand for downside protection.
Levels below 14 are extremely rare as indicated in the above chart and last occurred between 2005 and 2007 when the S&P 500 (NYSEARCA:SPY) tacked on more than a 30% gain.
VIX anticipates volatility over the next 30 days, however, futures traders are less optimistic about longer term trends in volatility as December futures contracts closed Friday at 21.05 and the April, 2013, contract closed at 26.5. Forward looking contracts indicate that speculators anticipate higher volatility which would mean the potential for lower equity prices in the months ahead as VIX and stock prices tend to move inversely to each other.
VIX ETN Weekly Update:
iPath S&P 500 VIX Short-Term Futures ETN (NYSEARCA:VXX): -18.2%.
VelocityShares Daily 2X VIX Short-Term ETN (NYSEARCA:TVIX): -32.9%.
iPath S&P 500 VIX Mid-Term Futures ETN (NYSEARCA:VXZ): -7.9%.
S&P 500 Dynamic VIX ETF (NYSEARCA:XVZ): +0.2%.
Velocity Shares Daily Inverse VIX Short-Term ETN (NYSEARCA:XIV): +21%.
This week could bring more rough sledding for VIX depending upon the outcome of the Federal Reserve meeting on Sept. 12-13 from which many participants expect another round of quantitative easing to emerge. A second significant event this week is the ruling by the German Constitutional Court regarding the European Stability Mechanism which is due September 12th and will determine Germany's involvement in this key ingredient to European rescue plans.
Both of these events have the potential to be very friendly or negative for VIX, VIX ETNs and equities. Market players are betting for a favorable outcome which would mean lower volatility and a continuation of the current stock market rally, however, any disappointment here will not go down well as most major U.S. stock indexes approach overbought levels.
Overall, as we head into the week of September 9th, fundamental and technical factors point to lower prices for VIX and higher prices for equities over the short to medium term.
Disclosure: I am long XIV. I wrote this article myself, and it expresses my own opinions. I am not receiving compensation for it (other than from Seeking Alpha). I have no business relationship with any company whose stock is mentioned in this article.
Additional disclosure: long VXX put option: VXX 12/22/2012 11.00 P