A previous article I wrote entitled 'Sound Canadian Banks Offer Opportunity' provides complete background on Canadian banking.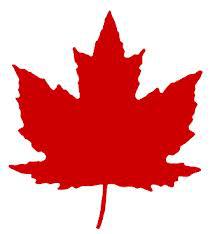 Are you looking for a safe place to put your life savings? Of 142 countries, Canadian banking is widely considered the safest banking system in the world, ranked as #1, the world's soundest for the past five years by the World Economic Forum. Are you looking for sound investments in the financial sector? Look no further than the high-yielding 5 major Canadian banks which again raised their already robust dividends after last quarter's results. This article will describe the investment opportunities in Canadian banking including actionable investments.
The Five Major Canadian Banks
Unlike the U.S. with its fragmented banking systems of over 6,000 banking corporations, Canada has only a handful of Schedule 1 Banks and of these, the major players are only 5 in number.

While yield is only part of the story for any stock, it is an important part of the story for income investors and dividend growth investors. Let us look first at the world of Canadian Banking, and then we will examine the Big Five Canadian Banks more closely.
The Canadian Banking Environment
Canada is a country with a friendly business environment and a sound dollar. It is without a fiscal crisis, without a national debt problem, without a mortgage default problem and without a banking crisis. Canada's banks are doing well and all the Big 5 recently increased their dividends
In the U.S. and Europe many banks failed during the recent financial crisis, however, this was not the case in Canada. The American, a publication of the American Enterprise Institute reports,
"This recent financial crisis is not the first time that Canada's banking system showed greater signs of stability and less exposure to stress than U.S. banks. In the 1930s, when 9,000 U.S. banks failed during the Great Depression, not a single bank in Canada failed. When almost 3,000 American banks failed during the Savings and Loan (S&L) Crisis, only two small Canadian banks failed in 1985, and those were the first bank failures in Canada since 1923."
There is every indication that the strength of the past will continue into the future. This is excerpted from a CBS News story of August 30.
"The Canadian banks are continuing to generate very high levels of profitability and as a result the capital levels and dividends continue to grow which is quite different from what you have elsewhere," Royal Bank of Canada Chief Executive Gord Nixon said in a telephone interview with The Associated Press.

"Good regulation has had a lot to do with it. Banks went into this crisis with much higher capital levels and much lower leverage than the European and the American banks and as a result we were able to weather the storm in a much different fashion than our global competitors."

Crag Alexander, chief economist at TD Bank, notes the banks are increasing their payouts at the same time regulators are telling them to hold more capital because of new international requirements for holding cushions against risk. Canada is one of few countries where the so-called Basel III capital rules for banks have been fully implemented.

"Not only the Canadian banks are on track to meet the demands of the new regulatory system but they also have enough cash to raise their dividends," Alexander said. "What this shows is the robustness of the Canadian financial system."

Scotiabank also showed its strength this week when it announced it agreed to buy ING Bank of Canada from its Dutch parent for $3.1 billion."
Clearly, the Canadians have an edge. Looking at the aggregate of Canadian and U.S. Banking results for Q3, David Dittman notes in Investing Daily that,
"Canadian banking net income grew 9 percent to CAD864 million, while revenue increased 13 percent to CAD2.73 billion. Wealth management and insurance net income was up 3 percent to CAD360 million. Revenue, however, slid 2 percent to CAD1.009 billion.

US banking net income dropped 8 percent to CAD279 million, while revenue slipped 2 percent to CAD1.5 billion. Wholesale net income rose 61 percent to CAD180 million, as revenue climbed 39 percent to CAD638 million on improved fixed-income and credit trading."
There is a high correlation in the performance of the Big 5 Canadian Banks with each other. They often move in unison because they are more alike than they are different. They operate in the same market with the similar businesses and competing products. They are subject to the same political processes, the same regulations and the same macroeconomic forces. Their autonomy is within an oligopoly, which protects them from harsh competition such as the U.S. Banking system has. Morningstar currently rates each of these stocks "3 Stars". All are trading below their 15-year average P/E according to Fast Graphs. Distinguishing features are their product mixes, leadership, and the amount and type of non-Canadian business they each have.
Cautions
Dividend Growth Investors should be aware that the Canadian banks do not have extended histories of carefully managed dividend increases, as do some favorite U.S. stocks. The Canadian investing culture is slightly different. At 4 of 5 of the banks dividends were frozen for 1 - 2 years, however, there were no dividend decreases. BMO had 10 increases and 5 decreases in 15 years. The annual dividends and dividend growth records of each of the banks are in tables adapted from F.A.S.T. Graphs reports. While the dividend growth is always a definite upward trend, it is uneven. I have no problem with this, however, it is important to set your expectations before you buy.
While they posted record earnings and announced dividend increases based on Q3 and YTD results, one should not expect increases of this magnitude to follow in coming quarters. The Canadian consumer is carrying too much debt at this point to continue to be a heavy borrower. Bank growth will ease, and will continue at a slower rate. Canadian Banks will remain the soundest in the world, providing higher than average dividend income with lower than average risk; a good investment.
The Big Five - Overview, Current Results

Bank of Montreal (NYSE:BMO) - Established in 1817, BMO Financial Group serves more than 12 million personal, commercial, corporate and institutional customers in North America and internationally. Bank of Montreal has 47,000 employees and over 1600 branches. It provides a broad range products through operating groups: Personal and Commercial Banking; Private Client Group; and BMO Capital Markets.
BMO produced strong financial results in the third quarter as its business continues to deliver consistent, attractive profitability within a sound risk framework. The bank's reported net income increased 37% year-over-year to $970 million or $1.42 per share. On an adjusted basis, net income was up 18% to over $1 billion, representing $1.49 per share, 11% ahead of last year on revenue growth that was 9% higher.
The quarterly dividend was increased by 3% to $0.72 a share. The bank said, "This reflects our strong capital position, the success of our business strategies and our confidence in our continued ability to generate sustained earnings growth."
Appropriate Action: The consensus analyst opinion on this stock is 3.0, which on a scale where 5 is a sell and 1 a strong buy, indicates a hold. This stock is a reliable income producer and its low-beta of 1.03 and 5.0% dividend makes it a good choice for those seeking a steady income with less concern about growth. If this moves your portfolio toward its objectives, it is a buy.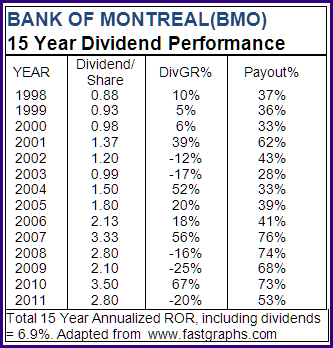 Bank of Nova Scotia (NYSE:BNS) - Scotiabank is a leading multinational financial services provider and Canada's most international bank. Since opening in Halifax, Nova Scotia, in 1832, Scotiabank has continued to expand its global reach. Today, with more than 80,000 employees, Scotiabank and its affiliates offer a broad range of products to over 19 million customers in more than 55 countries around the world.
A strategy of diversification underpins its potential for sustainable earnings growth in each of four business lines: Canadian Banking, International Banking, Global Banking and Markets and Global Wealth Management.
Scotiabank had a strong quarter in Q3/2012 with net income of $2,051 million, which is an EPS of $1.69/share. The dividend was raised 3.6% from 0.55 in the second quarter to 0.57. The dividend was 0.52 a year ago.
Appropriate Action: Analysts rate this bank at 1.7, a buy. I have added to my position on dips recently as I feel this stock is undervalued and that it has strong potential for growth. It offers a very good yield at 4.4% along with expansion in emerging markets where it has established relationships. This is a buy.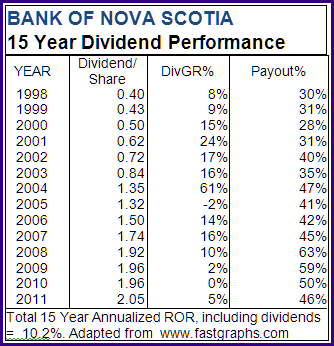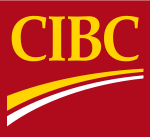 Canadian Imperial Bank of Commerce (NYSE:CM) - CIBC is a leading Canadian-based global financial institution with a market capitalization of $30.1 billion and a Tier 1 capital ratio of 14.7%. Through three major businesses - Retail and Business Banking, Wealth Management and Wholesale Banking it provide its products and services to 11 million individual, small business, commercial, corporate and institutional clients in Canada and around the world. CIBC's First Principle and Strategic Imperative is to be a lower risk bank and deliver consistent and sustainable earnings over the long term.
CIBC has more than 42,000 employees worldwide, 1,100 branches across Canada and nearly 4,000 bank machines.
The bank raised its dividend 4.4% percent from 0.90 to 0.94; this follows an increase of 3.4% in August 2011.
Appropriate Action: The smallest of the Big 5, this bank is having an excellent year. It is currently selling at its 52 week high and is over 8% above its 200-day moving average. The analyst mean recommendation this week is 2.3, a buy. While it certainly has the potential for another 5% to 10% on the upside, I would wait for a dip to buy. This is a good income producer with a 4.5% dividend yield.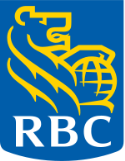 Royal Bank of Canada (NYSE:RY) - RBC opened its doors in 1864, and has grown to become one of North America's leading diversified financial services companies providing banking, wealth management, insurance and capital markets services on a global basis.
Royal Bank is Canada's largest bank. The bank serves seventeen million clients and has 81,000 employees worldwide. In Canada it serves approximately ten million clients through its network of 1,209 branches. It has a major retail banking presence in the US and in the Caribbean.
CEO Gordon Nixon summed up Q3 results in a recent conference call.
"Third quarter earnings were over $2.2 billion which is an increase of 73% compared to last year. Excluding certain favorable items this quarter, we had earnings of $2 billion, which again very strong, driven by exceptional growth in our Canadian retail franchise as well as strong capital markets and insurance results.

We also have record results year-to-date with earnings of $5.7 billion and based on our performance we expect to meet our medium term financial objectives in 2012. These results clearly demonstrate the earnings power of RBC and the strength of our diversified business model, with the right mix of retail and wholesale.

I am also very pleased to report that today we announced a $0.03 or 5% increase to our dividend, bringing the quarterly dividend to $0.60 a share. This is our third dividend increase in the past 15 months."
Appropriate Action: This bank has performed very well, had a good run up in price and is fully valued. Selling at about 58, I would be a buyer at a slightly lower price.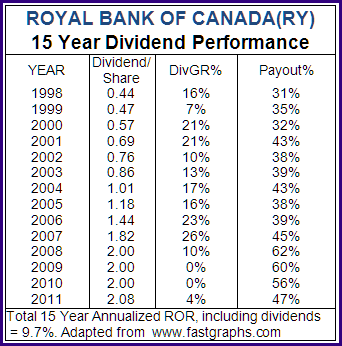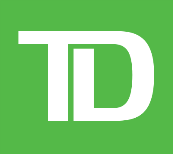 Toronto-Dominion Bank (NYSE:TD) - Better known as TD Bank, this is the second largest of Canada's Big 5 Banks. With offices in Canada and around the world, it is a collection of financial service businesses.
TD Canada Trust - Provides a full range of financial products and services to personal and business customers. As a leading customer services provider, TD Canada Trust offers anywhere, anytime banking solutions through telephone and internet banking, more than 2,600 ATMs and a network of approximately 1,100 branches across Canada.
TD Commercial Banking - Serves the needs of medium-sized businesses by customizing a broad range of products and services to meet their financing, investment, cash management, international trade and day-to-day banking requirements.
TD Auto Finance - TD Auto Finance Canada offers auto, marine, power sports and recreational vehicle financing through an extensive network of dealers across Canada.
TD Bank, America's Most Convenient Bank - A leading retailer of financial services in Connecticut, Delaware, the District of Columbia, Florida, Maine, Maryland, Massachusetts, New Hampshire, New Jersey, New York, Pennsylvania, Vermont and Virginia.
TD Auto Finance (U.S.) - TD Auto Finance offers new and used vehicle financing through an extensive network of dealers across the United States.
TD Waterhouse (Canada) - Providing a full range of investment and wealth management services through TD Waterhouse Discount Brokerage, TD Waterhouse Financial Planning and TD Waterhouse Private Client Services.
TD Waterhouse International - Providing investors and advisors with a broad range of brokerage, mutual fund, banking and other consumer financial products on an integrated basis.
TD Asset Management - Providing a full range of investment management products and services for our retail and institutional clients.
TD Wealth - TD Wealth can offer you integrated, comprehensive and customized financial solutions to help you cultivate and preserve your wealth.
TD Ameritrade - Providing U.S. customers a full spectrum of services for the individual investor including an active trader program, long-term investor solutions, a national branch system, as well as relationships with one of the largest networks of independent registered investment advisors.
TD Direct Investing - TD Direct Investing is one of the UK's leading execution-only brokers and, as a subsidiary of the TD Bank Group (TD or the Bank), part of one of the world's largest discount brokerage groups, servicing 19 million customers worldwide.
TD Insurance - Providing smart advice and a wide range of TD Insurance products including credit protection, home, auto, life, health and travel insurance helps to deliver a superior experience for our more than 3 million customers.
TD Insurance (US) - Look to TD Insurance to help protect you from the accidents of life. We offer the coverage and experience you need to help make sure that the people and things that matter most to you are protected in the event of the unexpected.
TD earned $1.70 billion, or $1.78 a share, up from $1.49 billion, or $1.58, a year earlier. Adjusted earnings rose to $1.91 a share from $1.75. In the Q3 Earnings Call, President and CEO Ed Clark announced a $0.05 dividend increase as well as an increase in target payout ratio to 40% - 50% of adjusted earnings.
Appropriate Action: Under the leadership of Ed Clark for the past 5 years, this bank is a growth story. TD Bank continues its successful expansion in the US with a broad portfolio of products, and current analyst opinion rates it at 1.7. TD Bank is a buy.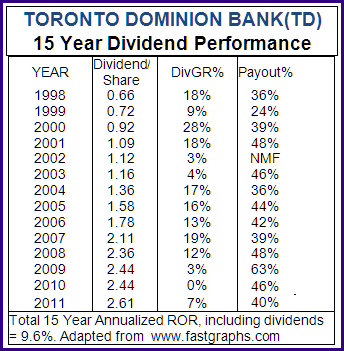 Graph & Statistics - The Big 5 Canadian Banks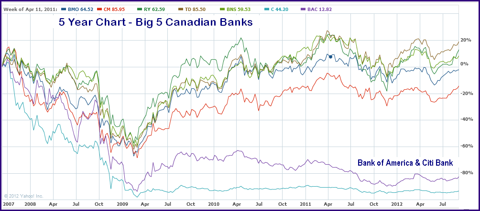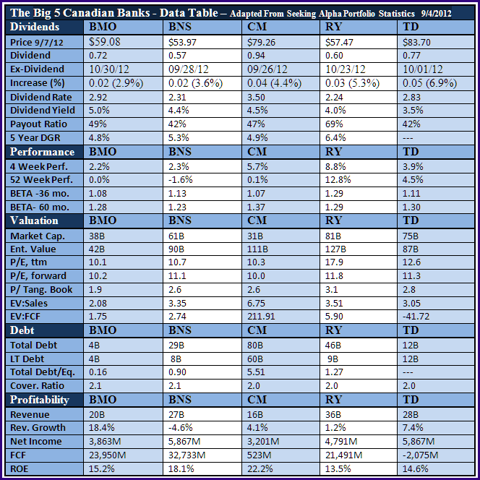 Always perform complete due diligence before purchasing any security. Appropriate action for the stocks discussed is only appropriate if it meets the goals and objectives of your investment plan and your purchase criteria.
Disclosure: I am long BMO, BNS, CM, RY, TD. I wrote this article myself, and it expresses my own opinions. I am not receiving compensation for it (other than from Seeking Alpha). I have no business relationship with any company whose stock is mentioned in this article.