A recent article by Seeking Alpha contributor Adam Aloisi on the topic of rising premiums in high-yield bond closed-end funds was interesting and timely.
Mr. Aloisi points out some fascinating correlations in his analysis of rising premium trends. In our fifteen years of exposure to CEFs, we have seen many swings between discounts, premiums and net-asset-values. Drawing from this experience, we would like to advance Aloisi's discussion of premium risk.
One challenge in a protracted low interest rate environment is capturing "high-yield" opportunities without assuming significant and additional risk to obtain it. Credit quality of high-yield securities typically assumes higher risk compared to lower coupon rate investment grade bonds.
Yet, with cash yields and Treasuries hovering near historical lows, income investors are wading deeper into credit risk pile in their quest for yield. We have noticed several anecdotal trends that may be helpful to investors.
Tight Yield Spreads: One glaring characteristic of this market in recent years is the very tight spreads between investment grade and non-investment grade (or junk) debt yields. It wasn't all that long ago that investment grade paper would pay 5-7 %, and without significant use of leverage.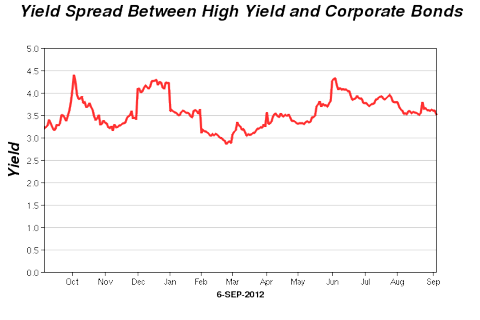 Diversified high-yield portfolios produced 8-10% in aggregate yield, with weightings concentrated in basic industry sectors, telecommunications and other capital intensive businesses.
The Rush to Refinance: In the months following the worst credit/liquidity crisis in the history of our global capital markets, a frenzy of corporate debt issuance flooded the capital markets.
Ironically, this deluge of new issues was not intended for general corporate purposes or growth initiatives. Rather, a majority of the proceeds were used to eliminate or substantially pay down debt that was set to mature within a few years.
As a result, investment grade yields dropped under 5%, about 150 basis points below the previous sixteen year average. Junk coupon rates fell to 8-10%. At the height of the credit crisis, this same "junk" was yielding 15-20%.
The combination of new supply, collapsed Treasury yields and increased investor appetite for risk also helped to keep spreads tight.
Shrinking Supply of Big Fish in a Crowded Pond: When $600 billion of lower rate paper hit the market, a good chunk of higher yield coupon supply was retired or extinguished. However, a dwindling supply of high coupon debt presented portfolio managers with another dilemma; shorter duration and maturity span.
This has forced some mangers to assume additional credit risk in order to enhance income and cash-flows that would otherwise be called or redeemed by the issuer. As a consequence, we are seeing more collateralized obligations, floating rate and derivative instruments sprinkled into the mix.
Large closed-end fund sponsors such as a Blackrock or Nuveen often overlap holdings between their families of yield products. More recently, we are seeing similar constituents across multiple sponsors. Gaming & leisure, auto parts manufacturers and broadcasting are some of the industry groups making it into the top-ten holdings of corporate bond CEFs.
Mr. Aloisi also makes the observation about a "stealth" return for investors resulting from premium expansion occurring the past year. We would offer that "stealth appreciation" is more likely a "total return" function of market prices (demand) rising faster than changes to underlying NAV.
CEFs Have Unique Capital Structures: The capital formation process of CEFs are unique in that capital is raised in an IPO. Proceeds of the offering are invested according to the fund's objectives. Unlike open-end mutual funds, additional shares are not usually issued. This is the "closed" aspect of a CEF.
Net-asset-value is: fund assets (less) liabilities, divided by the shares outstanding. The discount/premium anomalies (to NAV) can be impacted by numerous reasons.
During the credit implosion, average discounts (excl. mortgage backed-assets) to NAV widened faster than the declines in the net-asset values. Panic selling was exacerbated by the illiquid credit markets. Yet, once the dust settled, you could pick up juicy corporate yields for cents on the dollar.
In this past year, demand for high yield was robust. Enough so we believe, to blur the distinction between underlying credit risk and the premium paid to own it.
How Soon We Forget: Perhaps investors have become too complacent to a low-rate environment. If pros can't determine when rates will rise, how is the average retail income investor going to know. To the layman, an 8.5% yield from a bond fund beats the pants off a lousy CD any day!
This, as Mr. Aloisi points out, may indicate investors are chasing yield absent mindedly. Ultimately, his most salient point is his conclusion. Jumping into high yield leveraged funds that trade at a premium to NAV may not leave a warm and fuzzy feeling.
Thus, tight credit spreads, overvalued assets and the potential of future rate hikes may not be a high priority to the average income investor. We like a juicy yield as much as the next guy, but why pay more than a dollar for a dollar's worth of assets? Were expense ratios considered?
As a general rule, we do not buy any CEF trading at a premium to its NAV. In some cases we may hold a CEF after it has reached a premium, but these situations are monitored closely.
Fortunately, the CEF universe has evolved tremendously over the years. From what was once the "best kept little secret", has since blossomed into an industry which competes right along side their "open-end" mutual fund cousins. There are CEFs to suit almost any income strategy.
That said, the high yield bond universe is not exclusive to corporate debt or the USA. Investors seeking bond like exposure might want to consider looking abroad for opportunities. Others might want to consider mitigating credit risk with variable rate senior loans (also referred to as loan-participation funds). Several closed-end ideas we think fit the bill are:
Western Asset Worldwide Income (NYSE:SBW): The Fund seeks high current income through investment in high yield foreign government debt securities. We like the 7.20% average coupon rate of its holdings and the 12.70 year average maturity.
Exposure to foreign government debt is approximately 60% +/- with corporate high yield debt at about 36% of assets. Credit quality is on the lower end of investment grade and there are geopolitical risks to consider. However, SBW offers a nice global mix of holdings in its portfolio.
The fund utilizes no leverage currently and its 1.29% expense ratio is offset by the current -2.51% discount to NAV. Current yield is 6.49% and distributions have increased modestly this year.
First Trust Senior FR Inc II: (NYSE:FCT) This fund qualifies as an "exception" to our not-buying-a- premium rule as it currently trades 3.61% above NAV. FCT seeks high current income with capital preservation through investment in non investment grade senior floating rate loans.
Senior loans enjoy a "senior" preference in the creditor hierarchy. In the event of default or liquidation, senior loans rank higher to bonds, debentures, preferred shares and common stock
The "floating' rate characteristics of the distributions rise and fall with prevailing interest rates. When interest rates fall, distributions decline and when rates rise, distributions increase.
This is one situation where leverage (FCT uses approx. 30% structural & effective leverage) can be advantageous to investors if rates rise dramatically. Despite the ongoing low rate environment, monthly distributions have doubled since the 2009 lows. An attractive proposition when you consider a modest 25% contraction in the discount-to-NAV over the similar period. Current distribution rate for FCT is 6.89%.

Think of variable rate senior loans as a proxy for rising interest rates. Inevitably, rates will move higher, presumably as economic conditions (i.e. demand for products and services) also improve.
Although we would prefer to buy FCT at a discount, the prospect of rising cash-flows is a reasonable trade-off. It would likely take a series of pre-emptive rate hikes to spook the average investor away from high yield bond CEFs. By then however, institutional players will be long-gone...yet another premium risk to consider.
Disclosure: I am long FCT, SBW. I wrote this article myself, and it expresses my own opinions. I am not receiving compensation for it (other than from Seeking Alpha). I have no business relationship with any company whose stock is mentioned in this article.
Additional disclosure: Data and charts were obtained from Reuters, Bloomberg, cefconnect.com