This past week saw an acceleration of trends that have been churning throughout the summer. Market indices, precious metals, commodities as well as financial and technology sectors all were up strongly in the four trading sessions post-Labor Day. Thursday was a blockbuster day in the markets. Why?
The FED; ECB; QE3; Obama; Romney; Bernanke; unemployment; inflation; deflation; cycles; astrology; flipping a coin.....we should never have to explain the "why" of any market action, least of all price movement in the direction of the dominant trend. Once established and identified, price moves don't have to be steep, impulsive or perfect to be profitable, they only need be in the direction of the prevailing trend.
"Buy things that have gone up on the theory that they will continue to go up; short things that have gone down on the theory that they will continue to go down."

---Sebastian Mallaby, More Money Than God: Hedge Funds and The Making of a New Elite, New York, Penguin Press, 2010
Below are four charts representing some very basic but critical concepts for applying trend following in diverse markets and sectors. The first might be the most important. It is a price chart of the S&P 500 (SPX) with an overlay of three linear trend regression channels. These three channels represent the three intermediate trends of the market over the past 12 months. The entire period covered by this chart has occurred amid the backdrop of global financial upheaval that some describe as the prelude to financial Armageddon. Until the price breaks down below its current upward sloping trend channel, Armageddon will have to wait.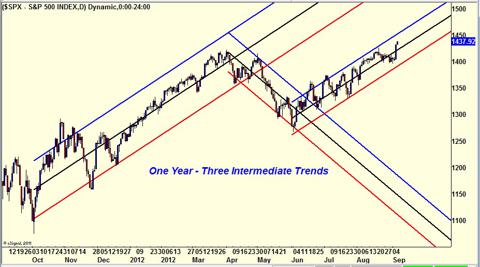 The second chart is of Velocity Shares Daily Inverse VIX ST ETN (NASDAQ:XIV). Volatility has been declining as the trend of the market has been rising. Buying XIV has captured the market rise by betting against volatility. The difference is in leverage. Since June, the SPX is up about 10% while XIV is up a little over 100%. Maybe this symbiotic relationship is ephemeral, but it's there now and it's working well, two characteristics of a trader's best friend.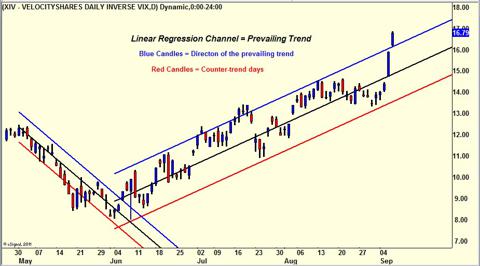 The third and fourth charts are weekly trend charts of iShares Silver Trust (NYSEARCA:SLV) and SPDR Gold Shares (NYSEARCA:GLD). Breakouts of their respective downward trend channels could be the beginning of a massive bull market in gold and silver. SLV broke out if its trend channel on Friday's close. The second reversal which is needed to bring about this huge opportunity will be if GLD can also reverse long in its Weekly Trend Model by closing next week above its downward sloping trend channel.
I was around in the 1977 when gold went from $100 to $600 in three years. During that same period, silver went from $5 to $50. These two commodities have histories of long and dynamic trends, both up and down. Gold and silver have already been in a massive uptrends since 2002. These charts are suggesting that they both are about to start another leg up.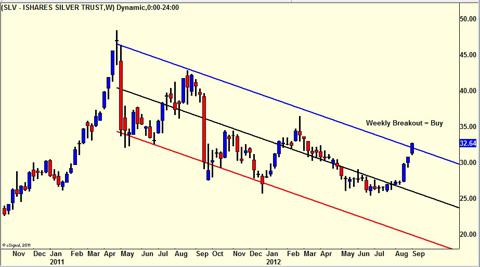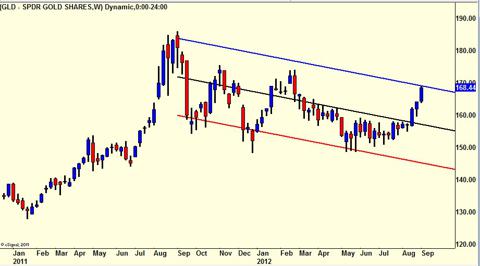 Past results do not guarantee future returns....But they do provide an historical perspective from which we can strategize and plan ahead.
Disclosure: I am long SPY, XIV, SLV. I wrote this article myself, and it expresses my own opinions. I am not receiving compensation for it. I have no business relationship with any company whose stock is mentioned in this article.