Fridays are always interesting when big news events come out. While the market can be volatile on any day of the week, traders hate being short on Friday more than any other day. With governments frequently announcing major policies over the weekend, the U.S. markets opening only after most foreign markets close on Monday, and volume levels still very low, short covering at the end of the week can be violent.
While all traders have good calls and bad, I've written several articles over the last year on the real estate and infrastructure industry in China that have been accurate. I wrote about the significant bubble in China's construction markets back in July of last year when Cliff Natural Resources and other iron ore and metallurgical coal stock were trading at fifty-two week highs, and I also wrote negatively about the iron industry again, two months ago, suggesting that supply imbalances in the copper market would prevent this red metal from crashing as iron ore and metallurgical coal have.
My last article on Cliffs Natural Resources was written when the stock was around $35 a share, and I simply pointed out that the company's dividend is unsustainable if iron ore prices continue to fall. While all traders have good calls and bad, I've been very accurate assessing this company and the iron ore industry over the last year and a half, and these stocks have essentially crashed over the last year.
This is why I think the recent rally in Cliffs Natural Resources and other iron ore stocks on the news that China had approved a $156 billion dollar infrastructure plan sets up a great opportunity.
(source)
Housing and real estate prices in China's major cities have been 30-35x the salaries of average middle class families, and the world's second largest economy has ghost cities built throughout the country from the nation's massive $4 trillion yuan stimulus in 2009.
While China's slowing economy and overbuilt real estate and construction markets are fairly well-known today, what is less covered is how in debt the country's regional banking system has become. When the Chinese national government pushed unsustainable high growth targets, regional governors were forced to pressure local banks to make bad loans so the country's massive infrastructure build-out would ensure high employment levels and calm fears of potential social and political instability. Today China's regional banking system is massively underwater, and the country's loan growth rate continues to drop significantly.
This is why putting the recently announced $156 billion dollar infrastructure plan in context is so important.
China spent over $4 trillion yuan in 2009, and the revenues and cash flow of Cliffs Natural Resources and other mining companies during the 2009-2011 period will likely not be seen again for decades. China's banking system is deeply underwater, the banks are yet to market residential and commercial assets to market, and the country has massive development projects throughout major cities that are essentially empty.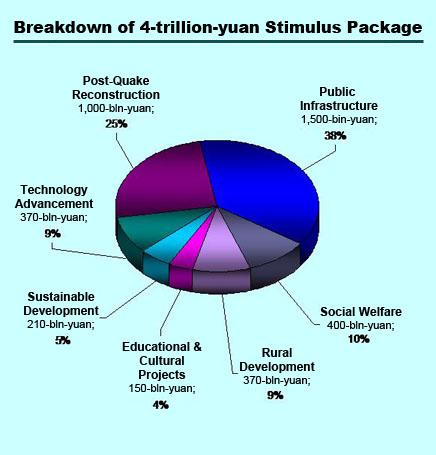 (source)
Iron ore prices recently hit a two and a half year low, China continues to dump steel in countries without strong tariffs, and China's biggest export market, the EU, continues to significantly deteriorate. China's export numbers have been horrific the last couple months, and the country's July PMI also show a significant contraction as well.
Iron ore prices have fallen to three year lows for two primary reasons. First, China, Europe, and the U.S., have massively overbuilt residential and commercial real estate markets. Second, significant new supply in the iron ore and metallurgical coal market has come on-line in fairly stable countries such as Australia and Brazil. While major copper producers such as Freeport-McMoRan (NYSE:FCX) continue to report significant labor issues and increased difficulty in finding new mines, major iron ore producers such as Rio Tinto (NYSE:RIO) and BHP Billiton (NYSE:BHP) continue to cut production.
The Chinese economy's GDP is nearly $7 trillion, and the $156 billion in infrastructure spending that likely will occur in phases is an insignificant percentage of the country's GDP. While China is changing leaders next year, it remains highly unlikely that government leaders who will not be in power next year will pursue a massive stimulus policy on the scale of the country's 2009 infrastructure and real estate build-out.
To conclude, over 15% of Cliffs Natural Resources' float was short, and the stock had fallen nearly 30% in the last two months prior to the 15% rally on Friday. Still, while the recent rally in Cliffs Natural Resources and other iron ore producers was impressive, these stocks are still underperforming the S&P 500, and its tracking exchange traded fund, SPY (NYSEARCA:SPY), by over 40% this year. While China may continue to pursue additional stimulus next year, the world's second largest economy is unlikely to significantly target the massively overbuilt real estate and construction sectors. Cliff Natural Resources only sells 25% of its iron ore to China, but Chinese demand affects prices worldwide, and the steel markets remain weak in the U.S., Europe, and most other emerging markets. With iron ore and other bulk metal markets grossly oversupplied and demand still falling, the recently rally should set up a very strong opportunity to short the sector.
Disclosure: I have no positions in any stocks mentioned, but may initiate a short position in CLF over the next 72 hours. I wrote this article myself, and it expresses my own opinions. I am not receiving compensation for it (other than from Seeking Alpha). I have no business relationship with any company whose stock is mentioned in this article.