The Gist
The main reason the stocks covered in this article are struggling is Apple (NASDAQ:AAPL), the ultimate PC disrupter. The shift from PC to smartphone has occurred, sounding the dead knell for PC players.
The Goods
Apple was trading for $684 Friday, up 68.73% year to date. A stock's performance is the ultimate truth.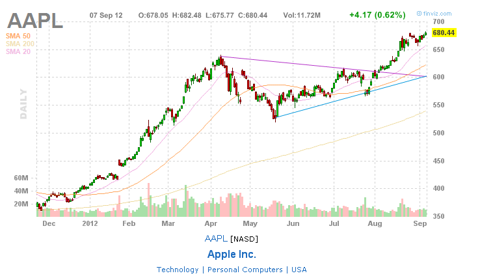 Apple's products are single handedly bringing the competition to its proverbial knees. Everyone seems to be one step behind Apple. What's more, Apple has been meticulous and tenacious in defending its King of the Hill position.
In recent news, nine jurors provided a far-reaching triumph to Apple in a high-stakes battle against Samsung Electronics Co., (OTC:SSNLF), awarding the Silicon Valley company $1.05 billion in damages and providing an impetus for further legal attacks on its competitors.
Couple this delicious morsel with the fact Apple is heading into several new product launches and you can see why everyone and their brother is jumping on the Apple cart.
Furthermore, Apple has a fortress balance sheet and rock solid fundamentals. Apple is still vastly undervalued based on fundamentals. Apple is trading for 15 times free cash flow. Apple's PEG ratio is .74. Apple's quarter over quarter EPS and sales growth rates are 20% and 23% respectively. Apple's net profit margin is 26.97%. Apple's ROE is 44.34% and the company has no debt.
Technically, the company is in a well-defined uptrend since the start of the year. The stock has broken out to the upside recently in anticipation of expansive growth on the horizon. The stock is a buy here.
The Breakdown
I posit the drop in PC sales is not transitory, but a generational shift. A complete paradigm realignment regarding the way people access their information and communicate. Kids don't even ring the doorbell anymore. Think about that. I long for the days when I could escape the grid and be unreachable.
Young people today don't even know what that feels like. The PC will soon be a thing of the past, taking up too much space like the cumbersome big screen TVs all the rage just a few years ago before flat screens. This is the same thing that is occurring now, expect this time it is PCs to mobile devices.
A trifecta of trepidations occurred recently confirming my thesis regarding the sad state of affairs of PC companies. It appears Intel (NASDAQ:INTC) has thrown their hat in the ring for the title of Dead Money Walking. Hewlett Packard (NYSE:HPQ) and Dell (NASDAQ:DELL) entered the contest with disappointing earnings reports highlighting inadequate PC sales. Intel has confirmed the downturn by dropping sales targets. Apple will become the ultimate arbitrator regarding the fates of the PC companies. Of this, I have no doubt. The recent results of the companies covered bolster my case.
The Bottom Line
All eyes will be on Microsoft's (NASDAQ:MSFT) Windows 8 launch versus Apple's iPhone5 launch due on September 12th. Intel's recent drop in estimates coupled with Dell's and Hewlett's recent gloomy quarterly reports doesn't bode well for Microsoft's chances. The performances of Dell and Hewlett wouldn't be my choice for opening acts if I were Microsoft. Microsoft will definitely need to pull a rabbit out of their hat.
On the other hand, Apple is the basking in the glory of the anticipation for the iPhone5. The only competition for Apple is the shadow created by the ultra-exuberant expectations of loyal followers, which doesn't scare me one bit. Buy Apple and sell the rest.
It is going to take a lot of time and a ton of money to turn these behemoths around. The CEOs of the PC players seem to be playing their under-promise and over-deliver cards, except they forgot how to over deliver. Don't be fooled, PC stocks are dead money for the foreseeable future. I know some pay dividends; nevertheless, this won't make up for the lost opportunity cost of holding these losing propositions.
Even so, the macro environment is favorable for stocks. We are entering a seasonally favorable period for the tech sector in general. The fourth quarter is traditionally bullish for tech stocks. This is the perfect time to start a position in Apple.
If you choose to start a position in any stock, I suggest layering in a quarter at a time on a weekly basis at a minimum to reduce risk. You can also set a 5% trailing stop loss order if you wish to minimize losses even further.
Disclosure: I have no positions in any stocks mentioned, but may initiate a long position in AAPL over the next 72 hours. I wrote this article myself, and it expresses my own opinions. I am not receiving compensation for it (other than from Seeking Alpha). I have no business relationship with any company whose stock is mentioned in this article.
Additional disclosure: This is not an endorsement to buy or sell securities. Investing in securities carries with it very high risks. The information contained within this article for informational purposes only and is subject to change at any time. Do your own due diligence and consult with a licensed professional before making any investment decisions.