Unless you have been living under a rock the past couple of years, it is no secret that Europe is struggling with its debt crisis. Little progress continues to be made as European leaders look for solutions that the majority can agree on. Germany continues to grow tired of being essentially the "creditor" for struggling nations such as Greece, Spain and Italy. In fact, some economists are saying that Germany has stretched themselves thin and could possibly enter a recession, but so far the European nation seems to have its economic situation under control.
Even some non-Euro European countries such as Britain are facing difficult economic conditions as the country officially entered into a recession this summer. However, not all European nations are doing terrible, in fact, there are still some great places to invest in Europe. I am talking about the Nordic region above mainland Europe.
Specifically, Norway, Sweden, Denmark and Finland are the countries that I see potential investment opportunities in. This region has been able to stay relatively independent of the debt situation that has the rest of Europe right now and the Nordic economies continue to show steady growth. Norway, specifically, is considered an oil-exporting nation, which has given the country $600 billion in sovereign wealth. With oil continuing to rise, Norway can continue to outperform but keep in mind that when oil falls, so will your Norway exposure. The best way to play Norway only is through the Global X FTSE Norway ETF (NYSE: NORW). Year to date, the ETF is up over 20%, and as the rest of Europe rebounds, so will NORW. As I stated before, Norway depends a lot on the price of oil and it shows in the ETF as Statoil (NYSE: STO) and SeaDrill (NYSE: SDRL) account for 29% of NORW's weight. Additionally, 13.2% of the ETF's weight comes from financial institutions, which have been outperforming as people look for safer places to store their money in Europe.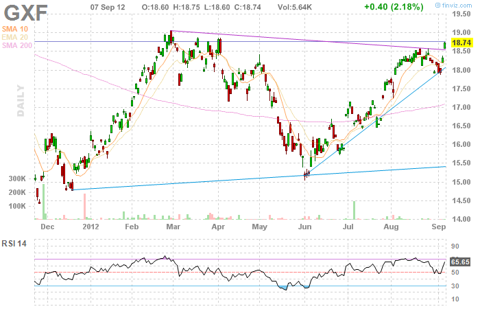 Click to enlarge
Before we go on, let's talk about the health of the Nordic region's banking sector. While the rest of Europe faces many uncertainties and a wobbly banking sector, the Nordic countries do not share that same characteristic. Yes, Norway, Sweden, Finland and Denmark were in recessions a few years ago, but they were much smaller than mainland Europe's current situation. Now that their economies have recovered, the region outperforms the rest of Europe. Next, Nordic banks are unlike the rest of Europe, in that their main focus is on traditional banking services such as savings and loans. Stricter laws have helped these countries stay relatively safe from runaway banks like in Europe and US. It is also important to note that Nordic banks have the lowest loan-loss ratio in all of Europe.
If your outlook on oil is negative or you want more diversification, then I would recommend you looking into Global X FTSE Nordic Region ETF (NYSE: GXF). GXF has equal exposure to Sweden, Denmark, Finland and Norway and a majority of the holdings are in banking stocks. The Nordic Region ETF is up 20% year to date and looks poised for higher returns.
When looking at a total Europe ETF such as Vanguard MSCI Europe ETF (NYSE: VGK) that is only up 13% year to date, you start realizing that the Nordic plays have outperformed the rest of Europe and they will continue to outperform until the ECB and European leaders get serious on solving to crisis. Investing in Europe is not such a great idea right now, unless we are talking about the Nordic region. Other than that, avoid other European nations and stick to mostly conservative investment strategies.
Disclosure: I have no positions in any stocks mentioned, and no plans to initiate any positions within the next 72 hours. I wrote this article myself, and it expresses my own opinions. I am not receiving compensation for it (other than from Seeking Alpha). I have no business relationship with any company whose stock is mentioned in this article.