Our headline for the March 27 feature on the PowerShares DB Commodity Index Tracking Fund (NYSEARCA:DBC) told readers "Despite Shudder, Don't Abandon DBC." Commodities prices hit a small bump at that time, during what has been a phenomenal rise in demand. As DBC closed at $37.54 on March 27, some investors were left wondering whether the commodities run-up was losing steam.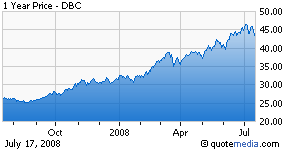 We have continued to stand by commodities here at PowerShares Momentum Tracker, and as DBC closed at $46.38 on Friday, July 11, our portfolio continued to outperform major market indices. As of July 11, DBC's price has risen more than 50% since that ETF was added to the portfolio last November.
Commodities funds have experienced a surge in popularity in recent months. While investment banks have added to their commodities exposure, funds like DBC have also picked up steam. Alex Vanselow, CFO of Australian mining giant BHP, called the commodities boom "outrageous" in a recent interview with Fortune magazine.
Even though commodities may seem to be at their highest prices in recent years, Fortune editor Brian O'Keefe believes that there are still two good reasons to enter the commodity market: commodities' low correlation to stocks and bonds, and the portfolio diversification that commodities offer.*
When it comes to correlation, DBC has handily outperformed the S&P 500 by 60.62% year to date (as of June 30). As the credit crunch continues to drag the market lower, investors have been looking to commodities for positive returns. While commodities funds have long been considered a good hedge for inflation, their low correlation to major indices make them a good hedge against the market as a whole.
The diversification that DBC provides our portfolio has helped us outperform the S&P 500 by nearly 5% net of fees year to date (as of July 10). As the banking crisis drags the Dow to two-year lows, DBC has remained a mainstay in our portfolio, buoying investors with exposure to six of the most heavily traded physical commodities in the world: crude oil, heating oil, gold, aluminum, corn and wheat.
DBC tracks the Deutsche Bank Liquid Commodity Index–Optimum Yield Excess Return, which is composed of futures contracts of its six commodities. DBC also invests in three-year treasuries contracts, which provide income for investors.
More than 50% of DBC's portfolio is in energy commodities, a weighting that paid off early this month as oil continued to break record highs. It is DBC's exposure to other types of commodities, however, that could keep investors steady if oil continues its volatile course. On July 15, for example, oil dropped 4.4%, more than it had in 17 years, while DBC lost only 3.18%.
While oil has certainly driven DBC higher, the fund's 11.25% stake in corn may help it in late summer, when reports on planted acreage are disseminated. This year's corn crop was considered late, and last week the government cut expected yields to 148.4 bushels per acre versus 148.9 last month. The most important factor for corn will be weather, and a patch of good growing weather could help to bolster DBC's value.
Gold prices have also helped DBC's returns. Gold has continued to approach the $1,000-per-ounce mark this week, the highest level that it has reached since March. Volatile markets have helped gold prices appreciate as investors look to gold for safety. DBC's portfolio has a 10% stake in gold futures, a position that could continue to lift the fund even if oil slows its breakneck gains.
While DBC doesn't cover every commodity, it does employ a unique methodology for the six that comprise the index. One of the typical pitfalls of investing in futures is a phenomenon dubbed "contango." Contango occurs when a longer-term futures contract whose price is higher than that of the spot price falls as it nears maturity. DBC's Optimum Yield strategy allows flexibility in the timing of the fund's futures' expiration. Half of DBC's commodities are now represented by futures that won't expire until 2009.
Has DBC's strategy worked? If you compare DBC's year-to-date performance with iShares' GSCI Commodity-Indexed Trust (NYSEARCA:GSG), you'll find that both funds are up 42%. DBC's $2.96 billion in net assets, however, are more than twice those of GSG. Liquidity is a crucial measure of ETFs in volatile markets, and DBC's size alone may sway investors.
Despite oil's pullback earlier this week, most experts concede that oil will only continue to trend higher. "People shouldn't expect to see their pump prices drop," Tom Kloza, chief oil analyst at the Oil Price Information Service, said Tuesday. Kloza added, "By the end of the week, we may be talking about $4 [a gallon]; we may be talking about $4.20. That's the nature of the beast."**
The diversification and returns that DBC have provided to our portfolio will secure the fund's position in the near term. While we expect commodities to suffer setbacks as they trend higher, DBC's long-term prospects continue to be bright.
*Source: Fortune magazine, June 2008
**Source: Yahoo.com