Green Mountain Coffee Roasters (NASDAQ:GMCR) has taken a pounding over the past year, and investors want to know if this is an overreaction to the company's K-cup patent expiration this month, or if there is more pain to be had. GMCR has had a roller-coaster year, from its high of almost $116 to its low of $17.11, and back to the $27-range where it currently stands.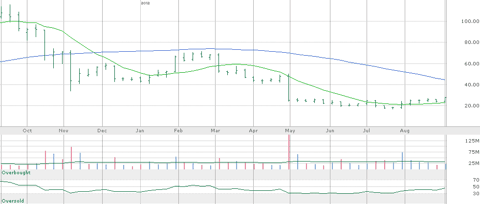 Over the past 12 months, GMCR has grown its revenues by 56.76%, compared with only a 9.25% growth average across the food processing industry. They have also grown their earnings per share by an astounding 112.54% compared with a negative 26.6% growth rate across the industry. GMCR currently trades at 12.8 times earnings, a significant discount to competitors such as Starbucks (NASDAQ:SBUX), which trades at a 28.53 multiple and has a much lower 12.69% revenue growth rate over the past 12 months. Additionally, GMCR operates at a 33.30% gross profit margin, compared to 26.40% for Starbucks. Of the 10 analysts who provide price targets on GMCR, there is a $36.60 average 12-month price target, with a low estimate of $25.00 and a high of $60.00.
Additionally, the popularity of their products is not going anywhere. Data aside, even the novice investor can observe the rate at which Keurig machines are popping up all over the place. It is estimated that over 7.5 Keurig brewers had been sold as of late 2010, and the company itself reported that over 4 million Keurigs sold during the 2011 holiday season alone. During that same time period, over $715 million in K-cup packs, according to a February 2012 New York Times article. From 2010 to 2011, the amount of K-cup brewers sold doubled year over year.
With the K-cup patents set to expire, of course there will be some loss of sales from other manufactures of the single-serve coffee cups, however the potential for future growth should more than make up for this. Single-serve coffee makes up only 8% of the global market for home-brewed coffee, and is rapidly growing. Additionally, I believe that the patent expirations are already fully factored into the share price; however the anticipated slow growth has been overstated.
Admittedly, there is a lot of uncertainty surrounding GMCR in the upcoming months. Instead of purchasing the stock outright, I recommend playing GMCR with January 2014 calls using a vertical spread. My trade is to buy the Jan '14 $25 calls for a debit of $8.90. Then, sell the $50 calls of the same expiration for a credit of $2.20, for a net debit of $6.70.
This trade makes money if GMCR is above $31.70 by January 2014, which is only 13.9% above its Friday close of $27.83, and far below the average price target of $36.60. Maximum profit is achieved if GMCR is priced at $50 or more at expiration, with profit capped at $25.00-$6.70=$18.30. This ideal case would represent a 273% gain on your investment. While you are giving up some potential gains above a $50 share price, I like this trade because it limits your potential losses to the premium paid, $6.70. Even with the uncertainty in GMCR's future, this trade produces a risk/reward that is hard to ignore.
Disclosure: I have no positions in any stocks mentioned, but may initiate a long position in GMCR over the next 72 hours. I wrote this article myself, and it expresses my own opinions. I am not receiving compensation for it (other than from Seeking Alpha). I have no business relationship with any company whose stock is mentioned in this article.