The 2012 stock market has made some fantastic gains, especially with a number of builder stocks which have been framing up some dazzling returns year to date. Five stocks in particular caught my eye: D R Horton (NYSE:DHI), Lennar Corporation (NYSE:LEN), M. D. C. Holdings (NYSE:MDC), Pulte Group (NYSE:PHM) and Toll Brothers (NYSE:TOL) all have share prices rocketing upwards over 50% this year. Here are how they stand as of the close on 7 September:
| | | | | | | |
| --- | --- | --- | --- | --- | --- | --- |
| Company | Symbol | Recent Price* | YTD Gain ($) | YTD Gain (%) | PE | EPS |
| DR Horton | DHI | $20.03 | $7.14 | 58.84% | 8.0 | $2.49 |
| Lennar Corp | LEN | $33.93 | $13.86 | 72.67% | 14.3 | $2.38 |
| MDC Holdings | MDC | $36.13 | $17.98 | 104.93% | NM | ($0.82) |
| Pulte Group | PHM | $14.75 | $8.28 | 133.76% | NM | ($0.22) |
| Toll Brothers | TOL | $33.36 | $12.53 | 63.37% | 62.3 | $0.54 |
For some historical perspective of the effects of the mortgage crash on builders in 2009-2010, here is a chart of these companies' stock price performance the last five years: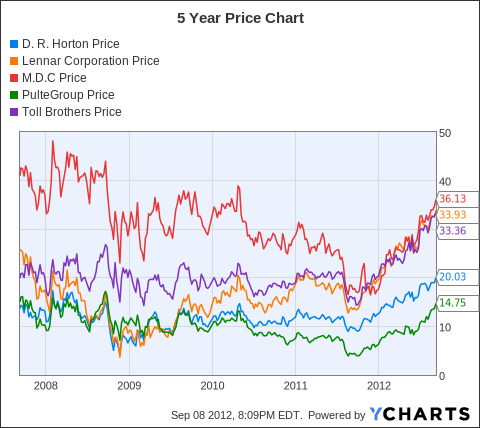 After five years, MDC and Pulte have not yet climbed back to their 2008-2009 price levels. D R Horton is slightly above its 2008 price level but Toll Brothers and Lennar have aggressively zoomed well past those 5-year levels.
Some of this recent movement has been sparked by shakily improving housing data. The most recent good news came through the 2nd Quarter 2012 housing report from the Department of Housing and Urban Development, which stated in part:
Housing indicators for the second quarter of 2012 continue to portray a fragile recovery in the housing market.
With some of the more interesting data:
Builders took out permits for new housing at a pace of 756,000 (SAAR) units during the second quarter, 5 percent higher than the first quarter and 24 percent higher than a year earlier. Single-family building permits were issued for 485,000 (SAAR) units, up 4 percent from the first quarter and 19 percent from year-earlier levels.
These aren't drum beating numbers by any means. But with housing in the doldrums for so long investors have rushed in no matter how thin or mixed the good news. And the news is thin. While all of these companies' stocks have zoomed up the charts, earnings performance has been wildly unconvincing in many cases.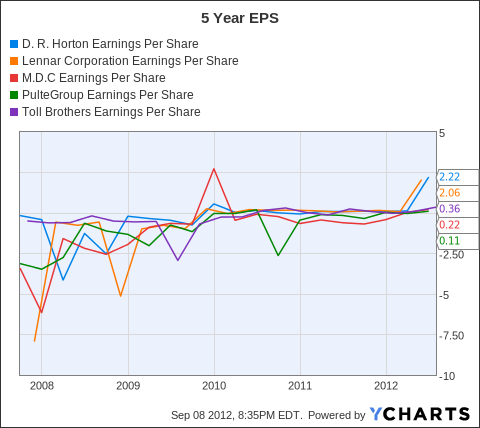 DHI Earnings Per Share data by YCharts
Toll Brothers was the one stalwart in the bunch, maintaining fairly level earnings despite the chaos. However earnings have not grown at Toll Brothers either. One important point is that earnings were completely fractured in this group until the later stages of 2010. They then remained constant, but low, before D R Horton and Lennox saw a spike in earnings in the 1st Quarter of this year.
Even greater oddity, Return on Equity in the group is all over the map: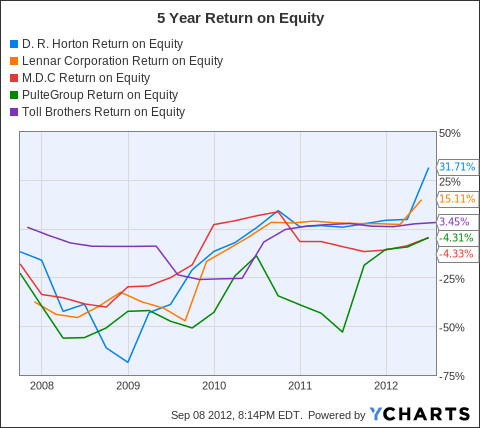 DHI Return on Equity data by YCharts
MDC (-4.33) and Pulte (-4.31%) have significantly negative return on equity while the real stars of this group are D R Horton (+31.71%) and Lennar (15.11%).
In fact, with MDC and Pulte still not showing and positive earnings, and Toll Brothers flat earnings, these certainly do not look to me as a Buy right now. If I was a share holder I would be in a tough decision of either:
Follow the momentum and holding for now.
Start selling part of my holdings to reduce any downside danger.
But what of D R Horton and Lennar? Is there still time to buy?
D R Horton is a Ft. Worth, Texas, builder that is still selling at a reasonable PE of 8 and actually has the highest earnings of all of this group. On its website the company bills itself as the US largest home builder by closed sales and claimed in July a 7,300 backlog of contracted home orders. Future revenues look good.
The company had worked through 2009-2011 to cut costs and solidify its balance sheet. In August the company announced an issue of $350 million in senior notes at 4.75%. It gives the company a war chest of around $1.2 billion and that is good. However the issue reportedly includes a convertible feature into company common stock. The potential future dilution affect is difficult to gauge without more details of the conversion features.
Despite the convertible concern and recent run up in price, D R Horton looks to still be attractively valued, with solid growth into the future. It looks to me like a Buy.
Lennar Corporation is based in Miami, Florida and is the biggest builder by its $6 billion market cap. However Lennar is more than just a mere builder. While its base market is retirement communities it has units busy in title insurance, mortgage writing and servicing, as well as acquiring distressed properties.
Finances are a bit more worrisome. Faced with a pending maturity of their 2012 debt Lennar issued new senior debt in August 2012- these just under a total of $205 million at 5.95% - due very quickly in 2013. This failed to retire all of the old debt, the company reported in its announcement that around $63 million in principal was still outstanding. This is an expensive way to push back the due date. Why not issue notes with a longer maturity like Horton? It looks to me like management is hoping that rising revenues will ease the payback burden over the next year.
Lennar also is more expensive than D R Horton with a PE of 14.3. I would not want to buy Lennar at this time until I could satisfy myself that the company has the finances under better control and that the expected growing revenues come through. If I already owned it I would watch it like a hawk to make sure nothing else happens to it.
So, of our builders stars of 2012 it looks to me like D R Horton is still a strong buy, with lots of growth in the future so long as the fragile housing recovery does not collapse. The other four builders look to have too many issues in earnings or debt that need to be settled before I would hammer them into my portfolio.
What do you think?
.
Disclosure: I have no positions in any stocks mentioned, and no plans to initiate any positions within the next 72 hours. I wrote this article myself, and it expresses my own opinions. I am not receiving compensation for it (other than from Seeking Alpha). I have no business relationship with any company whose stock is mentioned in this article.