To many Western observers in the late 1950s, there was something frighteningly superior about the Soviet system of organization. The Soviet economy was an unstoppable force of nature, outclassing the west by every measurement that mattered. When Khrushchev banged his shoe on his desk and shouted "My vas pokhoronim!" ("We will bury you!") from the U.N. rostrum, he was referring to socio-economic interment, rather than thermonuclear weapons.
Fig. 1: The Red Peril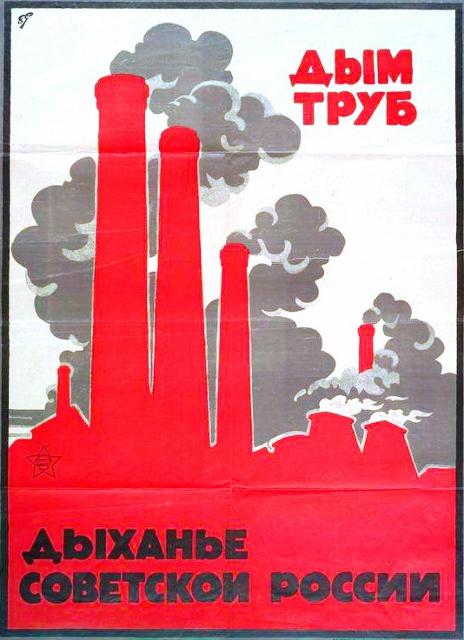 The West trembled over Asia again twenty years later. This time, the game changer was Japanese management techniques. Most recently, the focal point of Western fear and awe has been China.
Everybody Knows That
China's rise to invulnerable, Superman-like stature in the eyes of the world is all thanks to its mighty export sector.
In 2010, The New York Times ran an awe-stricken editorial praising the ability of China's "resilient, low-cost manufacturers to keep selling abroad despite a slump in global consumer demand as a result of the financial crisis." The Economist raved that Chinese factories "have made so much, so cheaply that they have curbed inflation in many of its trading partners." The date given for China's assumption of America's throne depended on who you asked. Deutsche Bank predicted that China would become the world's largest economy in 2040. HSBC said 2050. The World Bank said 2030. Goldman Sachs said 2020.
Most Europeans believe that China has already surpassed the U.S. According to a survey conducted by Pew Research Center, concrete majorities in Germany (62%), Britain (58%), France (57%) and Spain (57%) name China as the world's top economic power. (Only 29% of Chinese nationals believed that China was #1.)
Fig. 2: China's exports (by $billions)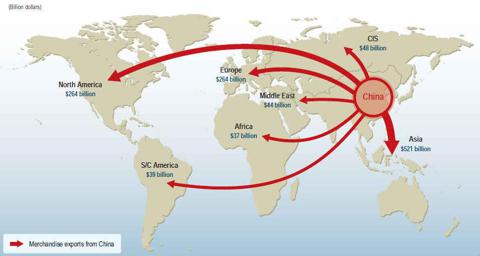 By May, 2011, however, The New York Times had changed its tune.
The timing for when China's growth model will run out of steam is probably the most critical question facing the world economy.
If you ran a survey asking investors what the #1 reason behind the Chinese downturn was, most of them would point to China's export sector. It's a simple, intuitive equivalence: China's growth is due to exports, ergo its decline must be due to exports too.
This misconception is the reason why the recent decline in China's PMI has Wall St. in a cold sweat: The Purchasing Manager's Index is considered to be the most important economic indicator of health when gauging export-driven nations, and China's PMI fell to 49.2 in August from 50.1 in July.
But as is so often the case with Things That Everybody Knows, the notion that China's current growth is due to its export sector is false. Despite the dizzying growth of China's export share, the actual contribution to GDP has barely risen over time. In fact, the primary beneficiaries of the "growth" in China's export sector isn't China at all.
Made in China
To understand why, you have to understand what "Made in China" sticker on the bottom of all those Wal-Mart products means today, and what it doesn't mean. Today, Made in China usually means that the product was assembled in China. What it doesn't mean that the product was manufactured there.
Products like the iPhone are assembled in China, which account for only a tiny fraction of the input cost. Below is a table outlining the retail price vs. manufacturing cost of an iPhone 4S 16GB. (NASDAQ:AAPL)
Retail Price

Memory Chips

Touch-sensitive display screen

Wireless Chips

Camera

Total Cost of Materials

Foxconn Assembly

costs

$599.00 ($199 w/2-year contract)

$28.20

$37.00

$23.54

$17.60

$188.00

$8.00
Out of the memory chips, the touch-sensitive display, the camera and everything else, only the $8 Foxconn charges to assemble the iPhone actually goes towards the Chinese GDP. The rest goes to Taiwan, South Korea and Japan. Much of the success is outsourced as well: Of China's 200 biggest exporters last year, 153 were firms with a foreign stake. The chart below illustrates the decline of China's export sector as a contributing factor in China's GDP growth.
Fig 3: Net exports fall through the floor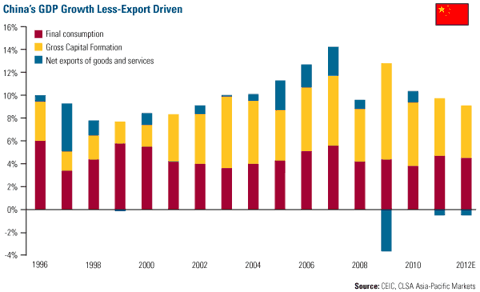 The chart below compares Chinese and U.S. exports as a % of GDP. Exports look pretty important to China's growth, don't they?
Fig 4: U.S. And Chinese exports as % of GDP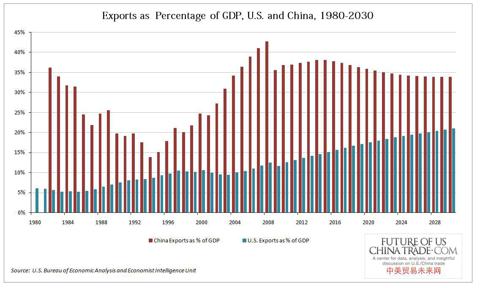 However, the actual export share of China is much, much lower than the export/GDP ratio would have you believe, for two reasons:
China has been shifting from goods with a high content of domestically-sourced components in favor of new export markets with a much larger % of imported components, which translates to a decreasing domestic share of export revenue.

The way in which the export/GDP ratio is calculated allows for rampant double counting without increasing the actual export share.
Beyond 100%
In 2006, Malaysia reported total goods exports of 104% of GDP, which would appear to imply that Malaysia's export sector was paradoxically larger than the Malaysian economy itself. In 2009, Singapore's export-to-GDP ratio was nearly 200%.
Export figures in excess of 100% occur because exports are defined as total turnover (like gross revenue) while GDP is measured in value-added terms (like net profit).
So let's imagine a Chinese company that makes rubber swimming pools for export. The company has 500 employees, produces US$2,500,000 worth of products using only domestically-sourced materials, and generates US$1,000,000 in wages + corporate profits a year. Using our framework above, we have a 100% domestic content ratio and a 40% domestic value-added ratio, and the company is contributing US$1 million to domestic GDP.
Now imagine that the company changes its business model; instead of making rubber swimming pools, it decides to make iWidgets using the same 100 workers. The company now imports US$22,500,000 worth of imported inputs from abroad, processes these inputs with a minimum of additional domestic sourcing and generates US$25,000,000 of export revenue. At the end of the year, the company finds that wages and profits have risen to US$2.5 million.
We now have a 10% domestic content ratio, a 50% domestic value-added ratio, and the company is now contributing US$2,500,000 to domestic GDP. The actual contribution of the exports to China's GDP has gone up by 50%. The value-added-per-worker has increased from US$10,000 to US$12,500. But the export/GDP ratio has now increased by a factor of 10.
Why? Because the export/GDP ratio didn't discount the imported materials ("churn"). It just lumps everything into "exports," regardless of where the materials actually came from. These "made in China" goods actually have very little in them that was made domestically in China.
Where are all the Workers?
According to annual surveys, roughly 45 million of the 228 million workers employed in Chinese Industry work in the export sector.
That sounds like a lot, right? But there are 1.35 billion people in China, of which approximately 795 million are in the work force in some capacity. How do 45 million Chinese workers - manual laborers, for the most part, working in companies that operate on Foxconn's margins (see above)- produce $1 out of every $3 in China, as we saw in Fig. 4 above? They don't.
The following table from the China Statistical Yearbook, an annual report published by The National Bureau of Statistics of China, dispels any lingering faith we might have left in the Chinese export myth.
Fig. 5: Investment vs. Trade as a % of China's GDP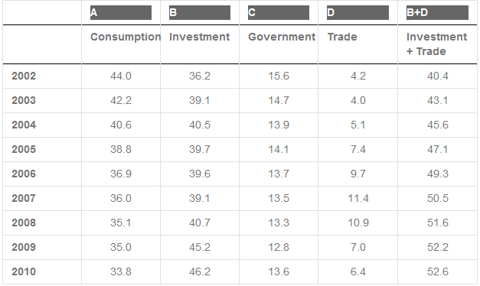 Conclusion
In determining whether or not to invest in Chinese equities, investors should focus on measurements such as non-performing loans (NPLs) rather than the Chinese export/GDP ratio. The quality of China's loans, not its exports, is the determining factor when gauging the health of the Chinese economy.
Disclosure: I have no positions in any stocks mentioned, and no plans to initiate any positions within the next 72 hours. I wrote this article myself, and it expresses my own opinions. I am not receiving compensation for it (other than from Seeking Alpha). I have no business relationship with any company whose stock is mentioned in this article.