The deep-sea drilling market is finally starting to come back after the Macondo disaster of 2010 and the recession of 2008-2009 which saw oil prices fall to the $30/barrel range. Oil prices, especially Brent prices are much higher now at around $110/barrel. Brent prices are the most relevant to most deep-sea drilling. The day rates have finally returned to (and sometimes exceeded) the day rate highs of 2008. Companies are going deeper for oil. However, after the above cited events, there have been few new entrants into the deep-sea drilling market. On top of that, the shipping market has been down, so there has been little competition for new shipbuilding. This means that the existing competitors are getting new, high tech ships built at bargain basement prices. It means they are the ones acquiring the new business. An ultra deep water drillship can be purchased (usually years in advance of its availability) for approximately $650 million. The current day rate is about $600,000 for such a ship. If you estimate operating expenses at about $200,000 per day, a drillship should bring in about $400,000 per day in income. Assuming 95% utilization, an owner can earn about $694 million in five years. This will pay for a drillship that has a useful lifetime of about 25-30 years. The participants in this market should be very profitable for many years. The chart below shows the historical day rates for ultra-deepwater rigs.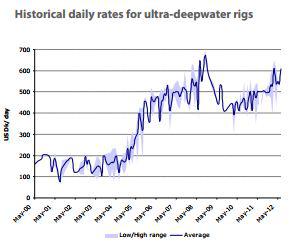 Part of the reason for upsurge in business has been the discovery of many new deepwater fields in the Gulf of Mexico, offshore Brazil and Argentina, offshore western Africa, offshore the Middle East and North Africa, offshore Eastern Africa, and offshore Southeast Asia. Recently, the same pre-salt domes that were earlier discovered in offshore Brazil are being discovered in offshore West Africa. The Bering Sea is proving to be stocked with oil. The move into drilling in the Arctic is near if not here. With China, India, and other emerging market countries forecast to use much more oil in the future, it is easy to see why deep-sea drilling is growing and will continue to grow for some time.
The potential for "long term" drilling is great. In SeaDrill's (NYSE:SDRL) case, 70% of its rigs/ships/semi-submersibles are operating on development projects. This is generally true of the entire deep-sea industry. This means there will be a lot more drilling to come in the fields they are currently being explored. Further deep-sea drilling is getting deeper. Newer and more technologically advanced rigs are needed to drill these greater depths. SDRL has one of the newest and most technologically advanced fleets. In fact, it grew its backlog of secured contracts and commitments by $7.6B in Q2 alone ($7.1B of this was for UDW rigs) to a record high total of $20.3B.
SDRL had 95% utilization of its floaters, 79% utilization of its jack-ups, and 97% utilization of its tender rigs in Q2. Two of the three figures cannot get much better. Further, SDRL felt that a significant part of the jack-ups' underperformance was due to the time off due to mobilizations of certain rigs. Further, there are now only a few UDW drillships not fully contracted for 2013, and the company expects these and the three 2014 UDW drillship newbuilds to be contracted for soon.
Based on 1H 2012 performance, SDRL raised its dividend from $0.82 to $0.84 per quarter in Q2 2012. This is $3.36 annualized or 8.22%. Given its strong operational performance and its huge secured contracts backlog of $20.3B, the company is confident that this dividend is sustainable long term. The average contract length for the deepwater fleet is 38 months, so the visibility is good. This is the link to the SDRL fleet status page.
In the coming years, SDRL expects to take delivery of eight new deepwater units as well as five jack-ups and five tender rigs. SDRL has yard installment of $4.6B remaining on these units. It is confident that a combination of ECA financing, secured and unsecured bonds, support from commercial banks, and SDRL's long-term cash flow will provide more than sufficient monies to fund this expense. In fact, SDRL has recently announced a $1.0B unsecured note offering (due in 2017).
Earnings in Q2 were impressive. EBITDA increased $39 million from $595 million in Q1 2012 to $634 million in Q2 2012. For floaters, there was a $39 million increase from Q1. For jack-up rigs, there was a decrease of -$4 million. This was mostly due to mobilizations of a number of rigs to different geographical locations. For tender rigs, there was an increase of $8 million in EBITDA. The primary reason for the gain in the floaters EBITDA was the new contract for the newbuild West Leo semi-submersible that began in May. There was also higher utilization for some of the other units. A full quarter from the West Leo in Q3 and Q4 should help those results.
Looking further forward, three new UDW drillships are scheduled for delivery in 2013 -- one in each of the first three quarters. The first two of these have already been contracted out for 2013 through 2020. The company expects to contract the third one in the near future. There is also one new semi-submersible due for delivery in 2013. This has been contracted for by Hess (NYSE:HES) through 2015. Newbuilds from highly thought of deep-sea drilling operator SDRL are an easy contract to sell.
With the mobilizations largely over in Q3, jack-ups should do better. A beat of analysts' average estimate for Q3 seems likely. There are also two new jack-up rigs due for delivery in Q4 2012, and there are three more due in 2013. Four of these support drilling in up to 400 ft. water depths and drilling to 30,000 ft. depths. The other supports drilling in up to 450 ft. water depths and drilling to 40,000 ft. depths. These are premium jack-ups, and they will command premium prices, especially the deepest water and deepest drilling depth one. There are also 4 new build tender ships that will be delivered in 2013. These have already been contracted for long term.
In sum, the outlook is rosy for SDRL. Even a recession seems unlikely to significantly affect its growth. Some of SDRL's biggest clients for its most expensive rigs are major oil companies that are extremely fiscally sound such as: Exxon Mobil (NYSE:XOM), Statoil (NYSE:STO), Petrobras (NYSE:PBR), and BP (NYSE:BP). These companies are unlikely to back out of contracts. They all take a long-term view of the oil market and the world economy. SDRL's major clients are another reason to buy this company.
The two-year chart of SDRL gives some technical direction to the trade.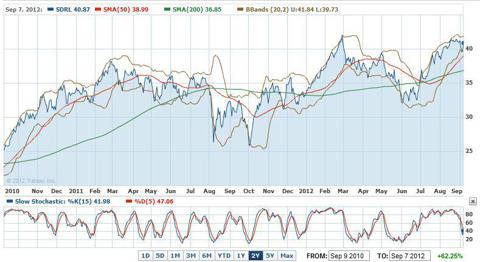 The slow stochastic sub chart shows that SDRL is near oversold levels. The main chart shows that it may be near a near term high. It could put in a double top if the market falls dramatically soon, or it could continue upward to a higher high if the market does not fall. There are good fundamental reasons to expect SDRL to rise long term, which I have tried to point out above. With the overall market overbought at this point, it would probably be appropriate to average in. Then if the market turns negative for a while, you will have a chance to buy much of your position at a lower price. Still long term, SDRL does appear to be firing on all cylinders -- a buy.
Fundamentally, SDRL is trading at a P/E of 22.67 and an FPE of 11.68. This is quite reasonable for a stock with an average analysts' five-year EPS growth estimate per annum of 30.80%. For example, Amazon's five-year EPS growth estimate per annum is 33.60% (almost identical), yet it is trading at a P/E of 315 and an FPE of 109 -- a 10 to 15 fold premium to SDRL. Plus Amazon does not pay a dividend of 8.22%. I think I know which one I would rather have my money in.
Note: Some of the fundamental financial data above is from Yahoo Finance.
Good Luck Trading.
Disclosure: I have no positions in any stocks mentioned, but may initiate a long position in SDRL over the next 72 hours. I wrote this article myself, and it expresses my own opinions. I am not receiving compensation for it (other than from Seeking Alpha). I have no business relationship with any company whose stock is mentioned in this article.