BreitBurn Energy Partners (BBEP) is currently yielding an eye opening 9.9% annual distribution yield. BreitBurn Energy is an upstream master limited partnership (NYSE:MLP). The units are selling at a temporary discount due to a 10 million unit offering on September 6th. The secondary, priced at $18.51, is expected to close on September 11th. I recommend buying units due to the strong management team, production hedges, and the 9.9% yield.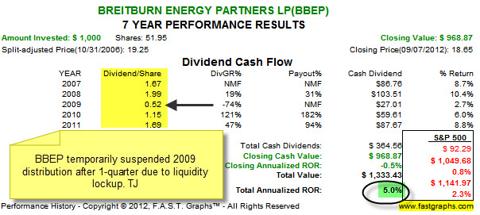 Distribution History
BreitBurn Energy Partners has increased their quarterly distribution for 10 consecutive quarters. The increases include the following chronological distribution hikes: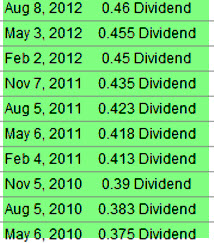 The partnership paid only one 2009 quarterly distribution. The economic difficulties caused management to pay down debt instead of paying unit holders a quarterly distribution. I do focus upon MLP's free cash flow problems. An energy MLP has to pay a significant portion of income as distributions. Thus, I do hedge my positions for unexpected downturns.
Management has stated their goal is to increase annual distributions by 5%. This is feasible with long life producing oil wells and long life natural gas wells. Effective hedging strategies play a core role in ensuring the revenues exist to support income investor distributions.
The current annual distribution is $1.84. This equates to a current 9.9% annual yield.
Diversification
Management is focused on diversification. The company's natural gas versus oil production is about 50% in each respective hydrocarbon. The focus is upon exposure to new basins, various locations, and a diverse U.S. asset based production portfolio.
Midstream Partnerships
Investors need to recognize their partnership's business model. I prefer the midstream partnership business model. This includes Kinder Morgan, Inc. (NYSE:KMI) and Enterprise Products Partners L.P. (NYSE:EPD). Both entities are less focused upon oil, natural gas, and natural gas liquid prices. Kinder Morgan and Enterprise Products Partners own a 'toll booth' business model. As hydrocarbons need to pass over their pipelines, require storage in the terminals, and processing fees - midstream operators simply collect fees as a monopolistic expense.
Here is the catch. The upstream partnerships yield about 500 basis points (i.e., 5% per annum) more than the midstream entities. Enterprise Products Partners, for example, yields 4.8% annually. BreitBurn Energy Partner's yield is 9.9%.
Hedges
Management is implementing an ongoing 5 year plus hedged book. As of August 31st, BreitBurn's current hedge book has the following production hedges in place: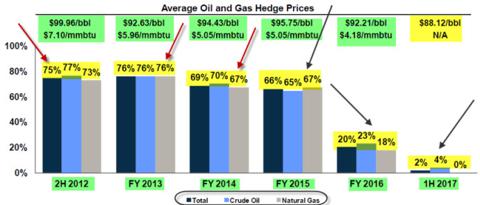 Increasing each year's production hedges is an active role. Investors can note the 65% plus hedges during years 2012 through 2015. Hedging is a major component of ensuring distributions continue during the rising and decreasing economic times.
Management Team
Halbert S. Washburn is BreitBurn Energy Partners current Chief Executive Officer ((CEO)). Randall H. Breitenbach is the company's President. Mr. Washburn and Mr. Breitenbach co-founded the present day BreitBurn Energy Partners in 1988. The two, friends at Stanford, have a long term relationship with the company's success.
The company has a clearly defined business model. Management focuses upon acquiring and exploiting new assets. The business strategy does not include wildcatting. The conference calls highlight the focus upon developing long life assets. This is a similar strategy to Linn Energy, LLC (LINE), a partnership without a general partner. Linn Energy does not have to pay incentive distribution rights due to the lack of general partner.
Action
A strong management team is vital to the success of a company. BreitBurn Energy Partners has two co founders who created the company 24 years ago. Five year hedges are in place to ensure reliable quarterly distributions.
I am buying BreitBurn Energy Partners due to the temporary price weakness. A 9.9% yield is solidified with a 24 year experienced management team. As a standard operating procedure, I hedge my long positions with a hedge to reduce potential losses.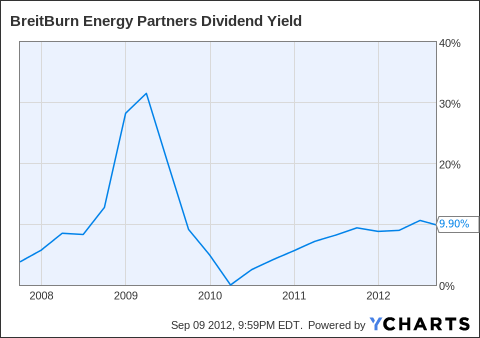 BBEP Dividend Yield data by YCharts
Let's earn 9.9% and focus upon investments with fewer hedges or a suspect management team in place. We are playing defense and offense. We want high yield returns but also protection on the downside.
Disclosure: I am long EPD, KMI, BBEP. I wrote this article myself, and it expresses my own opinions. I am not receiving compensation for it (other than from Seeking Alpha). I have no business relationship with any company whose stock is mentioned in this article.