By default higher risks always lead to higher returns. Also, all investments involve some degree of speculation. The less you know about any situation, the higher the degree of speculation.
Those engaging in speculative activities know that there is a chance they might lose their entire investment. Also, those involved in speculative activities need to have the experience in doing so. Speculation to some degree is an art, for many pieces of the puzzle are unknown and thus one cannot make an educated investment decision, but only an educated investment guess.
However you define speculation, one thing is for sure: when you speculate you expect a big return if you are correct. One does not speculate in order to make average returns. When one speculates he expects to make above average returns if not extraordinary returns.
I will analyze speculation parameters involving RIMM (RIMM) with a very simple logic which may seem out of the box, however, it is a logic that has served me well for many years. The best speculation plays are those in which companies still have a solid balance sheet and do not need a capital increase in order to stay alive. It also helps if the speculation turnaround play is a known brand.
RIM Speculation logic
According to the company's press release dated June 27, RIM has $2.2 billion in cash and cash equivalents. Since the company lost about $500 million the last quarter, that means it can survive for about 12-15 months, assuming that losses stay at current levels. Therefore we will define our speculation timeframe 12-15 months. But just to keep on the safe side, lets shorten that to 3 quarters or 9 months in total. Since the company plans to roll out its new product line in the first quarter of 2013, that means we have time to see if the company will succeed in turning around or become extinct.
We don't need to know the company's technology or anything about the upcoming product line that will be announced. If the market reacts favorably to the next generation of BlackBerry Phones that alone will determine if our speculation play was successful or not. In fact, the less we know about the inner workings of BlackBerry the better, because we do not want it to impact our judgment if we decide to speculate.
Although I have never owned a BlackBerry phone, I have noticed that several friends who purchased an Android device returned to BlackBerry after a while. I don't know why, but I am assuming that RIMM has a loyal following for whatever reason. As such, I am assuming (speculative by default) that if the new line of phones are to any degree innovative and offer current users features that might close the gap with other smartphone markets, then the new product line will be a success.
The next issue in our speculation logic is the entry point and stop loss. That will be determined exclusively by technical factors. Lets look at the chart below in order to try to pinpoint an entry.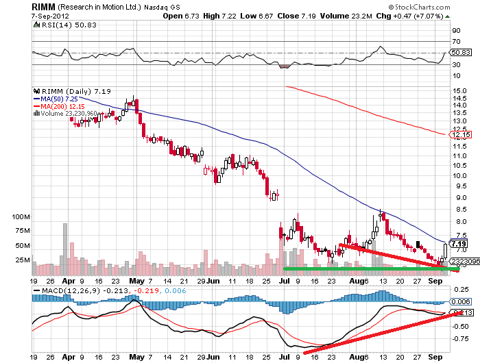 How one uses technical analysis to pinpoint entry and exit points is entirely a personal matter. There are many ways to skin a cat and in my experience, almost all technical indicators work, as long as you execute them as prescribed. Having said that, we see a MACD divergence in the above chart so theoretically speaking, one can enter at current levels. But like I said, everyone has their own style and their own formulas etc.
If you noticed the article title, it says "limited risk". By limited risk I mean that the stop loss in this case is tight. If I were to speculate on this chart, I would set a stop-loss at the current lows, or somewhere in the vicinity of $6.30. That's about a 10% loss from current levels, which in my book is very acceptable for speculation plays.
As far as the risk/reward ratio, if consumers react favorable to the company's new line of phones, the appreciation of the stock can be quite substantial. Taking into consideration that the price/sales ratio is 0.3 (yes that archaic metric again), a turnaround in the company's fundamentals should reward speculators 2-3 times their money (at least) during the first 6 months after the new product release. Over the longer term, profits will be much higher.
Bottom line:
When speculating, we have to decide a speculation time frame, why we are undertaking the speculation play, the possible reward and the entry and stop-loss points.
Speculating is not for everybody and unfortunately many people undertake high speculative risks without even knowing about it. If you decide to undertake this speculation play, do so only if you have the required experience and only if you can sell a stock as easy as you can buy it.
We are not playing the lotto here folks. We are not gambling our money but speculating. As such, we have no intention for our position to go to zero if we are wrong. We are speculating within well defined parameters and expect to execute an exit strategy if things don't go according to plan.
So if you decide to speculate on RIMM, remember that there is the possibility that this stock might go to zero. As such, do not hold onto this stock if it breaches $6.30 to the downside under any circumstances. Also, no more than 5% of your liquid assets should be devoted to speculation in this stock or any other.
Finally, we don't know what will happen and if the company will be successful or not. Apple (NASDAQ:AAPL) was once valued about $6 billion and was written off by investors the same way RIMM is today. That's not saying RIMM is the next Apple, but that anything can happen.
But if I am correct, and the risk/reward ratio of this play is what I think it is, and you can adhere to a tight stop-loss, then I think it's worth speculating on the stock.
Disclosure: I have no positions in any stocks mentioned, and no plans to initiate any positions within the next 72 hours. I wrote this article myself, and it expresses my own opinions. I am not receiving compensation for it (other than from Seeking Alpha). I have no business relationship with any company whose stock is mentioned in this article.