Earnings momentum for First Merchants Corporation (NASDAQ:FRME) has been advancing since this regional bank posted robust second quarter results. The company has surpassed the Zacks Consensus Estimate in seven of the last ten quarters, while matching in the rest. The average surprise for the period was 62.2%.
First Merchants achieved Zacks #1 Rank (Strong Buy) status on August 1. In addition, with a P/B multiple of just 0.93, this stock is an attractive pick for value investors.
Impressive 2Q Results
On July 26, First Merchants recorded second quarter 2012 earnings of 28 cents per share, outpacing the Zacks Consensus Estimate by 21.7% and the year-ago earnings by 55.6%. Significant growth in the top line and a slight drop in operating expenses spearheaded the strong performance. Furthermore, improving credit quality and stable capital ratios were also positives.
Net interest income advanced 6.4% from the year-ago quarter to $38.1 million. Likewise, non-interest income increased 18.9% to $13.2 million. Moreover, non-interest expenses dropped marginally by 0.6% to $34.2 million on the back of lower costs for FDIC assessments.
First Merchants' asset quality also improved during the quarter with provisions for loan losses declining 19.2% to $4.5 million. Similarly, nonperforming assets totaled $81.2 million, down 25.7% from the year-ago quarter.
Earnings Estimates Rising
Over the last 60 days, the Zacks Consensus Estimate for 2012 increased 8.3% to $1.31 per share, implying year-over-year growth of 284.1%. For 2013, the Zacks Consensus Estimate has improved 8.2% to $1.19 over the same time frame.
Reasonable Valuation
Along with a P/B multiple of 0.93, First Merchants has a forward P/E ratio as low as 7.4. (A P/E ratio under 15.0 and P/B ratio below 3.0 generally indicate value.) The company has a trailing 12-month ROE of 7.4%, compared with the peer group average of 8.8%.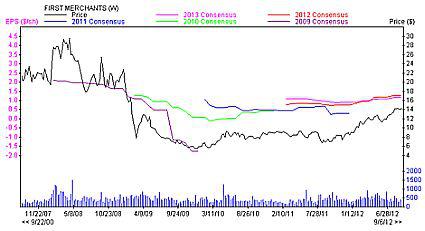 Headquartered in Muncie, Indiana, First Merchants is the holding company for First Merchants Bank, NA. The company, offering a wide range of financial services, has 79 banking locations in 24 Indiana and two Ohio counties.