The third quarter of 2008 will no doubt see more credit crunch writedowns at Canadian Imperial Bank of Commerce (NYSE:CM) but at least one analyst says the bank has enough in reserve to cover the charges.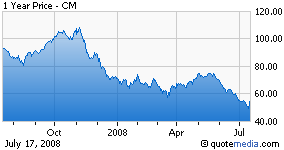 UBS analyst Peter Rozenberg pegs the bank's likely Q3 losses at about C$2-billion, or C$1.3-billion after tax. That will push CIBC's total writedowns so far to C$8.7-billion.
However, since the bank raised new equity in January, it has one of the steadiest balance sheets of any bank in North America.  While there has been speculation on Bay Street about whether CIBC would need to go back to the market for capital, Mr. Rozenberg estimates CIBC has C$2.5-billion to spare, which is more than enough to cover the predicted writedowns.
Another helper is that CIBC's core business — domestic retail banking — is performing well, and unlike some of its rivals the bank has no direct exposure to the floundering U.S. personal and commercial lending scene. Put this all together and it looks like CIBC's beaten-down stock price is overly discounted, says Mr. Rozenberg.
 

We think valuation is very attractive on a 12-month view," says the UBS analyst in a note. "While we are not calling for a new bull market in banks due to continued economic risk, rising provisions, etc., we are upgrading CIBC from Neutral to Buy on valuation with a target of C$73.