In the first installment of this article, the background to the nationalization of YPF (NYSE:YPF) was explored along with the Argentine government's motivations and recent developments concerning the company. This included the recently released business plan aimed at expanding production by around 32% over the next five years. This plan, in conjunction with the willingness of foreign oil majors such as Chevron (NYSE:CVX), CNOOC (NYSE:CEO) and Exxon (NYSE:XOM) to partner with YPF, indicates that its future is certainly becoming more positive.
However, the successful implementation of the plan is contingent upon YPF obtaining a strategic partner being able to raise a significant amount of investment capital and convert this increased production into a strong cash flow. In this second installment, the likelihood of YPF's successful execution of the plan will be analyzed, including the company's ability to successfully grow production in the current operating environment.
Marco outlook
The global macro outlook along with the outlook for oil prices is a weighty subject in itself and there is insufficient space here to fully do them justice. Despite the current global headwinds, the price of oil has recently spiked, as the chart illustrates.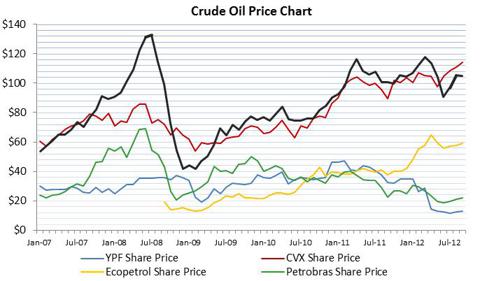 Source data: US Department of Energy, Yahoo Finance, Fidelity, Bloomberg
NB: Oil price is a simple average of WTI and Dated Brent spot prices
This spike in price can be attributed to supply-side constraints primarily caused by continuing tension in the Middle East. This has seen Dated Brent and West Texas Intermediate (WTI) to be trading at time of writing at around $114 and $96 per barrel, respectively.
The current prices are marginally higher than those forecast by the U.S Energy Administration in its last short-term energy outlook, as well as being higher than those forecast by Citigroup, which has predicted that WTI will fall to under $90 per barrel.
It would appear that these supply side constraints are acting as a counter-weight to softening energy demand and a view that oil prices will fall. In addition, as the chart below shows, the latest Chinese manufacturing production managers index (PMI) has fallen below 50 points, which is its lowest point since November 2011.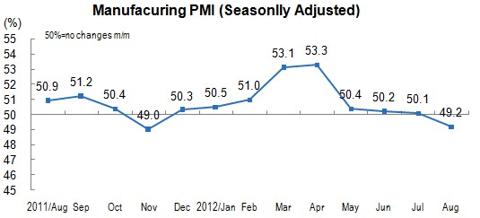 Source: National Bureau of Statistics of China
This slowing of Chinese manufacturing activity certainly does not augur well for energy demand and adds some credence to the lower forecasts made by Citigroup. This also adds to the mixed signals regarding the outlook for oil because higher prices will be supported by increased economic activity, particularly in China. At this time, it is highly likely that the Chinese government, while aiming to keep economic growth steady at around 7.5%, will continue to engage in measures to stimulate economic activity.
Any significant increase in Chinese and global economic activity will obviously have a more positive effect on oil prices through increased energy demand, but that is also dependent upon a broader recovery in Europe, which appears to still be some time off. On this basis, I believe that oil prices will move more-or-less in line with those forecasts particularly as the supply-side constraints may ease. While the global outlook for oil prices will have a significant impact on YPF's margins and profitability, the key consideration is the domestic cap on oil prices in Argentina.
Domestic outlook
One of the key issues for any oil company operating in Argentina is the government's approach to oil price regulation. In the past, this has certainly hampered the push into the vast Vaca Muerta shale oil fields because it has made investment in developing shale oil in Argentina verge on being unprofitable. This is certainly one of the reasons behind Repsol's reluctance to further invest in developing YPF's oil assets when it was majority owner of YPF.
However, despite domestic price caps for the first half of 2012, YPF has been able to receive an average price of around $70 per barrel of oil utilized domestically. Furthermore, any excess production that YPF sells on the international market attracts a significant tax on any price over the domestic price cap.
But there have been recent signs of the Argentine government moving to soften its stance on price caps for oil and gas as part of a concerted effort to encourage investment in the country's oil and gas industry. These moves have included a decision to raise gas wellhead prices by 400% and the introduction of a tax credit certificate in June this year. This tax credit is equal to $28 per barrel and is available to companies producing and exporting crude oil which have a minimum average production threshold of greater than 1,300 m3 of crude oil per day.
These moves certainly bode well for YPF to be able increase both its profitability and cash flow through increased production, and for these reasons, I would expect YPF to continue being able to increase profitability even if there is a moderate fall in global oil prices. However, the major market driver of YPF's share price is the market's perception of risk related to investing in the company due to the at times erratic and interventionist actions of the Argentine government.
There is still a high degree of risk when investing in Argentina
While the Argentine government has gone a long way to making the investment climate for the domestic oil industry far more investor friendly than it was at the time of YPF's nationalization, it still has a long way to travel before regaining any degree of investor confidence. In addition, recent actions with regard to Telefonica's (NYSE:TEF) operations in Argentina and ownership ties to the country's second largest telecommunications company Telecom Argentina (NYSE:TEO) have further spooked investors. These further threats of intervention in the domestic commercial sector have only served to further demonstrate that foreign investors must remain vigilant as well as further undermining investor confidence.
Furthermore, any investment in YPF is subject to significant risks other than the political risk associated with the actions of the Argentine government. The first of these is the ongoing threat of litigation from Repsol as it seeks to recover the value of the asset that was expropriated. This risk won't be resolved anytime soon with the Argentine government seemingly unwilling to compensate Repsol while the company has yet to make good on any of its threats. There is also the risk associated with Argentina's unstable economic environment, which is seeing the country experience rampant inflation, currency devaluation and high unemployment. Along with this there is the unwillingness of the Argentine government to correctly report the true state of the economy.
Overall, the risks associated with investing in Argentina are tremendous and probably higher than any other major Latin American economy, perhaps with the exception of Venezuela and Bolivia. However, I do believe in the case of YPF they are mitigated somewhat by the critical need for the Argentine government to make YPF a success story. This is because it not only needs to restore confidence investor confidence but also to ensure a trade surplus is maintained and head-off any potential balance of payments crisis.
Finding the fair value of YPF
Overall, the proven willingness of the Argentine government to expropriate privately owned assets in order to affect economic policy means that the company will not be attractive for investors for some time and will trade at a significant discount to its fair value. This makes it particularly difficult to determine a fair value for the company.
At the time of writing, it appears to be particularly cheap trading with a trailing twelve month price-to-earnings (P/E) ratio of 5 and at a 17% discount to its book value. This is obviously because the market has priced in the extreme uncertainty related to the company's current position since nationalization, along with the high degree of perceived risk associated with investing in Argentina. But with the expansion plan now underway, it would seem an appropriate time to get a feel for the company's fair value.
When considering an investment, ultimately the single most significant determinant of successful investing is the price paid. Obviously, the key goal of all investors is to buy low and sell high, while maximizing the receipt of any income paid by the investment if at all possible.
This then leads to considering what YPF is really worth per share, considering that it has been trading at a significant discount of 71% to its pre-nationalization 52 week high of $41.51. This value is dependent upon a number of factors, but the key is whether the company can successfully execute its business plan to increase oil production by 29%. This increased production hinges on whether the company can acquire the necessary investment and strategic partners to increase production.
I have used a discounted cash flow methodology to value the company in two scenarios. In the first, the company is able to obtain full financing and strategic partners, and in the second, YPF is only able to obtain limited financing and no strategic partners. The assumptions for each scenario are set out in the table below.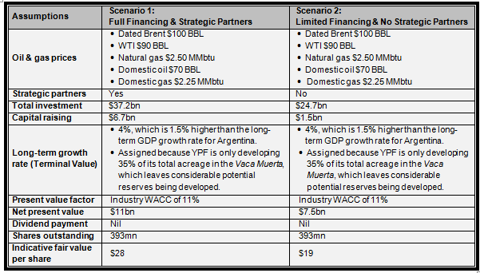 If we take a closer look at the figures for scenario one, it is possible to see a significant shortfall operating cash flow in order to fund the required capital expenditure. This sees the company experiencing significant negative free cash flow from 2013 to 2016, which emphasizes the need for external financing and a strategic partner to support the required capital expenditure.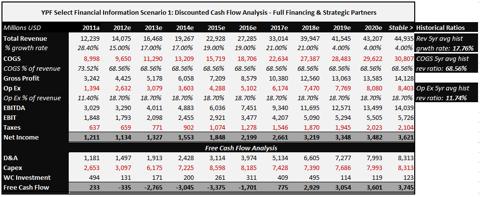 As this valuation highlights, if the expansion is successful and YPF is able to fund the required capital expenditure through a mixture of cash flow and debt, then the company will be able to more than double its equity value. This would then give the company an indicative fair value per share of $28, which is 130% higher than its current trading price.
In the case of scenario two, the degree of negative free cash flow is far lower and it is highly likely that this can be sustained through domestic financing obtained in Argentina, through peso bond issues and local bank financing.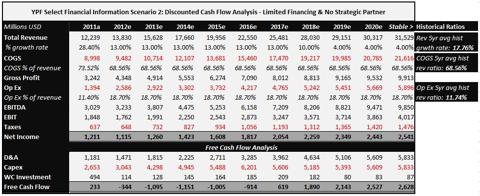 In this scenario with much limited capital expenditure and investment, the company's equity value will triple giving it an indicative fair value of $19 per share. This is 58% greater than its current trading price. While I certainly don't condone investing alone on the basis of a series of assumptions in a spread sheet, this is a useful exercise that indicates even with a modest expansion in production the company is significantly under-valued by the market.
Overall, I believe that scenario one is the most likely outcome because the successful execution of YPF's business plan. I have taken this view because the success of YPF is not only critical to the company and its investors, but also to the Argentine government and the Argentine economy. This is because the government is desperately seeking to legitimize its actions and the reasons for expropriating the company in order to attract further international investment. While becoming a net energy exporter will address the balance of payments crisis and generate hard currency inflows that can be used to invest in further much needed business and infrastructure developments in the economy.
Furthermore, it already appears that Chevron is on board as strategic partner, leaving only the hurdle of external financing for around $6.7 billion to be overcome. At the time of writing, YPF has already received a $500 million private investment and has gone to the market with a $290 million in Argentine peso bonds, although this is most likely to cover current debt requirements.
Bottom line
Investing in YPF is certainly not for the fainthearted and there are a wide range of risks and uncertainties related to the investment. But I believe that the market has, to some degree, over-played the fear and stigma associated with the nationalization, while not accounting for the desperation of the Argentine government to make this work, so as to meet both economic and political goals.
If anything, as time goes on the Argentine government should make a better majority owner of YPF than Repsol and under its stewardship investors will see a renewed urgency and vigor in the company's operations. This will translate into increased reserves as it invests in accessing the vast untapped potential of the Vaca Muerta field and increases production, all of which should translate into a higher share price. There is also the assurance of YPF having engaged a strategic partner like Chevron that has extensive experience in accessing unconventional oil and gas. This all gives existing investors some assurance that their investment is not lost. But given the extreme uncertainty created by the high degree of political risk in Argentina, new investors would be better off considering other opportunities in the sector.
Disclosure: I have no positions in any stocks mentioned, and no plans to initiate any positions within the next 72 hours. I wrote this article myself, and it expresses my own opinions. I am not receiving compensation for it (other than from Seeking Alpha). I have no business relationship with any company whose stock is mentioned in this article.