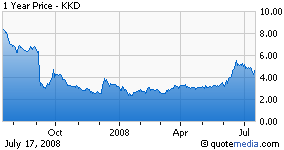 Krispy Kreme (KKD) seems to be headed in the right direction as evident by its first quarter results. The company made money for the first time in years, and impressively, they did it despite a 6% drop in revenues. KKD reported first quarter fiscal 2009 earnings of .06 on revenues of $104 million, versus a loss of .12 on revenues of $111 million in the first quarter of 2008.
The numbers: Gross profit margin improved 9% (110 basis points) from 12.6% to 13.7%, largely due to successful cost cutting efforts. Its SG&A costs still show an opportunity for improvement as they actually increased 8% (50 basis points) from 6.1% to 6.6%. KKD's depreciation was $2.2 million, enabling them to generate almost $6 million of free cash flow. The company has also been effective in improving its liquidity position by reducing debt  and raising cash. Its balance sheet now carries $76 million of long term debt and $29 million of cash.
Potential pitfalls: This famous donut enterprise opened up 21 stores in the quarter and now its system is comprised of 352 franchised stores and 118 company-owned. Management is jittery that franchisees could close a substantial number of stores in the future. KKD's leadership is also concerned that further increases in the cost of raw materials could adversely impact its turnaround efforts.
Ownership: Mohamed Ablulmohsin is the largest shareholder with 16% ownership stake. His deep pockets and Middle Eastern background enable KKD to tap into the franchise market of the region. Schultze Asset Management filed a 13g/a with the SEC on 7/17, indicating their ownership position recently passed the 5% threshold amount (requiring them to file). They doubled their position from 4% to 8%. This should give added confidence to the marketplace.
Recent developments: MGL Asset  Management  LLC made a tender offer to buy all the outstanding shares of KKD for $7.25 cash and the assumption of debt. This news briefly shot the shares close to the $6 level, but when Wall Street started to question the validity of the buyer, the shares quickly retreated back down to levels prior to the announcement.
The future: Although the shares have had a nice run-up (they have doubled from their 52 week lows), there is still gas in the tank for a further rally, as KKD's operational improvement and takeover potential could provide the catalyst for an additional 10-30% rise in the share price.
Disclosure: Long