There is no free lunch in investing! These words ring true, on average, over time for most investors. After all, investing is a trade off between growth and price as well as risk and return. The higher the expected future growth of a stock, the more likely it will be that investors have to pay a higher price (P/E) to get a piece of that future growth.
Consider Amazon (NASDAQ:AMZN) with year-over-year revenue growth of about 29%. Clearly, it is a great growth story, and it can be all yours … if you're willing to pay a P/E ratio of about 100. High expectations for future growth are already priced into this stock, and the risk of disappointment if growth targets are not met is high. The opposite exists with Hewlett-Packard (NYSE:HPQ), which clearly has a struggling business with year-over-year revenue most recently down 4.5%. There is no growth here, but at four times earnings, much of the known future weakness is priced in. That's the trade off.
Let me be clear, I am not recommending either stock. Rather, the point - to repeat myself - is that there is a trade off. While there are always some rare exceptions to the rule, generally, investing offers no free lunch. Notwithstanding a couple of recent studies that focus on relatively narrow time periods, you rarely get higher returns for lower risk. The pursuit of higher returns usually involves higher risk.
So, what about dividends? Is a free lunch available? In the last few years, dividend focused or dividend weighted ETFs have grown dramatically in availability, methodology and use. Speaking broadly, many of these strategies have done quite well versus their broad market cap weighted benchmarks both since inception and over trailing 3- and 5-year periods. The last 12 months, however, have been a bit more challenging. The table below compares the returns of some dividend focused ETFs to their market cap-weighted peers: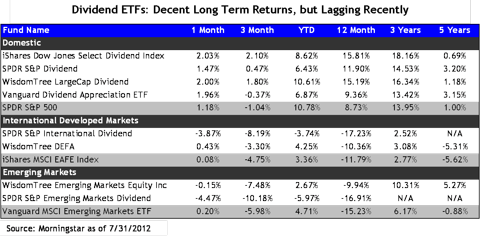 Click to enlarge
Dividend focused ETFs were very en vogue over the last two years, and it's not hard to see why when we look at the income producing investment options that investors are faced with today. Earning a positive real return in this low rate environment is virtually impossible without some level of risk. It is only natural that people start looking for other options such as dividend paying stocks or credit instruments in part of their portfolio. As such, demand for these products has been strong.
Dividend ETFs' own popularity of the past few years may have set them up for weakness this year for no other reason than they have been bid up in the market. Consider the two sectors that are overweighted dramatically in domestic dividend ETFs: utilities and consumer staples. These sectors, which traditionally have lower volatility and lower growth rates than the market, are now more expensive than the overall market. The Consumer Staples Select Sector SPDR (NYSEARCA:XLP) is sporting a P/E ratio of 18.4, and the Utilities Select Sector SPDR (NYSEARCA:XLU) clocks in with a P/E of 16.4. The S&P 500 itself, as represented by SPDR S&P 500 (NYSEARCA:SPY), is only trading at about 14.8.
Don't mistake the message here. Some dividend ETFs look fairly attractive from a valuation perspective, especially the international and emerging market products (see table below). The domestically focused ones, however, may have simply run a bit too far too fast. They aren't bad products. They are just no longer cheap relative to the market because demand bid up the price you have to pay for the exposure.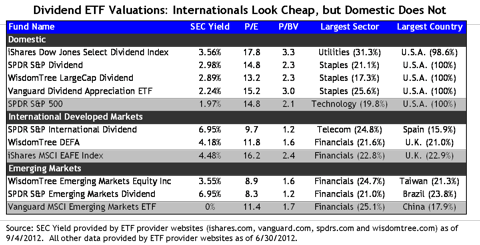 Click to enlarge
All investing strategies come in and out of favor, and investors pursuing dividend products should treat dividend ETFs as they would any other investment. First, look at sector and country exposures. iShares DJ Select Dividend (NYSEARCA:DVY) suffered handily during the financial crisis because it had a heavy weighting to financials. SPDR S&P International Dividend (NYSEARCA:DWX), after its index was reconstituted in July, has almost 16% of its exposure in Spain. Next, look at valuations, volatility, liquidity, methodology and fees among other things.
Dividend ETFs have many benefits including enhanced portfolio yield and lower volatility (usually). Further, the 2001 paper, Does Dividend Policy Foretell Earnings Growth (Arnott and Asness), suggests that there is a value to holding dividend paying securities above and beyond just the dividend payment.
These are all nice features in a diversified investment, especially for those looking to boost portfolio income. That income, though, should be viewed as a nice snack that may incrementally improve the portfolio as a whole. Investors in these products should not expect a free lunch of higher returns and lower volatility with a significant degree of predictability.
Disclosure: I am long DLN, HPQ. I wrote this article myself, and it expresses my own opinions. I am not receiving compensation for it. I have no business relationship with any company whose stock is mentioned in this article.