Analysts are watching to see if 'The Dark Knight' can break the opening weekend box office record set by Spiderman of $152 million. Investors should be paying particular attention to IMAX (NYSE:IMAX) ticket sales. Six of "The Dark Knight's" sequences, including its three biggest action set pieces, were filmed using IMAX cameras. Unparalleled for the clarity and resolution of their images, this is the first time the cameras have been used for a make-believe Hollywood movie.
Director Christopher Nolan said, "When you see these sequences on the IMAX screen, it creates a very, very immersive, very much larger-than-life feel for the film. Working with the IMAX cameras was difficult, but we found our feet with it pretty quickly," Nolan adds. "I actually felt that whatever production issues we would face - which were considerable - they were actually much more controllable in a theatrical fiction film. Even when you shoot in a real location, you put your own light in, you control the whole environment. So I actually think IMAX is pretty well-suited to Hollywood filmmaking. And the Hollywood production machine is amazingly efficient, so it was able to absorb the extra demands of IMAX incredibly effectively." (source)
Warner Bros. integrated the 94 IMAX theaters into the advertising campaign for the "The Dark Knight" for television, billboards, newspapers, radio, outdoor, online and movie theater pre-show ads. IMAX has already cashed in on Warner Bros.'s marketing efforts. Ticket sales have gone through the roof, and there are hundreds of sold-out IMAX shows across the country. "The reason we hadn't been included in advertising campaigns in the past is because we had to first prove the added value at the box office," he says. "It is out of control, in a good way."
An online survey of 3,000 moviegoers conducted by fandango.com earlier this week reveals that 39% plan to see "The Dark Knight" at an IMAX theatre, and about 40% will see it at a midnight screening Thursday. (source)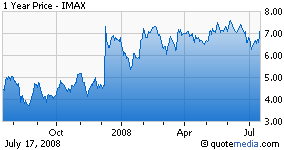 According to a recent report in USA Today, IMAX has begun a construction boom that will increase the number of venues in North America nearly 80% by the end of 2009 as it outfits new and old theaters alike with its proprietary digital projectors. That's part of a larger plan to win back the confidence of investors, theater owners, Hollywood studios and consumers following a period marked by steep losses, a failed effort to sell itself, and questions about the integrity of its financial reports when an SEC inquiry led to restatements.
Consumers typically pay an additional $3 per ticket for an IMAX film, meaning Hollywood studios likely will make more big releases available to IMAX. They will find it especially appealing for the growing number of flicks being made in 3-D. IMAX also is talking to sports leagues — executives declined to say which ones — about beaming live broadcasts on its supersize screens.
"They're getting great movies," says Merriman Curhan Ford analyst Eric Wold. "The new theater pace will be huge over the next two years. And I predict them turning profitable in the fourth quarter and staying profitable ever after." AMC gave the digital and joint venture package a powerful endorsement with a deal that was unveiled in December. It agreed to deploy its new digital projectors at 100 screens in 33 markets including New York, Los Angeles, Chicago, Washington and Miami. In March, Regal, the No. 1 theater owner, agreed to joint ventures for 31 digital systems in 20 markets. Recent announcements reveal deals have been signed with Japan and Australia as well. This company has substantial catalysts for growth and the current share price of $7.30 represents an attractive entry point.
Disclosure: None